THE MONEY BEHIND HB2: How Art Pope helped create North Carolina's 'bathroom bill'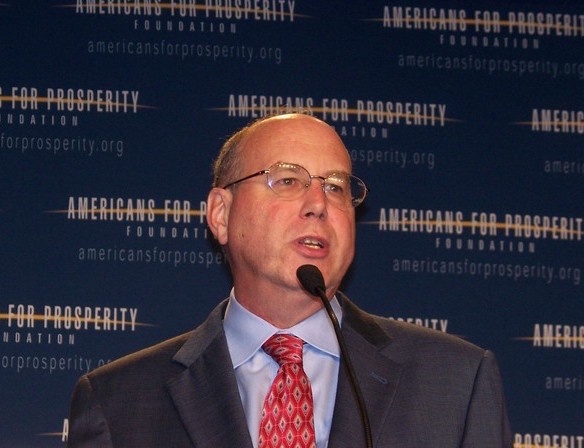 With North Carolina reeling from its notorious House Bill 2, a law hurriedly passed during a special legislative session in late March requiring transgender people to use public bathrooms that match the gender on their birth certificates and nullifying local nondiscrimination and minimum-wage ordinances, questions have arisen about how the bill came about and who financed it.
As is often the case with conservative causes in North Carolina, the money trail behind HB2 leads to Art Pope, the millionaire CEO of a chain of discount stores who played a key role in financing the Republicans' 2010 takeover of the state legislature through a network of super PACs he funded. After helping elect Gov. Pat McCrory in 2013, Pope was appointed McCrory's state budget director and stepped away from funding political campaigns. When Pope left that post in September 2014 his political donations picked back up again.
Pope is a libertarian-leaning Republican and has not publicly supported or opposed HB2. But his spending has supported groups that oppose LGBT rights.
As Facing South reported back in 2011, the family foundation chaired by Art Pope funded groups that successfully pushed for an anti-gay marriage amendment to the North Carolina Constitution. In the 14 years leading up to the amendment's passage, the John W. Pope Foundation provided nearly $1 million to the N.C. Family Policy Council (NCFPC) which had been advocating for the amendment since 2004, as well as additional funds to several other anti-LGBT rights groups.
New Facing South research shows that the Pope Foundation's financial support of the NCFPC has continued with six-figure donations in each of the past several years. Its contributions to a related national group, the Family Research Council, continued through 2013. Both groups support HB2, and the NCFPC is a leader in the campaign to defend it.
Since 1997, the Pope Foundation has contributed a total of nearly $1.5 million to anti-LGBT rights organizations that actively support HB2.
What's more, Pope's political money network played a pivotal role in electing many of the legislators who sponsored and voted for HB2, as well as McCrory, who signed it.
Pope did not respond to a request for comment.
Supporting anti-LGBT rights groups
According to tax forms filed with the Internal Revenue Service, since 1997 the Pope Foundation has given $1,335,000 to the NCFPC, a charitable nonprofit that claims it's fighting "a battle to retain Judeo-Christian values." The group is known for using extreme rhetoric against LGBT rights. For example, in 2003 it wrote that expanding North Carolina's equal employment protection laws to include "sexual orientation" could provide protections for "individuals based on their participation in sodomy, bisexuality, pedophilia and even bestiality."
As Facing South has reported, the Pope Foundation's donations to NCFPC ramped up significantly after Pope took the reins from his father in 2006.
In 2014, the Pope Foundation gave NCFPC $150,000, the most it's ever donated to the group in a calendar year. In June 2015, it donated another $100,000 to the group, including $50,000 earmarked for NCFPC's 2016 voter guide. Data is not yet available for the latter half of 2015 as the foundation's tax filings cover the period from July 1 to June 30 of the following year.
NCFPC president John Rustin sent a letter to Republican leaders urging them to hold a special session to repeal the Charlotte ordinance that triggered the controversy, and NCFPC held a press conference on the matter.

As the state legislature hurriedly passed HB2 in March, Rustin testified before the state Senate, saying the Charlotte ordinance "means men could enter women's restrooms and locker rooms, placing the privacy, safety, and dignity of women and the elderly at great risk."
Now, with the passage of the bill and the resulting uproar — including and the U.S. Justice Department's determination that the law violates the federal Civil Rights Act —  NCFPC has been cheerleading for the law. The group has sponsored rallies in favor of HB2, including gatherings on April 14 and on April 25 outside government buildings.
Rustin spoke on both occasions, telling supporters on April 14, "If you don't give in to their coercive tactics and abide by their extremely aggressive and ever-growing list of demands, they will attack you, vilify you and even organize a boycott against you."
The NCFPC is not the only anti-LGBT rights organization the Pope Foundation funds. From 1997 to 2013 the foundation gave $115,000 to the Family Research Council (FRC), deemed an anti-LGBT hate group by the Southern Poverty Law Center. FRC President Tony Perkins has falsely claimed that pedophilia is "a homosexual problem" and made numerous other false statements about LGBT people.
The FRC is also a supporter of HB2 and put out a video and a petition criticizing businesses that have spoken out against the law. The NCFPC is a state affiliate of the FRC.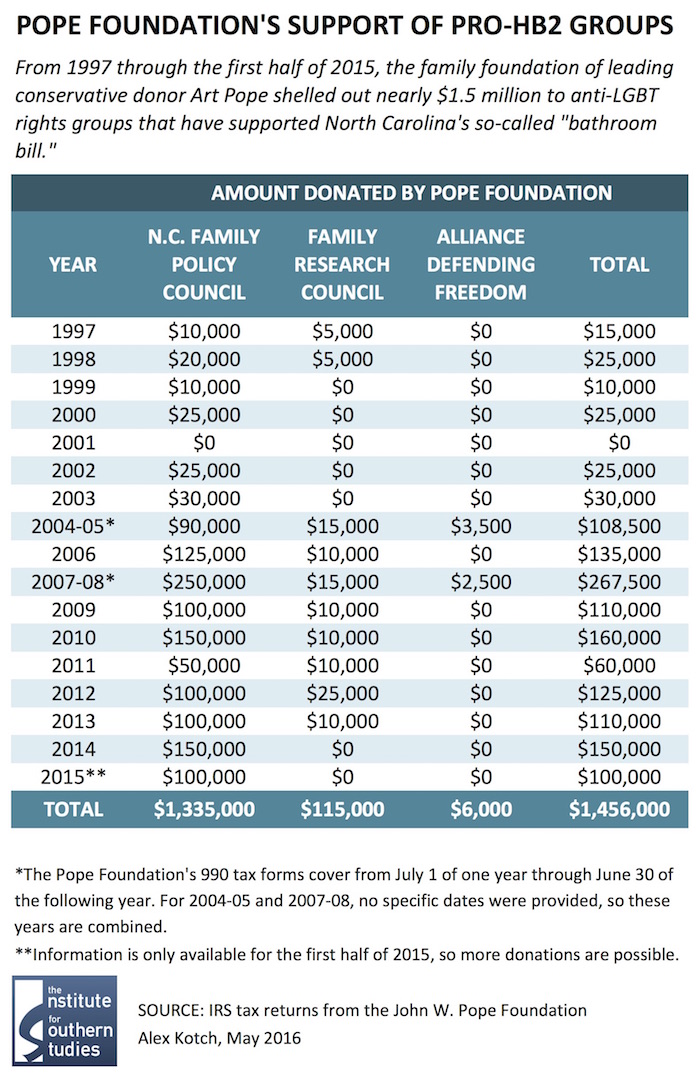 In addition, the Pope Foundation donated $6,000 between 2004 and 2007 to the Alliance Defending Freedom (ADF, formerly known as Alliance Defense Fund), a global network of over 3,000 lawyers that claims to fight for "religious freedom, the sanctity of life, and marriage and family." The group's president and CEO, Alan Sears, co-authored a book called "The Homosexual Agenda: Exposing the Principal Threat to Religious Liberty Today," and ADF lawyers have described gay sex as "a distinct public health problem," among many other anti-LGBT statements. ADF has also helped change laws in Africa to persecute and imprison LGBT people.
Mother Jones' Samantha Michaels reported that ADF sent a letter to school districts nationwide in December 2014 recommending a policy requiring transgender students to use either private bathrooms or multi-stall restrooms corresponding with their sex as identified at birth. A few months later, ADF proposed similar model legislation to state governing bodies. Lawmakers in many states have used nearly identical language in proposed discriminatory bathroom bills.
As Michaels showed, North Carolina lawmakers appear to have lifted numerous phrases and sentences from ADF's model legislation in crafting HB2.
Electing HB2's proponents
Besides donating to anti-LGBT rights groups behind HB2, Pope's powerful network of super PACs and "social welfare" groups supported Republican officials who sponsored, voted for and signed it into law.
As Facing South reported last month, Real Jobs N.C. — a super PAC founded by Pope and funded in part by his company, Variety Stores — spent nearly $2 million from 2010 to 2014 helping elect five of HB2's sponsors, 13 other lawmakers who voted for it, and McCrory, who signed it. Variety Stores also donated heavily to the Republican State Leadership Committee, Real Jobs' lead funder, and to the Republican Governors Association, which spent nearly $5 million helping elect McCrory in 2012.
Other ways Pope has supported HB2 backers:
Americans for Prosperity (AFP), a conservative "social welfare" organization that Pope helped found with billionaire industrialists Charles and David Koch and to which Pope has contributed generously, spent nearly $285,000 in 2010 on North Carolina legislative contests, with much of that going to support HB2 co-sponsor Republican Rep. Jonathan Jordan of Jefferson and a number of other lawmakers who voted for HB2. Then in 2012, AFP spent $130,000 supporting McCrory and contributed $83,000 to help elect 11 Republican state lawmakers who voted for HB2, including primary sponsor Bob Steinburg of Edenton and co-sponsors Michele Presnell of Burnsville and Michael Speciale of New Bern.
Civitas Action, the "social welfare" arm of the Civitas Institute, a conservative think tank founded by and primarily funded by Pope, spent over $202,000 on 2010 state legislative contests, much of it on the same lawmakers backed by Real Jobs and AFP including HB2 co-sponsor Jordan. The expenditures were financed with $190,000 from Variety Stores and $75,000 from AFP. Civitas Institute President Francis De Luca penned an op-ed praising HB2 while Demi Dowdy, the group's communications coordinator, called HB2 "a win for business owners of all faiths."
The John Locke Foundation, another think tank founded and funded primarily by Pope, has also expressed support for the law. Jon Guze, the group's director of legal studies, defended HB2 for "preserv[ing] private businesses' right to make their own rules about restrooms." Sam Heib, contributing editor for its Carolina Journal, has written a number of blog posts backing the law while Becki Gray, the group's vice president for outreach, also wrote about her support for it.
Whether or not Pope takes any responsibility for HB2, it's clear that his money funded groups supporting the bill and helped elect its legislative proponents.
Tags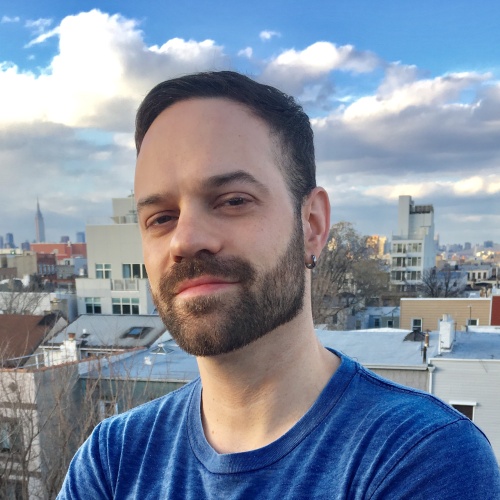 Alex is an investigative journalist based in Brooklyn, New York, and a reporter for the money-in-politics website Sludge. He was on staff at the Institute for Southern Studies from 2014 to 2016. Additional stories of Alex's have appeared in the International Business Times, The Nation and Vice.com.