The anti-labor roots of Trump's controversial judicial pick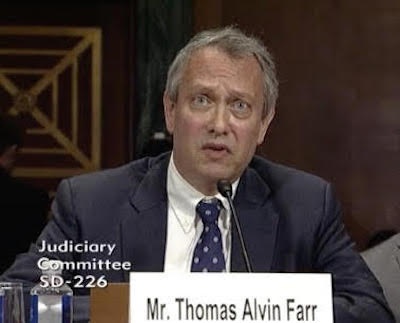 (Update: The Judiciary Committee voted to confirm Farr on Jan. 18 on a party-line vote; his nomination now goes to the full Senate.)
President Donald Trump nominated lawyer Thomas Farr to a lifetime seat as a federal judge in eastern North Carolina, and the Senate Judiciary Committee is expected to hold a vote confirming Farr this week — despite opposition from Democratic senators, labor unions, and civil rights advocates. Critics have pointed to Farr's role in intimidation of black voters by the 1990 campaign of U.S. Sen. Jesse Helms of North Carolina, and his involvement in crafting a 2013 voting law in that state which a federal court said targeted "African Americans with almost surgical precision."
Besides his role in voter suppression efforts, Farr, 63, also worked for a group founded by Southern business owners with the goal of suppressing workers' right to organize. Farr's career as an attorney began in 1979 at the National Right to Work Foundation, the legal arm of the National Right to Work Committee, which was created in 1955 by a group that included wealthy industrialists from North Carolina, Virginia, and Tennessee. Journalist Jane Mayer's book "Dark Money" discussed the role of the Koch brothers' father, Fred Koch, in launching a forerunner to the Committee, which has received millions of dollars from the Koch brothers and other big business interests.
The Foundation promotes so-called right to work laws, which prohibit requiring workers at a unionized workplace who are not members of the union to pay what are known as "fair share" fees to cover the costs of collective bargaining, which benefits union and nonunion employees alike.
The Foundation and its legal arm carried out a decades-long campaign to undermine public-employee unions by having fair share fees ruled unconstitutional. In addition to helping the group's efforts to impoverish unions, Farr also played a key role in a constitutional challenge to a California law allowing public employees to collectively bargain.
Farr's efforts to curb voting rights for African Americans are not unrelated to his efforts to curb workers' organizing rights. As Facing South has reported, the right to work movement was launched by extreme pro-segregationist elements in the 1930s and '40s South.
In 1936, for example, Texas oil lobbyist Vance Muse founded the Christian American Association, the first group to champion right to work as a political goal. Muse warned that unionization meant that "white women and white men will be forced into organizations with black African apes whom they will have to call 'brother' or lose their jobs." Moshe Marvit of The Century Foundation notes that right to work was "held out to white ethnic workers as a way to distance themselves from workers of other ethnicities and races."
Muse's organization successfully lobbied for right to work laws in states across the South. After all of the Southern studies passed right to work laws or state constitutional amendments, right to work advocates shifted their focus to Midwestern states that used to be union strongholds, like Michigan and Wisconsin.
Representing the reactionary
Promoting right to work laws is not the only way Farr has sought to tip the balance of power away from workers and toward the bosses.
In 1981, he became a lawyer for the U.S. Senate Labor and Human Resources Committee, working for U.S. Sen. John East of North Carolina. East had extremely conservative views, leading Helms to once joke that he was the "liberal Senator from North Carolina." Like Helms, East had a record of opposing civil rights laws and attacking labor unions. East sponsored bills to expand the reach of state right to work laws and limit federal laws protecting workers.
A few years later, Farr began his decades-long partnership at a North Carolina law firm founded by Tom Ellis, who advised East and Helms and served on the board of directors of the Pioneer Fund, a nonprofit created in 1937 to fund research projects aimed at proving the genetic superiority of white people. The Fund has been designated as a racist hate group by the Southern Poverty Law Center.
During his tenure at Ellis' firm, Farr defended a range of companies facing discrimination lawsuits. Alliance for Justice, a progressive judicial advocacy group, concluded that Farr chose to "build his career undermining workers' rights."
In 2003, for example, he persuaded a court to strike down a local employment discrimination law as violating the North Carolina Constitution. He defended pharmaceutical giant Pfizer in a lawsuit claiming that a supervisor sexually harassed his female workers and called them "stupid, retarded, and awful." He represented a company sued by a woman who was not hired for a job that a supervisor told her was "too hard and too rough for a woman." And he defended a car rental company accused of discriminating against African-American customers in the Carolinas.
In 1997, Farr argued that the U.S. Supreme Court should reinstate a North Carolina law that singled out victims of workplace asbestos poisoning by imposing tougher requirements on their workers' compensation lawsuits. Farr also defended American National Can when it was accused of refusing to allow union representatives access to the plant to investigate charges that workers were subjected to extreme heat.
More recently, when North Carolina's notorious 2016 anti-transgender "bathroom bill" eliminated the right of all workers to sue for discrimination in state court, Farr supported the change. Legislators quickly repealed the provision after strong criticism from civil rights groups, the business community, and the media.
Trump reshapes the judiciary
Farr is not the only Trump judicial nominee with a history of defending corporate misconduct and advocating for corporate interests. Trump is rapidly changing the federal judiciary, and his judges will have a dramatic impact on the rights of workers — especially in the South, where most of the anti-worker nominees will preside.
For example, Trump has appointed extreme jurists to the already-conservative 5th U.S. Circuit Court of Appeals that covers Louisiana, Mississippi and Texas. Judges there have issued nationwide injunctions against many Obama-era regulations, including the Department of Labor's regulations to raise standards for overtime pay.
The Senate recently confirmed the president's appointment to that circuit of former Texas Supreme Court Justice Don Willett, who expressed fondness for a discredited century-old legal theory that allowed judges to strike down New Deal laws protecting workers as violating unwritten "economic" rights. Another 5th Circuit nominee, Kurt Engelhardt, has a record of throwing out sexual harassment lawsuits as a federal judge in Louisiana.
Meanwhile, Trump's successful Supreme Court nominee, Justice Neil Gorsuch, could soon cast the deciding vote to cripple public employee unions in Janus v. AFSCME, a case out of Illinois in which anti-union groups argue that charging public employees fair share fees to cover the cost of collective bargaining violates the First Amendment. The Court was poised to strike down fair share fees in 2016, but after conservative Justice Antonin Scalia died, the justices deadlocked 4-4. President Trump nominated Gorsuch, who had a clear record of ruling for corporations over workers, after Senate Republicans refused to confirm President Obama's nominee and left the court short-staffed for a year.
If Gorsuch votes as expected, Janus could fatally undermine the funding of public employee unions — the culmination of a legal crusade started with lawsuits by the National Right to Work Legal Defense Foundation, where Farr began his legal career. The Foundation has been filing lawsuits challenging fair share fees for decades, and it supports the plaintiffs in Janus.
A ruling against the unions in Janus would essentially make every state a "right to work" state when it comes to public employees. This could be particularly harmful to workers in the South, where fewer private-sector employees are unionized, and to African Americans, who are more likely to be employed in the public sector.
President Trump has put forth judicial nominees who are unqualified or appear biased against certain people, including several lawyers who have said terrible things about LGBT people. Some of these nominees have had to withdraw due to concerns about inexperience or their failure to disclose controversial statements when they were vetted. But to date, Farr is the only nominee with close ties to white supremacists and anti-labor groups.
The Senate Judiciary Committee is set to vote on Farr on Jan. 18, but some members including Democrats Kamala Harris of California and Cory Booker of New Jersey are demanding a new hearing on the nominee. That's because at his brief hearing in September, Farr denied knowledge of voter intimidation by the 1990 Helms campaign, which he represented as a lawyer. But since then, the North Carolina-based Indy Week newspaper interviewed a former Justice Department lawyer who worked on the case and claimed Farr was aware of the misconduct.
In December, Booker wrote to Farr and the Justice Department to demand more information about the nominee's role in Helms' voter intimidation effort. He also called on Judiciary Committee Chair Charles Grassley of Iowa to delay action on Farr. But Senate leaders have not responded to Harris's and Booker's requests, and they appear poised to continue their rapid pace of confirmations.
If Farr is confirmed, his record suggests that workers, like victims of discrimination, will find little protection for their rights in his courtroom.
Tags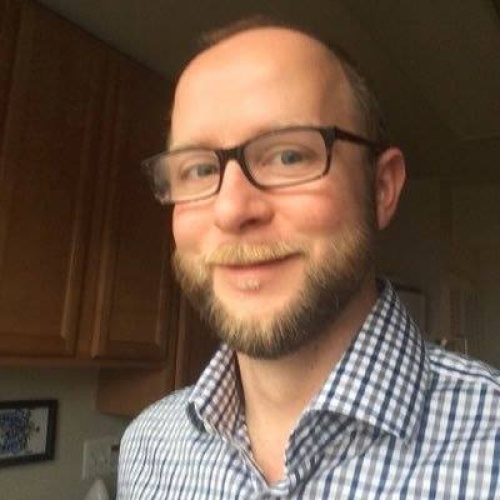 Billy is a contributing writer with Facing South who specializes in judicial selection, voting rights, and the courts in North Carolina.