The Black Southerners hoping to chart a new path to the U.S. Senate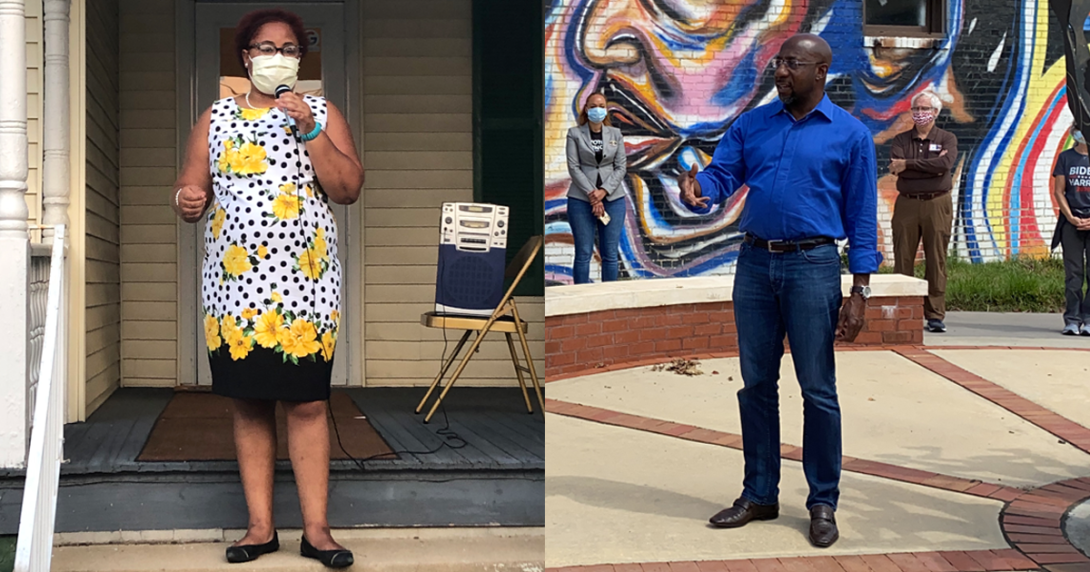 Frank Johnson has known Marquita Bradshaw since childhood. They grew up together in Memphis, Tennessee, near the Defense Depot, a former U.S. military warehousing and distribution center that is now a Superfund toxic waste site. Back then, Johnson remembers, Bradshaw would help him with his homework while her mother tried to draw attention to the health problems the Defense Depot waste site was causing in the community. Then, following in her mothers' footsteps, Bradshaw began working on environmental justice issues with Johnson, bringing attention to environmental health issues connected to the Superfund site in their redlined, majority-Black neighborhood. Last year, Bradshaw worked on Johnson's unsuccessful city council campaign.
Now she's the Democratic nominee for Tennessee's U.S. Senate seat left open by the retirement of three-term Republican Lamar Alexander. Bradshaw won the primary with just $8,400 in reported campaign funds and the endorsement of progressive groups from the Sierra Club to the Memphis-Midsouth Democratic Socialists of America (DSA). She defeated her closest challenger in the five-person race, pastor and attorney Robin Kimbrough, also a Black woman, by over 29,000 votes. Both Bradshaw and Kimbrough got more votes than establishment favorite James Mackler, who came in third despite backing from the Democratic Senatorial Campaign Committee and more than $2 million in campaign cash. She's now facing Republican Bill Hagerty and eight independents in the general election.
"Her actual advocacy and grassroots work swept her into that race," Johnson told Facing South. Bradshaw doesn't have the same kind of raw political ambition other candidates who have worked their way through the electoral hierarchy might, he said. Instead, he said, her thought process is that "through this work, I can do my work better in a Senate position because I have seen how this system works against people."
"I understand the impact losing your job can have, that student debt can have, and that environmental issues from manufacturing can have. These are issues that many Tennesseans face — I am living these issues myself," Bradshaw said in an email to Facing South. "I am not a wealthy politician who can buy a seat in the U.S. Senate. Instead, I'm going to work for it like I have worked for everything else in my life."
Nationally, the last few election cycles have upended conventional wisdom on how much electoral experience is necessary to be competitive in high-profile elections. Donald Trump won the presidency with no prior electoral experience, while U.S. Rep. Alexandria Ocasio-Cortez successfully primaried a 10-term moderate incumbent Democrat in New York in her first run for office. Academics, political parties, and pundits used to maintain that for Black candidates to win statewide elections, especially in the South, they need to have been elected to some other lower-level office, to have risen through party ranks, and to show that voters have trusted them before. But that's changing — in part because of how quickly American politics have changed in the last four years, and in part because there simply isn't a deep bench of Black elected officials to draw from in many Southern states.
This year, there are two Black U.S. Senate candidates running in Southern states who have no prior electoral experience: Bradshaw and Rev. Raphael Warnock, who's running in Georgia's crowded special Senate election to fill the remaining two years of the six-year term that Johnny Isakson (R) was elected to in 2016 and from which he resigned last year, citing health problems. The seat is now held by Republican appointee Kelly Loeffler, who's also running, along with five other Republicans, eight Democrats counting Warnock, five independents, one Green Party candidate, and one Libertarian.
The pastor of Atlanta's Ebenezer Baptist Church, where Martin Luther King Jr. and his father preached, Warnock is running the best-funded — and most thoroughly covered — Democratic campaign in Georgia's special Senate election. Earlier this summer, Warnock delivered the eulogy at the funeral of the noted civil rights leader, Rep. John Lewis of Georgia. He's been endorsed by 31 Senate Democrats and Stacey Abrams, the former Georgia gubernatorial candidate and voting rights advocate. The experience he touts most often is his work as a pastor in a large and diverse congregation, and his related advocacy work in his community; Black churches in America have long been a center of political and community organizing work, and Ebenezer in particular has a storied political history.
"I see my candidacy not so much as the launch of a campaign, but as the continuation of a campaign in public service that I've been on my entire life," Warnock told Facing South. "I've been engaged in the work of voter registration, education and mobilization for criminal justice reform, and for the dignity of workers, and the struggling families that they support. That's been my life's work. The only difference is that for the first time my name is on a ballot."
The Georgia special Senate election is by no means a sure bet for Warnock. He's leaning into his longtime identity as one of Atlanta's most recognizable Black preachers, hoping that religion will help him appeal to moderate independents who might be skeptical of his specific positions but who he hopes will see him as a candidate with a strong moral compass.
"Left, right — this conversation, that's how people in politics talk," Warnock said. "You have to remember that I spent the bulk of my career in ministry, and I'm not focused on left and right as much as I'm focused on right and wrong."
Warnock and Bradshaw are both relying on their prior experience to connect with voters; work in the church and in community organizing, they believe, can play well with voters who are tired of politics as usual. Both campaigns are also hopeful that their candidates can bring together coalitions of voters who do not necessarily agree with all of the candidate's issues or even with each other, but who see them as leaders with moral clarity who speak for their constituents, not for corporate or party interests. In both Tennessee and Georgia, that will mean bringing white voters into the coalition.
"Raphael Warnock is a credible messenger to elders who have experienced the Jim Crow South, as well as to millennials who are speaking up about the world that they want to live in," said Park Cannon, a Black woman who is a member of Ebenezer Baptist Church and who was elected in 2016 as Georgia's youngest-ever state lawmaker and one of just three who are openly queer. "Now we know that enduring these political divisions can sometimes be a place where folks hide or retreat, and try to fit in. And I have never seen Raphael try to do that."
A background in activism and organizing can also bring activist bona fides that career politicians don't necessarily have. In 2017, for example, Warnock was arrested at the Georgia State Capitol during a protest against efforts to repeal the Affordable Care Act. "We need this type of leadership in Georgia, one that knows how to protest to the point of legal sedition without stepping over that line and creating civil unrest," Cannon said.
Bradshaw told Facing South that her environmental justice work has given her the opportunity to meet and engage with people who have concerns ranging from taxes to social justice. "My experience and role as a grassroots activist means that I listen first, then motivate people to act," she said. 
Mobilizing the disengaged
Bradshaw's campaign has been to the left of the Democratic mainstream from the beginning: She is running on support for Medicare for All, the Green New Deal, community policing and restorative justice, and overturning the Supreme Court's Citizens United decision lifting restrictions on money in politics. Besides the Sierra Club and DSA, she's also been endorsed by  U.S. Sen. Elizabeth Warren of Massachusetts, Nashville's United Auto Workers Local 37, and the Sunrise Movement, a youth-led climate initiative. In a panel hosted by DSA Los Angeles in late August, she credited her primary win to the community and organizing network she had built across the state.
Bradshaw and her supporters believe these positions will help her connect with voters who have been disengaged from the political process.
"What Marquita has been doing is, she's out there talking to Republicans and they're like, 'You know what, you're onto something. I may not agree with everything you say, but you're an honest person and you care about my well-being and my family,'" said Michaelantonio Jones, the co-chair of the Memphis DSA chapter, who has endorsed Bradshaw and is working with other state DSA chapters to mobilize support for her.
Bradshaw has had a plan to reach as many voters as she can statewide since she decided to enter the race last summer, Johnson said. He recalls Bradshaw sitting him down with a map of Tennessee and a list of counties that Harold Ford Jr., the most recent Black Democratic Senate candidate in Tennessee, won, lost, and didn't even attempt to campaign in. "She said the problem is the Democratic Party has not taken the time to really reach out to every single voter, in every single city, in every single county in Tennessee," Johnson said. She's currently on a statewide tour that will take her to all 95 of Tennessee's counties.
This is a strategy political scientist Sekou Franklin, a professor at Middle Tennessee State University, refers to as the "Ben Jealous" theory of elections, after the former NAACP president who ran for governor in Maryland in 2018. The idea is that progressive candidates can win statewide races in the South by making serious investments in turning out Black voters, young voters, disaffected voters, and those who have faced serious voter suppression.
It's also the approach taken by Warnock, and it mirrors the campaign strategies of Andrew Gillum, who ran for governor in Florida in 2018, and Stacey Abrams, who ran for governor in Georgia that same year. Neither won but both came close, with Gillum's race going to a recount, a first for a Florida gubernatorial contest. Warnock is making use of Abrams' sizable infrastructure in his race: Her group Fair Fight has endorsed him, and some members of his team also worked on her campaign. Outside political groups unaffiliated with the campaigns or parties can also boost the chances of nontraditional statewide candidates like Bradshaw and Warnock and have proven critical to recent Democratic victories in the South, including the 2018 win of U.S. Sen. Doug Jones in Alabama over Republican Roy Moore, Franklin said.
"When these infrastructures emerge that are in alignment with a candidate or campaign, but [are] pulling together the disaffected voters into a more robust infrastructure and mobilizing voters along those lines — I think that's working a lot better in these parts of the South than we are giving credit to," said Franklin. Right now, the apparatus in Georgia is much more well-funded and organized than in Tennessee. But groundwork laid in Tennessee this election cycle could bear fruit down the road. 
This year there are two prominent Black U.S. Senate hopefuls in other Southern states that have climbed the traditional ladder to their candidacy: Jaime Harrison, the former chair of the South Carolina Democratic Party, is currently running against incumbent Republican Sen. Lindsey Graham, and Mike Espy, a former Mississippi congressman and U.S. agriculture secretary under President Clinton, is looking to unseat incumbent Republican Sen. Cindy Hyde-Smith in that state. But given that there isn't a deep Democratic bench of Black candidates in many Southern states, and that state Democratic parties struggle with a lack of funding, Black candidates are increasingly emerging out of organizing efforts that they can mobilize to their advantage. Traditionally, Franklin said, campaign infrastructure has been essential to Black statewide candidates' success, along with funding and their ability to mobilize Black voters without jeopardizing the white vote — which, in past elections, has often meant a certain level of code switching in messaging to different communities. But this time, against the backdrop of continued anti-racism protests, perhaps things could be different.
Recent polling shows that the Georgia special Senate election currently appears to be a three-way race between Warnock and Republicans Loeffler and Doug Collins. If no candidate wins a majority of the vote in November — and the odds of doing so in a 21-candidate race are low — there will be a runoff in January. There's been no polling yet on the Senate race in Tennessee, but the most recent Democratic statewide candidates, including former Gov. Phil Bredesen, who ran for U.S. Senate in 2018, have lost decisively.
Bradshaw's victory in the Democratic primary came largely due to her wins in Memphis and in all but one of the counties in Western Tennessee. But she also won the primary in rural Eastern Tennessee and in several rural counties in Middle Tennessee. To win the general election, she will need to dominate West Tennessee, sway Republican and independent voters in parts of rural Tennessee, and also gather some votes in Tennessee's other two major cities, Nashville and Knoxville. It'll be a steep uphill battle. But for Bradshaw's supporters, some of whom have been on the campaign trail since last September and who already have one upset under their belt, it doesn't feel impossible.
"I hear the naysayers, but I let them nay," said Jones of the Memphis DSA chapter. "We're going to keep doing the work."
Tags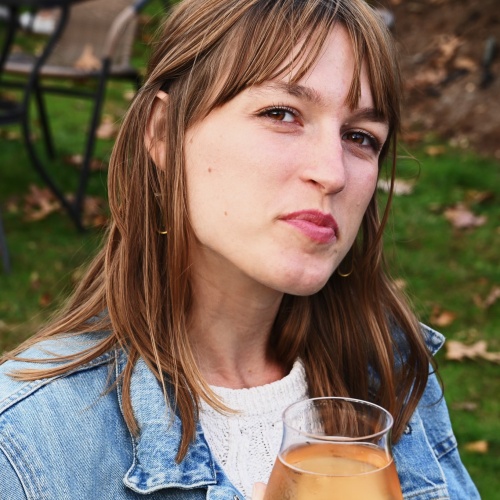 Olivia Paschal is the archives editor with Facing South and a doctoral student in history at the University of Virginia. She was a staff reporter with Facing South for two years and spearheaded Poultry and Pandemic, Facing South's year-long investigation into conditions for Southern poultry workers during the COVID-19 pandemic. Her reporting has appeared in The Atlantic, the Huffington Post, Southerly, Scalawag, the Arkansas Times, and Civil Eats, among other publications.