In the Georgia runoffs, 'poll chaplains' continue King's legacy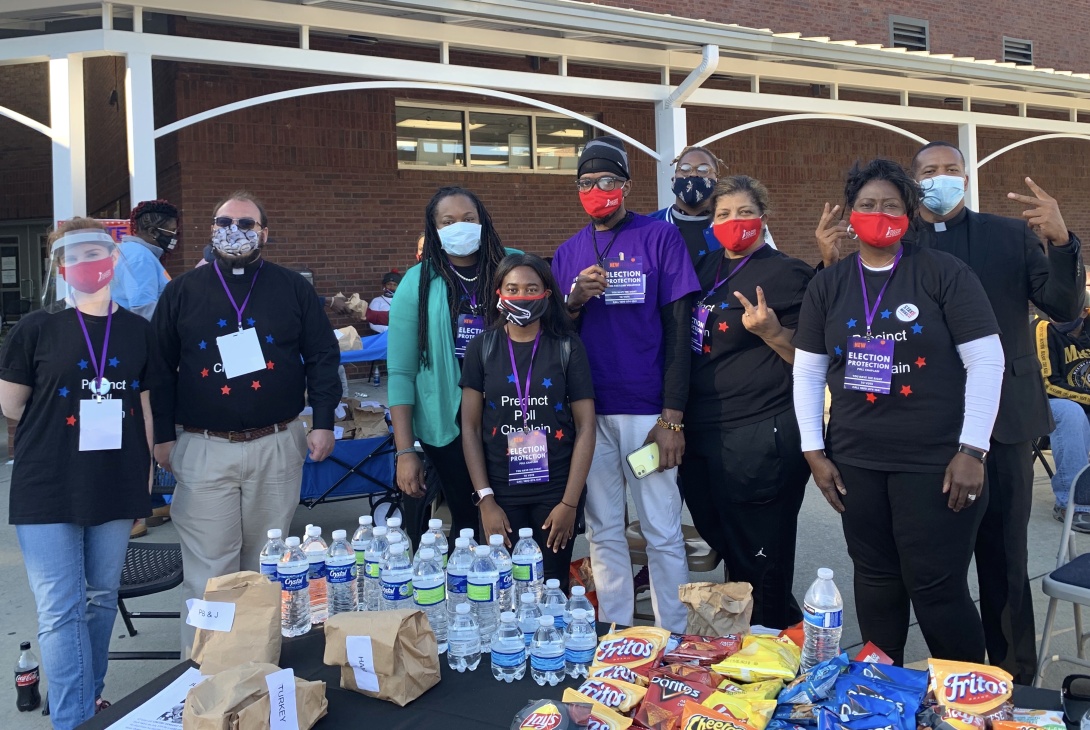 (This story was produced in partnership with Just Media, a national hub for grassroots storytelling on the politics of policing and justice reform.)
The countdown is on for Georgia's runoff elections on Jan. 5, pitting incumbent Republicans David Perdue and Kelly Loeffler against their Democratic challengers, Jon Ossoff and Rev. Dr. Raphael Warnock. With mail-in and early voting in full swing, Georgians of faith are working around the clock to mobilize their communities to vote.
The Democratic Party hopes to draw on Warnock's pastoral background to mobilize Black Christian voters. Warnock is the senior pastor of the historic Ebenezer Baptist Church, the home congregation of the Rev. Dr. Martin Luther King Jr. The linkage to King is core to Warnock's candidacy. For churches and many faith-based groups, on the other hand, the focus is nonpartisan. As Pastor Lee May from Transforming Faith Church in Decatur put it, "If our people come out to vote, we win."
The roots of faith-based organizing in Georgia go back to pre-Civil War times, when religious leaders fought for the abolition of African enslavement. "Many ministers in south Georgia were on the front lines of the freedom in struggle in the U.S. South," Billy Michael Honor of Loose the Chains, the nonpartisan faith-based organizing arm of the New Georgia Project, told me.
In 1773, Rev. George Leile founded First African Baptist Church in Savannah, potentially making it the oldest Black church in North America. One of the church's deacons, March Haynes, assisted in helping enslaved Africans reach freedom as a soldier in the Union Army. The church's sixth pastor, Rev. Emmanuel King Love, spoke out against lynching and played a role in the founding of Savannah State University (then the Georgia State Industrial College for Colored Youth), Morehouse College, and Paine College. Its 13th pastor, Rev. Dr. Ralph Mark Gilbert, served as president of the local and state chapters of the NAACP and advocated for Savannah to have some of its first Black police officers.
The civic infrastructure churches once provided social movements is no longer as central as in the days of the Montgomery Bus Boycott. The younger generation is less likely to be associated with religious institutions and more likely to be critical of historic faith-based movements. Despite these challenges, Honor says, Loose the Chains has "managed to forge a place for progressive-minded, justice-centered faith organizing."
Many in the faith-based organizing community in Georgia will know Honor. He has been volunteering at precincts since 2017 as a voter care minister. Now, this role has been dubbed "poll chaplaincy," a form of nonpartisan poll watching similar to that of many other election protection efforts but distinct in its spiritual foundation and underpinnings. As Honor puts it, poll chaplaincy entails "offering spiritual, emotional, and relational care to those in social change, events, organizations, and movements."
For the November elections, poll chaplains with Loose the Chains sought to serve as a calming presence — providing water, snacks, and PPE kits for voters, monitoring precinct activity including the number of people who voted each hour, and helping handle and report any efforts to intimidate voters. The volunteer force was diverse, with clergy, faith leaders, seminarians, and laypeople alike. All told, about 130 poll chaplains joined Loose the Chains to cover approximately 90 precincts.
"We are called to do justice as a ministerial community," said Connie Moran, a poll chaplain at Atlanta's C. T. Martin Natatorium. "When we think about how 'faith without works is dead,' I think of marrying faith with my actual work. Our leadership is required and necessary to protect justice in this country. Our intentional work to support the protection of our democracy and overall presence invites the love of God and Spirit into the experience. It is just one form of a servant act."
On Election Day, Loose the Chains' poll chaplains joined other poll watchers and legal observers at C. T. Martin for a victory party. The organizers mixed in with live bands, a saxophonist, stilt walkers, DJs, jugglers flaunting their yo-yo tricks, and break dancers with feet twirling in the air. The day's jubilation underlined the solemn promise organizers had made to voters — that their sacred right to the franchise wouldn't be denied yet again and that they'd be protected from intimidation and harassment at the polls, and the promise to be their siblings' keepers at the ballot box.
"I want people to go to the polls knowing that they have nothing to fear — that their right to have their voice heard will be encouraged, uplifted, and defended by people of hope," said Kara Wilson, who served at the Adams Park Library polling site.
Volunteers also faced their own unique challenges. At C. T. Martin, they had to get permission to provide snacks and water to voters, despite having had no issues handing out provisions during early voting in the two weeks prior. This stipulation intimidated many organizations, and they left without returning. Moreover, volunteers were told by the secretary of state's office that they had to be at least 150 feet away from the polling site to do handouts. But this is true only for candidate-focused campaigns, which typically have to follow more stringent rules. Volunteers had to spend critical time pushing back on these attempts to deny them their right to serve.
For the January runoffs, organizers hope to adapt what they learned this fall to go even bigger. As part of One More Vote campaign, Loose the Chains is conducting outreach to churches, temples, synagogues, and seminaries with the goal of reaching 150 congregations, encouraging each to have 100% participation in the runoffs among their membership. Additionally, the group will be monitoring board of election meetings across the state to help ensure that adequate polling locations and drop boxes are provided. And it's continuing its poll chaplaincy efforts during early voting and Election Day.
Minister Tiffanie Mackey, a master of divinity student at Emory University's Candler School of Theology, served as a poll chaplain at Adams Park and is on the planning team for Candler's continued efforts to organize seminarians. Mackey began organizing as a teenager when her aunt ran for chief district attorney and has been active and engaged ever since. "Seeing the good work of my aunt and others like her that I've come to know personally, and knowing I can and have had even a small part in that work and effort, continuously makes me feel called to the marginalized in society," she said.
Mackey's work gives us a glimpse into the next generation of faith leaders and organizers. "My goal is to consistently operate at the intersection of politics and theology by engaging communities and congregations in social justice advocacy efforts," she shared.
Another effort, the nonpartisan Georgia Votes Together campaign, is providing communications infrastructure for faith-based efforts around the runoff. Similar to One More Vote, the group creates scripts and templates with Get Out the Vote messages that are sent to congregations and larger church databases each week leading up to the election.
The campaign's founder, Pastor Lee May, president of DeKalb Pastors Christian Alliance, has held statewide calls pastors interested in joining the effort. May brings years of experience with progressive organizing. Following seminary, he organized with Georgians for Healthcare around the 2004 presidential election and helped register 50,000 new voters. In 2006, he was elected as a DeKalb County commissioner. Seven years later, he was appointed as county CEO by Gov. Nathan Deal.
May, like Honor and Mackey, sees himself as "a part of a long line of individuals since the days of the Bible who connect their faith with works." As he puts it, "Since the days of Moses, who spoke to Pharaoh on behalf of his people, I believe we have been called to speak to the 'powers that be' in a lifelong fight to speak on behalf of those who don't have a voice for themselves."
Tags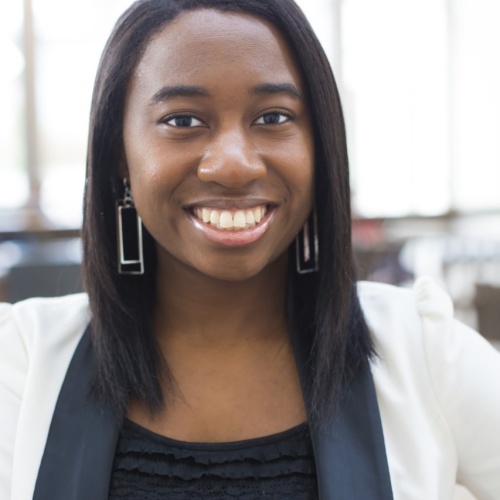 Deirdre Jonese Austin is a Just 2020 Fellow with Just Media. She is currently pursuing a Master's of Divinity at Emory University in Atlanta. You can learn more about her and read more of her writing at DeirdreJoneseAustin.com.