South Carolina schools struggle to keep children safe as politicians fight mask mandates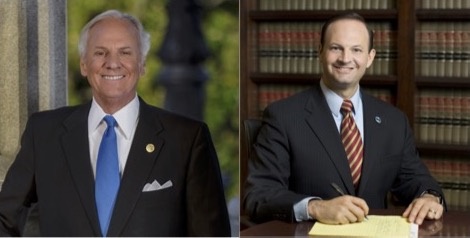 As last month drew to a close, South Carolina posted the South's highest percentage of children among all COVID-19 cases, surpassed nationally only by Vermont and Alaska. But as state public health officials and clinicians work to bring those alarming numbers down, they're being stymied by Republican Gov. Henry McMaster's efforts to discourage school mask mandates.
Children made up 23% of total COVID-19 cases in South Carolina, according to a Sept. 30 report released by the American Academy of Pediatrics and the Children's Hospital Association. Other Southern states with a high proportion of children among COVID cases were Tennessee at 22.5% and West Virginia at 21.9%. Along with McMaster, Tennessee Gov. Bill Lee (R) has also been a leader in fighting mask mandates.
McMaster supported a proviso in the state budget — temporarily blocked for now by a federal court ruling — that barred the use of state funding to enforce mask-wearing in schools. McMaster also issued an executive order in May that said parents should decide whether their children wear masks in the classroom. In August, the U.S. Department of Education announced that it was investigating South Carolina and Tennessee, along with Iowa, Oklahoma, and Utah, for possibly violating the civil rights of children with disabilities with these anti-masking policies.
In South Carolina as of Oct. 1, 21 children were hospitalized with COVID-19, with 15 of them in critical condition and four on ventilators, according to data released by the South Carolina Children's Hospital Collaborative (SCCHC), a consortium of the state's four pediatric hospitals. Children's hospitals in the state saw a rise last month in the number of patients sick with COVID-19. On Sept. 30, 27 children in the state were hospitalized with the disease; 12 of them were in critical care and five were on ventilators, according to SCCHC data. The number of South Carolina children seriously ill with the coronavirus peaked on Sept. 2 and Sept. 17, when 38 were hospitalized with the disease, according to that same data.
Since the pandemic began, 14 children ages 17 or younger have died from COVID-19 in South Carolina, according to Derek Asberry, a spokesperson for the state's Department of Environmental Health and Control. Both DHEC and the U.S. Centers for Disease Control and Prevention have recommended masking to prevent COVID-19 infections in children.
Last week a federal judge granted a temporary restraining order and preliminary injunction to the plaintiffs in the lawsuit challenging South Carolina's anti-mask budget proviso for schools on the grounds that it discriminated against students with disabilities in violation of the American with Disabilities Act, the Rehabilitation Act of 1973, and the American Rescue Plan Act of 2021. The plaintiffs in the lawsuit are advocacy groups including Disability Rights South Carolina and individual plaintiffs represented by the American Civil Liberties Union. They sued McMaster, Wilson, Superintendent of Education Molly Spearman, and seven school districts in the state.
"This case presents a legal question, not a political one," Judge Mary Geiger Lewis explained in court documents. "And, the question is quite simple: whether the Court will allow Defendants to continue to discriminate against the minor plaintiffs here based on their disabilities. The answer is, of course, a resounding 'No!'"
Geiger, appointed by President Obama, continued, "It is true that the fundamental right of a parent to decide what is best for their child cannot be ignored. It is also generally true that parents are the ones who know their children best, what is best for their health, and their ability to learn. But, those same truths apply equally to all parents, including the parents of children with disabilities, such as the minor plaintiffs here."
Following the ruling, Superintendent Spearman said South Carolina schools can now adopt mask mandates at their discretion. But McMaster and Wilson immediately appealed the court's ruling and filed an emergency motion in the 4th U.S. Circuit Court of Appeals to stay the injunction. On Sept. 30, the S.C. Supreme Court released an opinion in another case about mask mandates in the state and ruled that Proviso 1.108, which banned funding for masks in schools, and Proviso 1.103, which put a 5% cap of the number of students in virtual school in each district were constitutional, but the opinion does not affect the latest federal court ruling.
In a statement, McMaster said he would "take this fight to the U.S. Supreme Court if necessary."
'It's a heavy weight'
Medical professionals in South Carolina worry about the rising pediatric COVID case numbers. Throughout the month of September, "our hospitals and our ICUs have filled with COVID-19 in children, and we don't have unlimited resources," said Dr. Elizabeth Mack, the medical director of Children's Hospital and Safety at the Medical University of South Carolina in Charleston.
Mack told Facing South that so far during the pandemic MUSC has not admitted a single child with COVID-19 who has been vaccinated. Children under 12 are still not eligible for the vaccine, although Pfizer announced last week that it submitted data to the U.S. Food and Drug Administration from clinical vaccine trials that included children ages 5 to 11. Mack said the parents she's encountered have been aware of the availability of vaccines for children 12 and older, though some have hesitated to get their children vaccinated for various reasons.
"The number of parents that have asked me 'can I get them vaccinated now?' as they're in the throes of COVID, it's always heartbreaking," she said.
The limited availability of the vaccine for children makes other strategies for preventing the spread of the virus among them — including masking — all the more important.
Maggie Cash, executive director of the South Carolina Children's Hospital Collaborative, said her organization started daily detailed reporting of the COVID-19 crisis among children in South Carolina at the end of August when child hospitalizations increased. The organization has called on state leaders to do everything "in their power to protect children by implementing evidence-based strategies including universal masking in schools for children and vaccination for eligible children."
"Schools know what to do," Cash said. "It's that in some states like ours, their hands have been tied by the government."
Even before the recent court ruling temporarily invalidating state limits on funding for masks in schools, some larger, wealthier school districts in South Carolina took the initiative to impose mask mandates.
In September, for example, Lexington School District Two approved a temporary emergency mask requirement for students, faculty, and visitors that was set to expire at the end of October, while the Charleston County School District required masks in schools at least until Oct. 15.
Since the court ruling, some other school districts, such as Richland Two, announced they are now requiring students and faculty to wear face masks. Nicole Walker, a teacher in the Richland Two district and co-founder of the education advocacy group SC for Ed, said students and staff have for the most part been wearing face masks. But she said another proviso in the state budget limiting hybrid and online learning has led to overcrowding that she believes is contributing to the high number of COVID cases among children.
"I think that's absolutely because of the situation that the governor and the legislature has put us in in terms of not really being able to use those type of mitigation strategies," she said.
SC for Ed is planning a "Protect Our Kids" protest at the South Carolina State Capitol on Oct. 12 along with a vigil for students and faculty who have died of COVID-19. Walker, a mother of three including two ineligible to be vaccinated, says she fears not only for the safety of her own children but for children across the state.
"It's all the kids in our classroom that also aren't eligible for the vaccine that we're trying to keep safe," she said. "It's a heavy weight right now."
Tags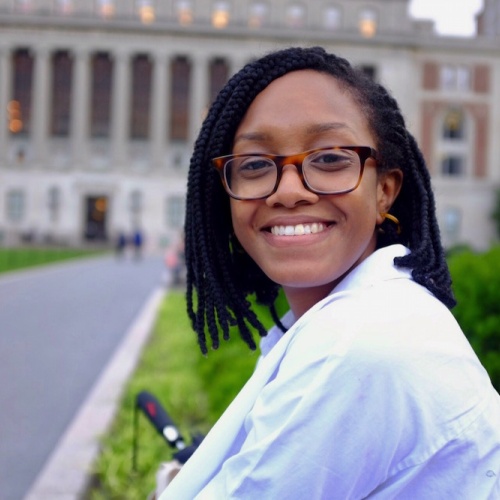 Elisha Brown is a staff writer at Facing South and a former Julian Bond Fellow. She previously worked as a news assistant at The New York Times, and her reporting has appeared in The Daily Beast, The Atlantic, and Vox.