Will companies backing anti-trans lawmakers face backlash in North Carolina?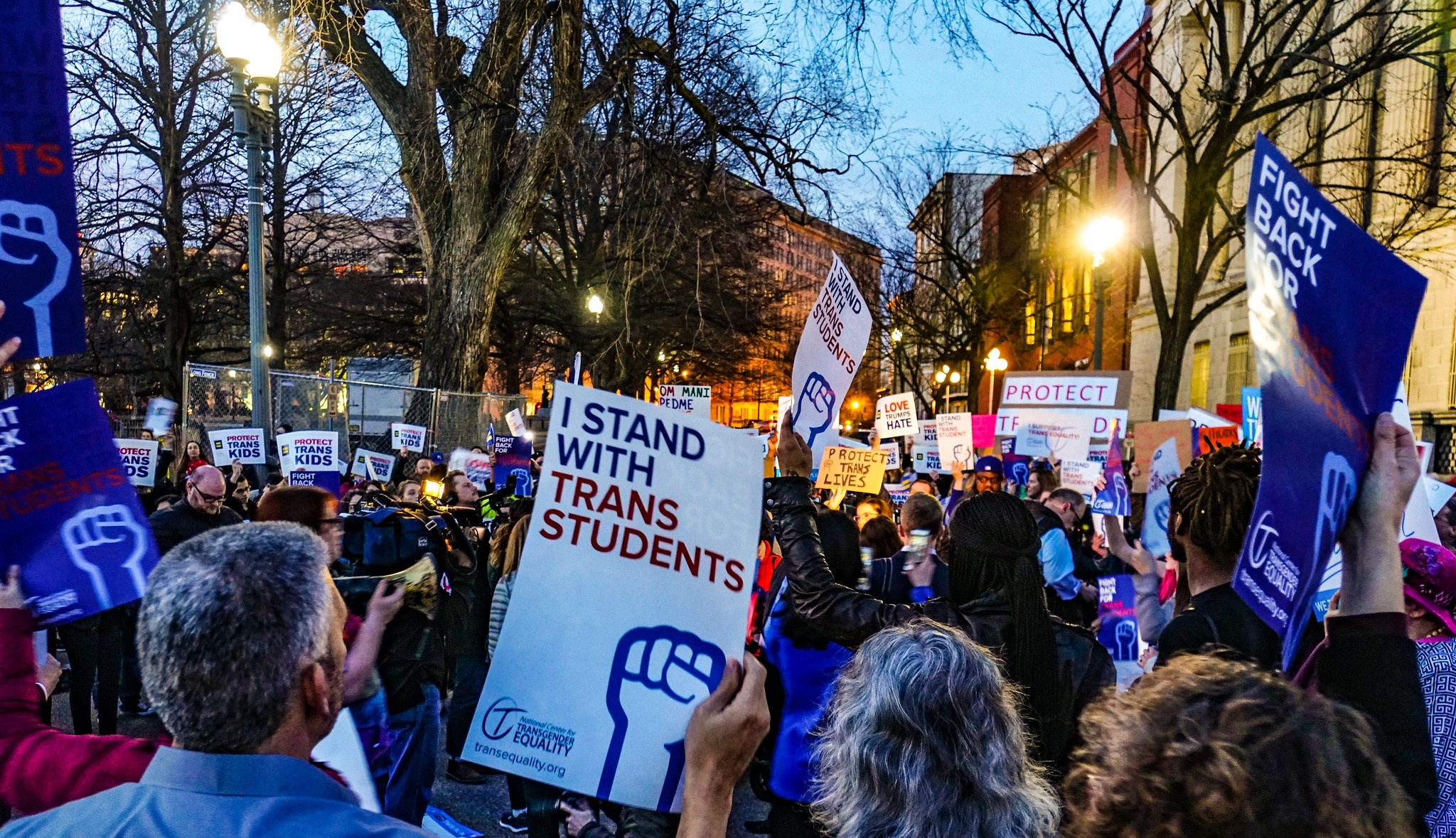 Rowan Bilodeau rattles off the list of pride events he's been to over the past month. The 15-year-old has hit towns across the Triangle: Fuquay-Varina, Pittsboro, Raleigh, Chapel Hill, and Carrboro. 
"We've been to, I think, pretty much every one," he says. He stands outside the North Carolina General Assembly on a sweltering June afternoon, dressed in a white shirt and black tie, with a shock of slicked-back red hair. 
On this summer day, however, Bilodeau is not in Raleigh for a pride event. 
He, along with several parents and another teen, gave public comments during a committee hearing on June 26, urging state lawmakers to vote against NC House Bill 808. The bill — now passed in both the state House and the Senate — bans minors from receiving gender-affirming care, including surgery, hormone therapy, and puberty blockers. 
This is the second time this month that Bilodeau, who is transgender, has spoken at the General Assembly against bills targeting trans youth.
"There are tons of other things that I'd rather be doing than coming to my state capitol and being like, 'Hey, can you stop taking away my rights?'" Bilodeau, who lives in Pittsboro, said. "Like, I have friends and I like to go to the mall with my friends and hang out. But it's hard to do that when you're too busy focusing on the fact that your rights are being taken away."
Over the past year, a record number of bills targeting trans and queer individuals has swept across the nation. According to the Trans Legislation Tracker, since the beginning of 2023, 560 anti-trans bills have been proposed in 49 states. Of those bills, 84 have passed.
In North Carolina, a handful of anti-trans bills are poised to become law, having moved in rapid succession in June as the close of the legislative session looms. All four bills that remain on the docket or sit on Gov. Roy Cooper's desk are sponsored by Republican legislators.
A Facing South analysis of campaign finance data finds that among the largest donors to the GOP lawmakers sponsoring anti-trans legislation in North Carolina, aside from Republican groups, are the political committees of prominent companies – including businesses that have been lauded for their commitment to LGBTQ+ rights. 
NC joins states pushing anti-trans legislation
The massive uptick in bills targeting young transgender people has sparked questions around the key players involved in pushing forth such legislation — recent reports from Mother Jones and the Associated Press have found a handful of conservative interest groups were responsible for similar language drawn from model legislation and used in multiple bills banning gender-affirming care across the country. 
Southern states, including Texas and Florida, have made national headlines for particularly harsh legislation, joining 19 states that have banned gender-affirming care and treatment for transgender youth. 
"Years ago, we saw really harsh immigration laws come to Arizona, then they went to Alabama, then they went to Mississippi; they're trying them out," said Kendra R. Johnson, executive director of EqualityNC, a statewide LGBTQ+ rights and advocacy group. "This is very much the same with this slate [of anti-trans bills], we're calling it the 'Slate of Hate' that we're seeing sweeping across the South."
In North Carolina, House Bill 574, titled the "Fairness in Women's Sports Act," would ban transgender women from playing on sports teams that align with their gender identity from middle school through the collegiate level. The bill currently awaits Gov. Cooper's likely veto — though N.C. Republicans have a supermajority to override a gubernatorial veto. 
Senate Bill 49, another piece of legislation, would require public schools to notify parents of any pronoun or name changes for their child before they occur, among other measures. As of June 29, SB 49 has passed in both chambers of the legislature. In addition, Senate Bill 631, which would prohibit the use of public health care facilities and state funds for gender-affirming care for minors, has passed in both chambers and has been referred to the Rules and Operations Committee in the Senate.   
Bill sponsors and campaign bankrollers
The four anti-trans measures that made it past the crossover date in North Carolina's current legislative session were led by 14 Republican lawmakers who were primary bill sponsors. Facing South analyzed direct campaign contributions to the 14 legislators as of June 6, using data from FollowTheMoney.org and selecting the top 10 donors to each of the lawmakers. 
The biggest donors to the sponsors of the anti-trans legislation by a significant margin were partisan political committees, making up more than 75% of the total contributions by sector. Together, the North Carolina Senate Majority Fund, North Carolina Republican Party, North Carolina House Republican Campaign Committee and North Carolina Republican Caucus have given more than $7 million to the lawmakers across the span of their political careers. Other significant contributors include Sen. Lisa Barnes, a primary sponsor of Senate Bill 49, who has contributed about $200,000 to her own campaigns over the years.  
Aside from partisan committees and candidates, other major contributors to the 14 bill sponsors are the political action committees of the North Carolina Association of Realtors, which has given close to $150,000 over the years; about $90,000 from the Eastern Band of the Cherokee Indians; and nearly $70,000 from Duke Energy. Key industries represented among the top donors to the 14 lawmakers were the finance, insurance and real estate, health care, and construction sectors.
And among the 10 biggest donors to each of the anti-trans bill sponsors, the top 50% in total contributions include political action committees of and individuals connected to several medical groups: Eastern Carolina Emergency Physicians, Wilmington Anesthesiologists, the North Carolina Hospital Association and the North Carolina Association of Nurse Anesthetists.
Corporate disconnect
In the list of the top donors to anti-trans lawmakers are companies and groups like Blue Cross Blue Shield of North Carolina, Duke Energy, and the North Carolina Association of Realtors, who have made numerous public statements or posts on social media in support of Pride month and their LGBTQ+ employees — a disconnect that advocates are highlighting in their opposition to North Carolina's wave of anti-trans legislation.
In 2022, for example, Duke Energy highlighted its selection as one of the "Best Places to Work for LGBTQ Equality" by the Human Rights Campaign (HRC). Among the reasons Duke Energy was honored by HRC was because of the company's support for the Equality Act, a national bill that, among other measures, would provide civil rights protections for gender identity.
The North Carolina Association of Realtors, a non-profit trade association representing 57,000 real estate professionals across the state, has made several posts in honor of Pride month on its Facebook page. The group's Facebook page has also shared posts against housing discrimination. "REALTORS provide equal professional service without regard to the sexual orientation or gender identity of any prospective client, customer, or community residents during Pride Month and beyond," one post from June 2022 reads.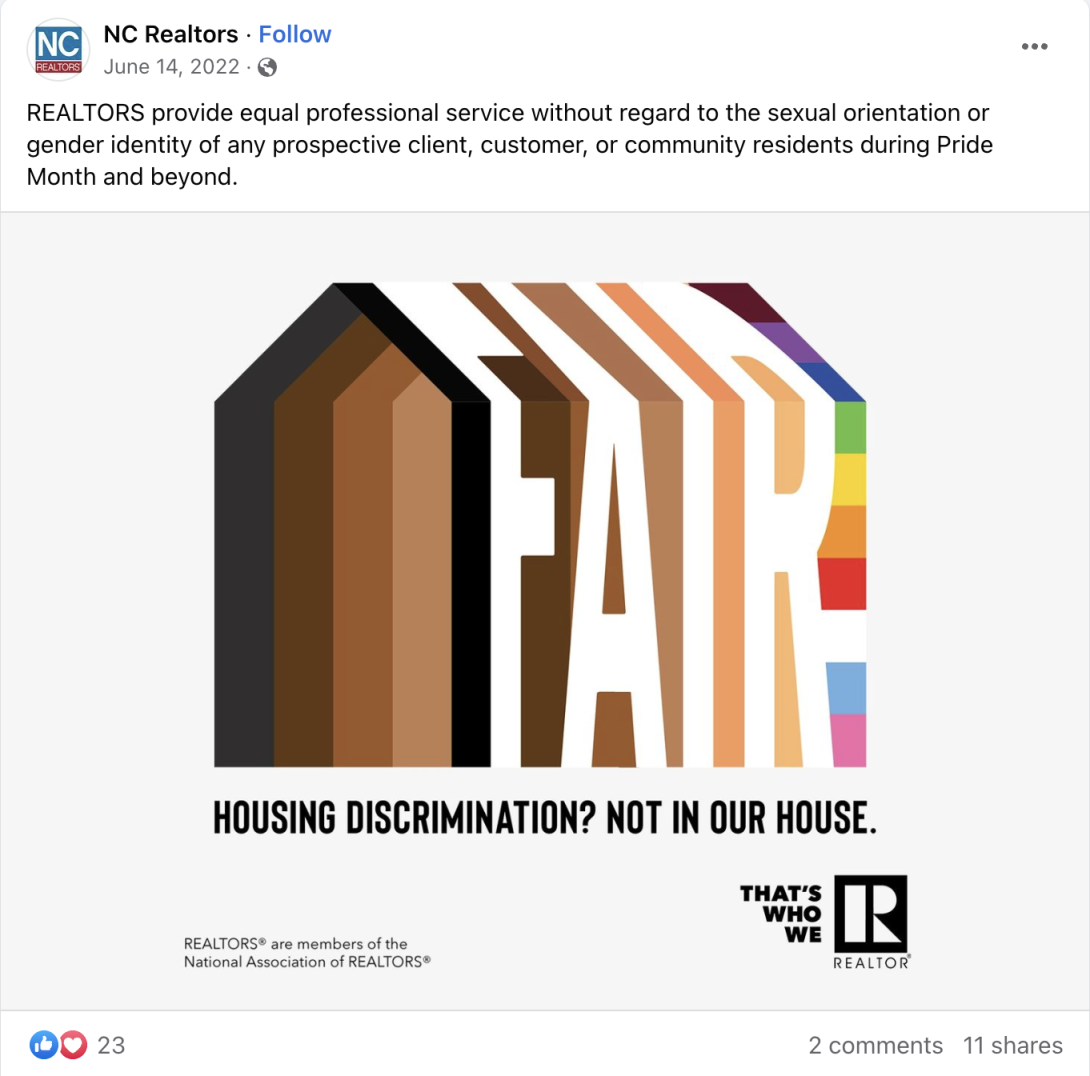 Blue Cross Blue Shield of North Carolina drew plaudits from trans rights advocates in 2021 when the company announced they would include coverage for gender-affirming procedures for transgender and gender-nonconforming people as medically necessary care. In a statement given to North Carolina Health News, the insurance company affirmed "the importance of gender dysphoria as a medical condition" and of covering "treatments related to gender affirmation as a standard benefit on all plans."
In an email to Facing South, a media representative for Blue Cross Blue Shield of North Carolina said the company's political contributions made through their PAC are funded strictly by employee contributions, and reiterated the bipartisan nature of the donations. Still, since 2012, the majority of the PAC's contributions have skewed towards Republican candidates on the federal level, according to data from Open Secrets. 
"As the state's leading not-for-profit insurer and employer operating in a highly regulated industry, Blue Cross NC must stay engaged with elected officials and lawmakers from both political parties," the representative said.
In some cases, political action committees have likely donated to GOP lawmakers simply because Republicans hold majorities in North Carolina's House and Senate, and they need to cultivate influence with leadership on policy affecting their industries. Health care – highly regulated at the state level – is often one of the biggest industries to donate to politicians to gain such access.
"Many of these donors are giving to conservative Republicans — not necessarily because they agree, or even anticipate that they would be filing bills on transgender treatments — but because these are the people who are making the rules that affect what they're doing every day in their hospital or in their physician's practice," Eric Heberlig, a political science and public administration professor at UNC-Charlotte, told Facing South.
But North Carolina history suggests the disconnect between the values professed by business interests and the policy agendas pursued by lawmakers can be more volatile. In 2016, after Republicans passed the anti-trans HB2 – the so-called "bathroom bill" – LGBTQ+ advocates successfully pressured companies to boycott the state, resulting in more than half a billion dollars in losses. The controversy caused companies to back away from supporting Republican lawmakers, contributing to the victory of Democratic Gov. Roy Cooper in the 2016 gubernatorial election.
In May, Axios reported that, as of a month ago, North Carolina companies hadn't spoken out against the state's current slate of anti-trans legislation in the way they had spoken out against HB2. But trans advocates say it's crucial to examine the gap between the values businesses proclaim in public, and who they back with their political contributions. "It is incumbent upon these companies and these PACs to take a look at who they are funding and what are the motivations," Johnson said.
With the current set of anti-trans bills being pushed through the state legislature, Johnson is unsure that North Carolina will see a repeat of the economic pressures felt by the state after HB2, in part due to escalating right-wing pressure against companies who oppose anti-trans legislation.
"I think with the violent intimidation that corporations are facing right now, I'm not sure that we're going to see the same level of political engagement or companies coming out of the pandemic, being willing to pull a project," Johnson said.
"It doesn't mean they won't work behind the scenes," she continued. "But I saw even with the parental rights bill and the anti-trans sports bills, that the language of the folks who were promoting these bills was fearless."
Concerns over health care access
During the Senate Rules and Operations Committee hearing on June 26, proponents of the bill commended its sponsors for the legislation, particularly around the protections they believed it would offer to parents and minors. 
"I do believe 100% we are protecting children," Sen. Paul Newton, a Republican whose district includes Concord and Kannapolis, said during the hearing. "And we're protecting this moment in history, where this fad seems to be overtaking the social media airwaves and whatnot."
Evidence-based research around gender-affirming care has shown that the treatment is safe and medically necessary. Critics of these bills worry about the impacts to mental health for trans youth, who are already facing disparities when it comes to depressive symptoms and suicidality.  
"I think it's disingenuous and wrong to minimize a very real mental diagnosis of gender dysphoria down to a trend," Ivy Nangalia, a 17-year-old who spoke against House Bill 808 during the public comments section on June 26, told Facing South. "A trend is baggy pants, a trend is wanting to wear nail polish and dye your hair — a trend is not changing your gender identity, and I think that's wrong to say."
And for teens like Bilodeau, it is exhausting for his existence to be something that people debate over, he said. 
"I think that it's frustrating because they're talking about how they want to protect kids, but they're not letting us talk about our own protection," Bilodeau said.
Nicia Carla, a mother of a trans 16-year-old and a public high school teacher from Charlotte, also spoke against HB 808. Her son came out to her at 12, and it was three years before medical interventions began, she said. 
"Gender affirming care is not passed out like candy," she said. "...I have a thriving 16 year old, he's happy, he is healthy, he is kind. Please do not take away this parental right to our health care."
Speaking to Facing South, Carla said she had considered leaving North Carolina for her child's safety amid the flurry of anti-trans legislation, and had even looked at jobs in other states. Reports of families with trans children leaving states like Texas, Florida and Missouri out of fear of losing access to health care or civil rights protections have circulated even before the start of this year. 
Advocacy groups like the Campaign for Southern Equality have established emergency funds, including grants and a regional referral network of health care providers to support families affected by health care bans in the South.
"My son loves the South," Carla said. "We shouldn't have to flee the South. The South is our home, and we are proud to live here." 
Tags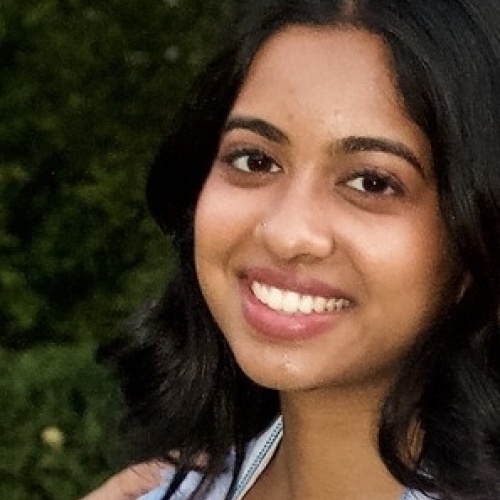 Maydha Devarajan is the 2023 Julian Bond Fellow at Facing South. She previously worked as a reporter for the Chatham News + Record and as a metro reporting intern at the Raleigh News & Observer. Maydha has also served as a research intern with UNC-Chapel Hill's Southern Oral History Program and the Center for Innovation and Sustainability in Local Media.