EV mega-deals pit states against the South's rural communities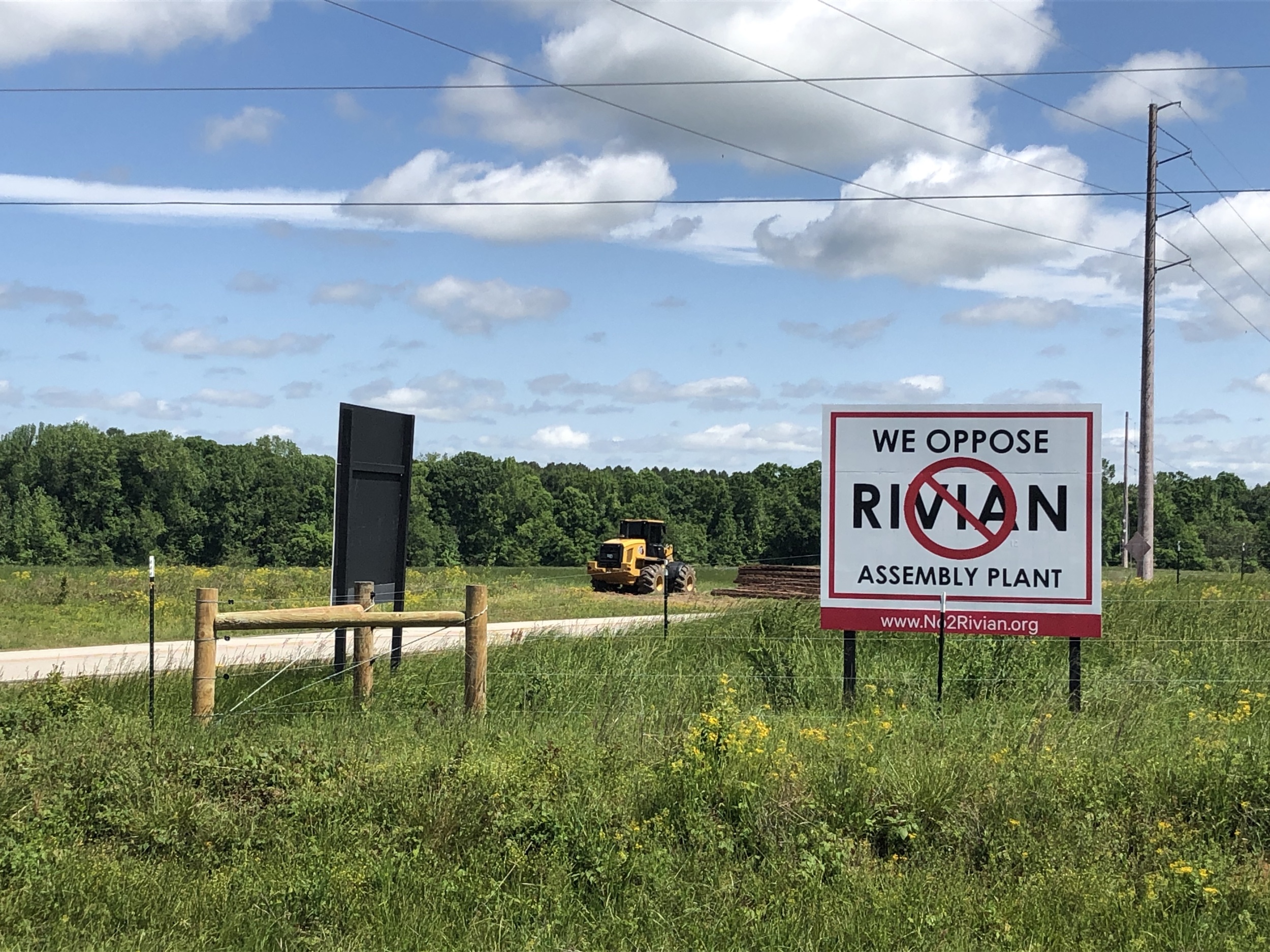 About 50 miles east of Atlanta, bulldozers are clearing land to make way for what will soon be a $5 billion assembly plant for electric vehicles. Announced in 2021, California-based electric truck maker Rivian has begun construction on its new plant on the north side of I-20 near the towns of Social Circle and Rutledge, Georgia with plans to manufacture hundreds of thousands of EVs per year by the time the plant is fully operational.
The location of the new plant — what will be Rivian's second assembly plant after its Normal, Illinois facility — is a sprawling 1,978 acres comprised of dozens of land parcels that a multi-county joint development authority (JDA) pieced together for the express purpose of creating a megasite for such developments. The site stretches across two rural counties in northeast Georgia — Morgan and Walton — where one would have mostly expected to see farmland in the recent past. But all that is rapidly changing.
Soon, this area will be transformed by a 16 million square-foot assembly plant. Earthmovers will shift and compact red clay; workers will lay pipe for water and gas, dig detention ponds, pave parking lots, and expand nearby roads to accommodate new traffic from commuter vehicles and semi trucks. It's a huge development that has received rare bipartisan support for its purported economic and climate benefits — but not everyone is sold.
Just over a year ago, the state approved an economic development deal that gives Rivian a $1.5 billion incentive package — one of the largest in Georgia's history. Still, opponents of the project — including those who live near the rural area where Rivian is breaking ground — have raised concerns over the impact the plant's construction will have on the local environment and community. And as the automaker has experienced massive drops in its stock price and production delays in recent months, questions remain as to whether the assembly plant's promised incentives outweigh its costs.
Environmental effects
In January 2022, a band of residents organized the Rutledge Opposes Rivian Assembly Plant group under the legal entity Morgan Land, Sky & Water Preservation, Inc., raising $125,000 in under a week to bring a legal challenge to halt construction of the plant. According to the group's website, organizers have serious concerns about the environmental impacts of the plant, the methods used by Georgia governor Brian Kemp's administration to court Rivian and an alleged lack of transparency from state and county government officials.
No2Rivian claims the site of the proposed plant sits in an important area for groundwater recharge and that a construction project of this magnitude would contaminate groundwater and well water — a source of drinking water for many local residents. A report from the Northeast Georgia Regional Commission examining the regional effects for the project echoes the first concern, noting that millions of square feet of land will be converted to impervious surfaces, hindering groundwater recharge.
According to Rivian's stormwater master plan, the automaker will build detention ponds to mitigate such negative impacts, but some residents are concerned construction could potentially disturb their well water.
"[The top] concern is water," said Nicole Wasendorf, a member of No2Rivian. "We are all on wells here in [Morgan County] pretty much, and … we live, maybe, I guess, a mile and a half from particular parts of the site."
In an emailed statement to Facing South, County Manager for Morgan County Adam Mestres noted that most of the residents of unincorporated Morgan County rely on wells for drinking water, also stating that Morgan County has "no plans on record" for building a public water system. 
In April of this year, a Morgan County resident filed a federal lawsuit against Rivian and two of its contractors, claiming a rainstorm caused mud from the construction site to run off onto their property. The plaintiff accuses the EV maker and its contractors of violating the Clean Water Act and, in a statement, said they showed "disregard for the environment of our rural area, including our fields, forests, and streams." Rivian has denied responsibility, and filed a motion to dismiss the suit in June.
The cost of green growth
Environmental impacts aside, there's also a battle over the economic effects of the plant.
The state of Georgia has offered Rivian $1.5 billion in tax breaks for the assembly plant. The incentives package is not only one of the largest deals of its kind in state history, but also one of the largest car subsidy deals in U.S. history, according to a 2022 report from Good Jobs First, a Washington, D.C.-based non-profit organization that tracks government subsidies and corporate misconduct. That deal includes the elimination of a number of taxes that would be lucrative for the state — as well as a unique provision that the state will own the land and facilities of the assembly plant and lease it to the Joint Development Authority, which will then lease it to Rivian.
According to the state and Rivian, the plant will create 7,500 new jobs with an average annual salary of $56,000, though the details of how they arrived at that figure are murky. The Good Jobs First report highlights this fact, noting that the deal allows Rivian "to pay as little as $20 an hour, with no employer support for healthcare or other benefits" through 2046.
And under the incentives package, Rivian would pay no property taxes on the assembly plant until ownership is transferred from the state roughly 25 years from now. A provision of the deal also grants Rivian the option to effectively buy the assembly plant from the state for just $100, in addition to paying any outstanding debts, at the end of the lease term.
What the state won't collect in the form of property taxes before transfer of ownership, it expects to more than make up for through PILOT payments, according to the official Economic Development Agreement between Rivian and the state of Georgia. PILOT payments are a standard way for various entities to pay the government back when they wouldn't otherwise pay taxes — usually in cases of economic development projects.
The PILOT payments Rivian will make to the state of Georgia — which the state claims will be more than 18 times the revenue from current property taxes made on the property in the first year — will be redistributed to the four counties and the city of Social Circle, including their respective school districts.
In a July 2022 interview with Georgia Trend, JDA chair Jerry Silvio likened the expected benefits of these PILOT payments to infrastructure upgrades in Burke County made possible by similar payments from gas and electric utility corporation Southern Company for its new $30 billion Plant Vogtle nuclear power plant.
"When [Burke County] started receiving the money paid by Southern Company, suddenly there was a bypass road put in, new schools, a fire station," Silvio told Georgia Trend. "They got the necessities of life updated or added to their community profile. I suspect that similar results will happen in these four counties, and that's a good thing."
While the joint development authority overseeing the project views the assembly plant as an economic boon for the region, critics of the project argue the plant's tax-exempt status could result in a budget deficit to be made up by other tax-paying property owners, even with PILOT payments. The controversy over tax incentives in Morgan County reached a climax in September 2022, when a Morgan County judge denied Rivian $15 billion in bonds from the state to help finance construction of the plant, ruling as well that the project should not be tax-exempt.
Rivian and the JDA appealed this decision, and on April 28, the Georgia Court of Appeals mostly reversed the decision of the lower court. And on July 13, the state's Supreme Court denied opponents' petition to review the Georgia Court of Appeals' decision.
"While yesterday's ruling was not what we wanted, there is still certainly much that has been learned, and much to be encouraged about moving forward," Wasendorf posted to the Our Communities Oppose Rivian Assembly Plant Facebook group on July 14. " ... It's not over yet."
Reaching equitable decarbonization
Other rural Southern towns currently making room for EV plants highlight the disconnect between business interests and concerns from some residents.
Residents in Moncure, North Carolina have voiced concerns over the construction of a 1,700-acre manufacturing plant for Vietnamese EV automaker VinFast. Unlike the Rivian plant in Georgia, the state of North Carolina is using eminent domain to seize nearly 30 homes, some businesses, and a church under roadway improvement plans from the North Carolina Department of Transportation.
"It's like having your heart ripped out," one Moncure resident, Lisa Palmer, told the Chatham News & Record. "This is about more than just me, this is my town. It hurts."
And in western Tennessee, a community of Black farmers is fighting for a fair sale price for parts of their land that lie within the development area of a new Ford EV and battery plant — land the Tennessee Department of Transportation is also trying to use eminent domain to acquire.
A recent Nature Conservancy report titled Power of Place outlines recommendations for how the U.S. can build the infrastructure and clean energy projects needed to achieve net-zero carbon emissions by 2050 without negatively impacting environmentally-sensitive land or frontline communities — communities, the report notes, that are often located in rural areas.
"Inclusive, participatory planning processes are needed to ensure that economic and environmental benefits and burdens from decarbonization are shared equitably," the report's executive summary reads. 
Failure to do so, warns the report, could cause backlash, ultimately hindering the clean energy transition. For those in the No2Rivian group, that means doing more than simply hosting joint development authority meetings open to the public, Wasendorf said.
"Our portion of the community is opposed to [the assembly plant] being here, not because it's in our backyard … but because it will drastically change our environment in our area," Wasendorf said. "I don't know if transparency would have made a huge difference. However, I do believe that regardless of the difference that would make, it's still the way [the JDA] ought to operate."
Transparency and business investments
Since assuming the governor's office in January 2019, Kemp's administration has been bullish in courting investments from electric automakers like Rivian. In his inaugural address, Kemp said he intends for "Georgia to be recognized as the electric mobility capital of America."
So far, Kemp has been successful in attracting out-of-state investment from EV and renewable energy companies. In January, the governor's office issued a press release announcing that Qcells, a Korean maker of solar panels, will more than double its production in Georgia through a $2.5 billion expansion of existing facilities in northwest Georgia. And in May 2022, Hyundai announced plans to open a battery and EV manufacturing plant near Savannah — the first of its kind in the U.S. for the Korean car company. Kia, which already had operations in West Point, Georgia, recently announced plans to start producing its EV9 SUV there, making it eligible for federal tax credits under the Inflation Reduction Act (IRA).
Kemp has received praise for his role in helping to create more green jobs in Georgia, but some say his success deserves greater scrutiny. The state is rolling out the red carpet for companies like Hyundai and Rivian with its economic development projects, paying for permits, land clearance, wetland remediation, workforce recruitment and training, road expansions, and a host of tax breaks — an all-too-common economic development strategy for Southern states reminiscent of deals brokered between Mercedes-Benz and Tuscaloosa, Alabama in 1993 and between Nissan and Smyrna, Tennessee for decades.
But public-private deals like the one with Rivian aren't uncommon, and Georgia is hardly the only state in the South offering them to attract large manufacturing developments and the jobs they create. North Carolina gave $1.2 billion in incentives to VinFast for its Chatham County plant, and Tennessee gave Ford $884 million for its western Tennessee "megasite." Numerous other developments are underway around the country as EV and clean energy companies jump to take advantage of expanded tax credits and state tax incentive deals in the Biden administration's IRA.
The IRA already provides tax incentives for EV makers to build in the U.S., and Georgia was ahead of many other states in terms of green job creation before the Rivian and Hyundai announcements. According to a report from the Rocky Mountain Institute (RMI), Georgia stands to see around $16 billion in green investment through the IRA by 2030, with larger states like Texas and California potentially seeing as much as $131 and $117 billion, respectively.
But some states are more transparent about disclosing corporate tax incentives for these developments than others. 
According to a Good Jobs First report on how state governments disclose public support for private corporations, Georgia is tied with Alabama for the worst financial transparency in the country. The report scores states based on factors such as whether the state discloses project and subsidy information, provides advance notice, and allows public participation. Both Georgia and Alabama scored zero out of 100. 
Georgia has also easily spent the most taxpayer money out of any state that discloses details on recent subsidies for EV and battery plants, beating out the runner-up, North Carolina, by 70% for a total of $3.6 billion.
And as green investment projects continue to spring up — with many in the South — questions around who stands to benefit the most from such investments will only continue to percolate among local communities and business forces.
"I understand that business is important, but also so is the place where you live: your home environment," Wasendorf said. "We're not against EVs, we're not against helping the environment. But our home environment — whether it's water, air, even our property and the enjoyment of it — is important, and I think it should be for everyone, everywhere."
Tags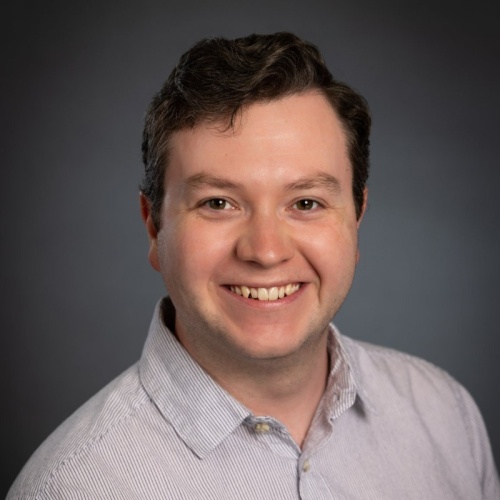 Forrest Brown is a climate writer covering the intersections of climate change, labor, technology and culture. He is the founder of Sticky Weather, a newsletter covering climate change in the Southern United States. In 2019, he founded the climate fiction podcast, "Stories for Earth." He lives in Decatur, Georgia with his wife and cats.