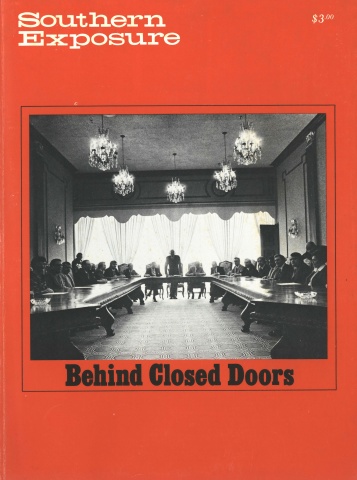 This article originally appeared in Southern Exposure Vol. 7 No. 1, "Behind Closed Doors." Find more from that issue here. 
A decade ago, the Virginia Community Development Organization — under the leadership of black attorney Don Anderson — began organizing black people to take more control over their lives. In each county, town and city it penetrated, VCDO started an Assembly — a structure of representative democracy based on the British parliamentary system, through which people make and execute collective decisions. With varying degrees of success, VCDO, also known as the National Association for the Southern Poor (NASP), * initiated more than 30 Assemblies in southeastern Virginia and northeastern North Carolina; the organization's dream is to spread the idea throughout the Black Belt South. 
In 1976, VCDO-NASP suffered a severe financial crisis, which in turn brought to a head staff dissatisfaction with the way the organization was run. Under the twin blows of the financial and staff problems, VCDO-NASP lay dormant for two years, providing no services to the grass-roots organizations it built. The Assemblies, largely ignorant of the disputes, continued on their own, some failing, some declining, but many surviving independently. Despite their differences, each contesting faction of VCDO-NASP — the Executive Director, the staff, members of the corporate and advisory boards — agreed the idea was too good to die. In 1978, a revitalized NASP began to pick up where it left off. 
The issues that have confronted VCDO-NASP in its short life face every advocate of social change through grass-roots organizing: externally, how best to create a vehicle for lasting progressive change; internally, how to balance the competing claims of democracy and efficiency. For now the story of VCDO-NASP, a continuing experiment, must remain inconclusive, but nonetheless instructive. 
Late as usual. For a couple of hundred yards before you reach the cinder block building where the Assembly of Gates meets, you see the cars parked along the highway. Enter through the kitchen door and squeeze through the crush of women loading fried chicken, potato salad and peas onto paper plates. Jackie Sears smiles hello; just go have a seat and she'll bring you a plate. 
Choose a table where children predominate. Meet Bill Seldon, Mrs. Shirley Saunders and her children and younger brothers. While you're still dawdling over dessert, more punctual souls are sliding chairs and tables across the floor to form one long table, flanked by two aisles of chairs, each aisle three rows deep, facing each other. Each chair gets an Order Paper — tonight's agenda — and another sheet with blank lines at the bottom. On the top half, "Do you have a problem? Would you like to have a subject discussed? Write it in the space below and give it to your Representative or a Council member." 
By now there are maybe 80 people in the room, mostly middle-aged and older, two whites. Executive Council members take the inside seats, against the table. At the head of the table sit Mr. Speaker (Whalyn Jordan) and Don Anderson, founder of the Assemblies. Rev. Lycurgus Harrell starts us off with a prayer and Mr. Speaker calls out, "Mrs. Fannie Hare." Mrs. Hare, identified on the Order Paper as Representative of the Booker T. Washington Conference, stands. "Mr. Speaker, Question Number One to the Chairman for Legal Affairs." Jake Sears, the Chairman for Legal Affairs, rises, addresses the Speaker, and begins to review the county's new water system. Seems that the water lines will miss a lot of black homes in the county. "If you think some folks got together and arranged this, you're right. Several months ago, you went to the polls, or maybe you didn't bother, but if you did, you made some marks on a little slip of paper. And those marks are what determined where this water system is going." 
Mr. Speaker asks, "Are there any further questions?" then proceeds down the Order Paper. After the Chairman for Health has described jobs opening up in the county rural health clinic, Mrs. Annie Burke, Chairman for Education, rises and sheepishly addresses the Speaker. 
"I know of two jobs available at the library. Can I say them now?" Mr. Speaker looks at Don Anderson. Anderson lifts his head from the scribbling that has occupied him until now. "Not until the motion for adjournment," says Anderson. "The information does not concern the question before us." Mrs. Burke takes her seat. Anderson bows back into his scribbling. 
On down the Order Paper. What is the Legal Services Corporation? Who appoints the Gates County Library Committee? When will the competency tests be given to high school juniors? What's the status of the daycare centers? How is the new Gates County Rural Health Clinic progressing? Who is eligible for food stamps? 
There are three Motions on the Order Paper. Each is opened for discussion. Each passes without a dissenting vote. The Gates County Assembly will write letters: to the Legal Services Corporation for a grant application; to the County Commissioners asking them to place the library in the county community center and notifying them that the Library Board does not represent all the people in the county; to the County Commissioners and the Planning Board, asking that two blacks be appointed to fill the vacancies on the Planning Board. 
Someone moves for adjournment. Now Mrs. Burke can describe the job openings at the library. Now Jake can announce a collection for donations to the Rescue Squad in honor of our recently departed brother, Otis Jordan. Someone seconds the motion to adjourn. As people file out, they drop loose change into a cup, to pay for the lights and heat for tonight's meeting. It has been exactly two hours since the meeting was called to order. 
2
The Assembly of Gates is one of a network of Assemblies in the Black Belt counties of Virginia and North Carolina, and like the others it follows a complicated structure of representative democracy based on the British parliamentary system. In a decade of organizing, VCDO has achieved moderate success in establishing Assemblies and showing rural blacks how to use its mechanisms to solve personal and collective problems — from helping a member receive welfare payments to improving the quality of health services in the county. 
Post-meeting socializing and subsequent conversations in the homes and offices of members of the Assembly of Gates and other Assemblies affirm some early impressions: many of the members are poor and uneducated. They are domestic workers, laborers on other people's farms, factory workers. The Assembly may well mark their first participation in community organizing, outside their churches. 
The officers, though, are more likely to enjoy a middle-class standard of living. Many are reverends, funeral home directors, schoolteachers, often the established leaders in their communities before the Assembly was organized. Many of the members seem timid compared to people in other kinds of community organizations, and they tend to defer to the leaders, and to elect the same people as officers time and again. For many of the leaders, the Assembly is one of a string of organizations which strive to improve their status as black people, such as the NAACP, the Citizens Improvement League and the Democratic Party. 
Members of the Gates County Assembly find the formal structure of the Assembly the most effective vehicle to enable them to help themselves. Again and again, they stress how thoroughly the Assembly has organized the community, how orderly are its processes, how efficiently it has fostered communication, from one end of the county to the other, and within each neighborhood. They credit the Assembly with indirectly boosting the number of black public officials in the county through the momentum of organizing it has generated. 
"The Assembly is our backbone," says Rev. James Walton, a semi-retired car mechanic, "because we can probe into so many areas. No matter what problem comes up, there's always somebody in the Assembly who can handle it." 
Gates is a rural, agrarian county, with almost no industries except farming and logging. Blacks comprise 53 percent of the population but have had little say in what goes on in the county. There's a quiet pride in Isaac Battle's voice as he describes some of the dents black people have made into the local white power structure since he helped organize the Gates Assembly. "We knew that we had done things in a fragmented sort of way, either through the NAACP or the Gates Citizens Improvement League, and we had never come to grips with the fact that what we were doing was nothing. But in organizing in this [Assembly] fashion, we don't leave out any household, and everybody in the community knows what you are doing." 
Battle has been president of the Assembly of Gates since its beginning in late 1973. His demeanor, his cautious speech, his various mannerisms of deliberation — clearing throat, stroking chest, adjusting glasses — typify the school principal that he was before becoming assistant superintendent of schools for a neighboring county. He is pleased to recount some of the achievements of the Assembly: ''We've provided some recreation activities for the people in our neighborhoods, putting up basketball and volleyball teams. We've organized a boy scout troop. We've helped people get on the food stamp program or improve their health services, through referring them to the agencies that they didn't have any knowledge about. We've given small scholarships to graduating seniors from the public high school for the last two years and made donations to the Gates County Arts Council. 
"We've gotten some road improvements which we were unsuccessful in getting before. We've made some recommendations for some of our people to serve on county committees. We've been able to raise money to help some of our families that got burned out of their homes. Certainly our members went all out to support the new rural health clinic that is being constructed and we've put our efforts behind a water system for the county." 
Battle says, "We're not asking for anything that's not really expected under the Constitution. We're not attempting to overthrow anything. We just want a piece of the action, just a piece." 
Battle's humility — and the seemingly moderate achievements of the Gates Assembly — belie the larger purpose behind the elaborate structure. Anderson's personal goal in founding VCDO rested on his belief 
. . . that an institution must be created to give power to the people; that it is pointless to erect such an institution merely to influence policy, but the institution must be great enough to make policy. On a community level this means to mobilize enough people to elect the community's government — whether the community be a city, a county or a state. The objective of the people would be to organize enough voting strength to occupy the seats of power. . . . This could not be accomplished by the Negro people alone, so [we must look to put] together a winning coalition of Negro and white liberals. The first thing to accomplish is to put together the machinery, which would be the basis of a democratized political party machine, capable of choosing its own policy, to which its candidates must adhere. 
The Assemblies now in existence are a mechanism for creating leadership and accountability. For Anderson, getting such a structure in place is far more important than winning tenuous concessions from a county's white establishment. 
3
The institution that became the Assemblies was first envisioned in 1958 by 46-year-old black attorney Donald Louis Anderson; but the roots of the idea go back to his boyhood. The son of a prominent doctor in Tallahassee, Florida, Anderson says, "Race has always been the huge problem of my life, and I felt that I couldn't go on to any other serious occupation until I had made some contribution to its solution."
He attended the prestigious all-black Dunbar High School in Washington, D.C. "I had my militant period before I was 1 7," he says. "I felt that as long as the constitutional means of expression were blocked, you might as well expect violence. But I thought they weren't going to be blocked anymore, and I watched with keen interest the debates and filibusters on the civil rights bills. I knew we would still need something more, and I started looking for a means of organizing." 
After graduating from the University of Michigan, Anderson served in the armed forces and then entered the London School of Economics in 1955, where he became intrigued by the parliamentary system. "I went to the House of Commons almost every night," he says. ''Certain features of that institution attracted me to it. One was the efficiency with which decision-making was handled. Two, the responsiveness of the leadership to the people — the fact that they could be thrown out at any time. Three . . . you see, our government's main problem is its inability to come to a decision. Look at the House of Representatives. There is a body totally incapable of reaching a decision, because there are 435 sovereignties with no system of bringing them into a coherent force . . . so there is the concentration of decision-making. The Executive Council will always come to a decision." 
After earning a masters' degree from the London School of Economics, Anderson entered the University of Michigan Law School. During the summers, while he was home in Tallahassee, he witnessed the Tallahassee bus boycotts, a parallel effort with the Montgomery bus boycotts, and discussed with boycott leaders the need for a more permanent vehicle to fight for civil rights. Among these leaders was Rev. C. K. Steele, a deputy of Dr. Martin Luther King, jr., and leader of the Tallahassee boycott. 
Anderson wrote the first draft of the Articles of the Assembly in the summer of 1958, discussed it with Steele, then rewrote the draft. The idea was tried out in Tallahassee, and worked for a while, but did not last. "We hadn't discovered two crucial dimensions of organizing," says Anderson. 
"We hadn't developed the problem-solving mechanism, and we never really formed Conferences. It was more like a community improvement league. Everybody thought it was a good idea, but then I went back to law school and nothing became of it. What we were lacking was the services and staff, and perhaps an understanding on the part of the members as to what we were actually getting at." 
After graduating from law school in 1960, Anderson went to work as a clerk for two judges in Pennsylvania, taught economics at a women's college in Pittsburgh, and formed the Committee of Pittsburgh to spread the idea of the Assembly and to raise money to implement it in the South. He also wrote down the idea in the manuscript, "A Liberal South," which he tried unsuccessfully to get published. 
In 1964, Anderson went to work as counsel for the US House Committee on Education and Labor, where he worked closely with Rep. Adam Clayton Powell. There he assisted in drafting anti-poverty legislation, explained the laws to congressmen, and later led the investigation into the operations of poverty programs. "I saw that they were putting programs first," says Anderson, "and that while poor people were being put on the boards of the poverty agencies, they were overwhelmed by the other board members. And they were not accountable to the other poor, so the programs they put up may or may not be wanted by the people. Thus the programs were underutilized and unable to reach the poor." 
In a later letter to his VCDO staff, Anderson says that these jobs were "merely to maintain me, but gave me good training and contacts" as he continued to search for funding for the Assembly idea. 
That funding finally came in 1968, from a wealthy white Virginia realtor, Edwin Lynch, who had learned about Anderson's idea through a chain of black civil rights leaders and white liberals. 
With a $10,000 grant from Lynch, Anderson formed the Virginia Community Development Organization and tried to organize in Petersburg, beginning, as he always does, by seeking the support of recognized leaders in the black community. When these leaders rejected the idea of the Assembly, Anderson turned to the surrounding counties and, working alone, established eight county Assemblies in his first year of work. At first his car was his office; later he obtained an office in a Petersburg black Baptist church, then staff assistants and more funding. 
1970 marked the first appearance of The Epistle, the Assembly-wide newspaper published out of the central office, Turner's Inn, in Petersburg. The paper appeared intermittently at first; at the height of Assembly activity, it came out monthly. 
Though the Assembly project organized blacks, for the first few years none of the field organizers were black. Most staff were Conscientious Objectors fulfilling their "alternative service" requirement or part-time and summer volunteers from several colleges. They were paid "volunteer" wages: $15 per week, plus room, board and expenses. Anderson did not find the staff's race a drawback. "The fact that they were young, white, interested outsiders was actually an asset in the rural counties," he says. 
But Jim Riley, a CO who began working with the Assemblies in November, 1969, noted the danger of "falling, consciously or unconsciously, into the role of the great white savior. Too often in the past in rural areas there's been a propensity for people to look to civil rights workers as someone who will 'help them.' " 
It was in part to guard against this tendency that Anderson forbade staff from getting involved in local issues. Their role was merely to teach a technique; staff could never urge Assembly members to take a particular course of action. But the rationale for this principle, "organizing for the sake of organizing" instead of organizing for issues, goes much deeper, finding root in Anderson's assessment that past organizing around issues, particularly in the 1960s, yielded only transitory victories. Once the issue died, so did the coalitions formed around it. 
The key for Anderson was to build a firm structure that would identify leaders, give them power and hold them accountable to an organized constituency. Here's how the system works in theory: Assembly organizers — the VCDO staff and local volunteers — divide the county into Conferences, groups of 50 blacks and interested whites who live near each other. All blacks of voting age who live within the physical boundaries of a given Conference are listed on the "Conference Sheet." When at least seven out of the 50 people agree to start meeting, they elect a Representative, who will lead the neighborhood Conference and represent it at the county-wide Assembly meetings.The Representative chooses seven Committeemen who are responsible for internal communications between each seven-member committee and the Representative. Seven Committeemen times seven Members plus the Representative makes up the 50-member Conference. 
Conferences meet at least four times a year but preferably monthly. Neighbors discuss ways to help each other and the community. Members who have a problem can write it down on a Problem Sheet and give it to their Committeeman. If the Committeeman can't solve the problem, he or she gives The Assembly has great potential for holding leaders accountable. it to the Representative. If the Representative fails, he or she refers it further up the chain. 
The Conference, the cornerstone of the Assembly structure, more closely resembles an unofficial government than a community service organization. With no previous effort on their part, all black members of the community have a slot in a relatively small group which will keep them informed of Assembly activities. Because that group never exceeds 50 people, each member can play a significant role. Through practice, Committeemen and Representatives gain confidence and skill in solving the problems referred to them. 
Ideally, at monthly assembly meetings, Representatives of all Conferences, and any other people who want to attend, discuss issues that affect the larger community. A fully organized Assembly will have a Conference for each group of 50 black adults, but so far only Charlotte County, Virginia, has completed this process. 
While Conference organizing continues, organizers set up the countywide Assembly, first holding a mass meeting to elect a President by majority vote. The President nominates an Executive Council, the policy-making body for the Assembly. Just as the Conference simulates a governmental subdivision, so the Executive Council resembles the leadership of a Parliament, composed of Chairmen for 10 to 12 departments, such as Education, Recreation, Agriculture, Health, Legal Affairs, Economic Development, Welfare, Ways and Means (a treasurer's position), Youth and Housing. The Council also includes a Chief Whip, who handles intra-Assembly, but especially intra-Council, communications. 
At the mass meeting, people vote to approve or disapprove the Council as a slate, not individually, a process designed to produce a body that can work together without being paralyzed by internal strife. If the Council is voted down, then the process of electing a President is repeated, until the Assembly members have approved a President and Council. Council members collect information and solve problems, referred to them by Representatives, in their departments. 
Assembly organizers select an impartial Speaker (not a Council member) who presides at the monthly Assembly meetings; the Speaker selects a Clerk, who performs secretarial functions. One such function is to collect questions from Representatives which members have asked to be included on the Order Paper, the agenda for the Assembly meeting. 
These questions, each directed to an officer or Assembly organizer, serve more purposes than eliciting information. They can be used to air complaints, to embarrass the officers or to demand action as well. Every Representative has a right to have his or her question appear on the Order Paper; refusing to list a question is grounds to have a Clerk removed. 
As the Assembly's policy-making organ, the Executive Council has two major powers. First, it can act on behalf of the Assembly when that body is not in session. Second, it alone can determine which Motions Assembly members can vote on. A week before the Assembly meets, the Council decides which Motions to place on the second half of the Order Paper. These must be chosen with care, for if a Motion is defeated, then the President must call for a "vote of confidence" in the Executive Council. If the Representatives vote "no confidence" in the Executive Council, then the President and Council must resign, or the President must dissolve the Assembly and call for new elections of Representatives. 
The scheme is an attempt to concentrate power in the leaders, focusing collective responsibility on them for the actions they propose and implement or fail to implement, thus ensuring that they will be held accountable to the Assembly members. 
Meetings do not vary from the Order Paper, a safeguard against any tendency to dissolve in directionless discussion. Members cannot propose motions from the floor, but must ask an Executive Council member to propose it. And the Council may not disagree among themselves in public. A Council Member who disagrees with the actions of the majority has the recourse of resigning and playing an adversary role as a Representative. Barring such unusual circumstances, the President, Council and Representative serve for two years. 
One final layer remains in the Assembly structure, the Council for the Assemblies, composed of Presidents of every county and city Assembly. This body, which makes regional policy for the Assembly network, is organized like an Assembly, with a President and Council, and meets twice a year. 
4
To build this complex structure, VCDO staffers visited counties and trained local leaders in how to spread the Assembly idea, build more Conferences, and maintain the various parts of the system. Only five or six of the Assemblies are structurally strong — Gates and Surry Counties in North Carolina, and Charlotte, Halifax and Mecklenburg Counties, and perhaps Portsmouth, in Virginia. Even those that are strong have sometimes been criticized for failing to move from structure to action. The Halifax Assembly, for example, was beautifully organized, with many Conferences meeting every month. But little was done with the power represented by that participation, beyond having the Assembly write an occasional letter or make a phone call to a government agency. Today, the organization is torn apart by rivalry between the leaders. 
The "problem-solving" aspects of the Assemblies, the checklist of short-term accomplishments, have always been secondary in Anderson's scheme. But in many cases, the ideal process of referring problems through a chain of representatives — which is crucial to building the proper structure — has had little relation to actuality. Many times staff members in the central office in Petersburg received requests for help from individual leaders long before the Assembly's mechanism had been exhausted. 
The Assembly mechanism seems to function best when it can plug into another mechanism which would maximize its power. In particular, county organizations effectively use the leverage of federal intervention to increase black involvement in local policy councils. Any agency or governmental body receiving federal funds for a social service program is required by law to include representation of poor and/or minority communities on its policy-making council. Consequently, a letter from an Assembly to county authorities requesting black involvement also carries the weight of federal monies and attorneys behind it. 
"We're kind of grateful for the Civil Rights Act and for the Office of Civil Rights," says Gates Assembly President Battle, "because we know if anything is done with federal funds, we're gonna be involved, or we'll have to let somebody know about it. Now there's a $650,000 community recreation center in Gates, as a result of federal funds. The advisory council for that is 50-50, black and white, and I got chosen as chairman of it." 
Other victories have relied on the added clout of sympathetic government officials, or resulted from forcing them to become more sympathetic under the threat of pressure from above. For example, in Prince George County, Virginia, the Assembly tried in 1969 to get the county to provide a food stamp program. When the Board of Supervisors refused, Assembly members, with the help of federal and state officials, began to distribute food to needy families under the commodity food program. After this program was phased out in 1973, the Assembly circulated a petition asking the board to begin a food stamp program and sent representatives to several board meetings to talk up the idea. Under pressure from the Assembly, the board finally began such a program in 1974. 
In Portsmouth, Virginia, the Assembly began a job training program that CETA workers rated the most effective in the city in placing people in jobs. The Assembly of Portsmouth also pressured the city into building 400 units of low-income housing in a neighborhood ravaged by urban renewal.
In thousands of unrecorded cases, Assembly members and leaders have performed "ombudsman" type services for people in the community, helping people get welfare services, pressuring governments into improving roads and ditches, and challenging discriminatory practices of local governments and businesses. Many of these achievements may appear slight, and only a fraction of the rights and privileges supposedly guaranteed by law. But with an appreciation of the power relationships between the races in many of these areas — relationships that some other organizations and countless poverty programs did little to change - such victories become more impressive. 
In Surry County in 1971, the Assembly leaders and members advanced to the next stage in Anderson's plan for building political power for rural blacks. Instead of challenging the existing county government's decisions, the black community for the first time in its history elected a majority black Board of Supervisors (county commissioners). While the Assembly's non-profit status prohibits it from becoming directly involved in election campaigning, local people place the credit for this victory squarely on the lessons learned from Assembly organizing. Needless to say, the Conference Sheets, with the name, phone number, car ownership and party affiliation of each voting-age black in the county, also played a key role in helping the Assembly leaders when they put on their hats as political activists. 
The potential of the Assembly mechanism for empowering people is obvious. And once black leaders get positions of power, and some are co-opted into the system, which is inevitable, the Assembly also holds greater potential than most organizations for holding these leaders accountable to other members. As Anderson says, the key to the organization's success rests on how well local people understand the rules and procedures and how well their participation correlates to the power of their leaders. 
5
The Assembly structure, with its many levels of participation and accountability, contrasts sharply with its founding organization/sponsoring agency — VCDO. As the Executive Director of VCDO, Don Anderson insisted that the staff's role be restricted to servicing the organizing needs of local Assemblies. He also demanded total authority over the staff. Internal democracy, he felt, would bog VCDO down in countless debates and shifts of direction; moreover, he has maintained that, without his long-range vision and understanding of the concept of the Asemblies, too much staff discretion could undermine the purpose of Assembly organizing. 
Both principles came under attack in 1970 when several staff members, led by summer volunteers, revolted from Anderson's authority. Their demands cited minor complaints about specific deeds of VCDO, but centered on the demands for more organizing around issues and more staff role in making decisions for VCDO. Anderson responded that "a democratic policy on the part of the crew would give me responsibility for the course set without the power to accomplish it, while it would give the crew power without responsibility, which, as Stanley Baldwin has said, was the prerogative of the harlot throughout the ages." Looking back on the revolt, Anderson now says, "I considered it a lack of understanding as to what the objective should be. I set up a series of seminars to try to explain why I felt this was the only way, but I found that I was spending more time convincing them and not organizing." Thus, over the next five or six months, Anderson fired all the staff members who still disagreed with his approach. 
"I didn't see a need for an organization that was teaching a democratic technique to have an internal democratic structure," says staffer Jim Riley. "The main point is for an organization to work, there has to be somebody in that organization who is responsible for it. That person was Don. The rest of the staff were essentially transients. The average stay for a staff person was 14 months. There has to be a division of labor. A consensus policy may work okay when you have three or four people, but as an organization gets larger it's impractical." 
Anderson has consistently asked prospective staff whether they could accept his total authority for the organization and whether they fully accepted the principle of organizing for the sake of organizing. For the most part, staff seemed happy to embrace this latter principle. Several voiced their belief that organizers tended to create issues, dominate and manipulate groups and make themselves indispensable. Anderson's authority was more problematic. One staff member, Kris Curtis, who began working with the Assemblies in June of 1974, says that there were criticisms of particular decisions Anderson made, and a feeling that staff should have more information about funding and programs, and more voice in VCDO planning, but that "it wasn't phrased in terms that Don should not have the ultimate authority he had." 
The Assemblies kept growing. In 1974, it expanded into North Carolina, and the North Carolina Community Development Organization (NCCDO) was incorporated with the same board and management as VCDO, to facilitate fundraising from North Carolina foundations. Professional fundraisers were hired that year and more contributions poured in from individuals, foundations and churches, but still there was never enough to meet VCDO's ever-expanding budget. In particular, says Anderson, it was difficult to get foundations to fund an operating budget. Special projects were more attractive to the big givers; the Assembly function of imparting a technique was "too abstract" for many foundations to comprehend or place much trust in, according to Anderson. VCDO did sponsor several projects over the course of its history, including a buying club, an agricultural cooperative and a clothing store. They were all eventually discontinued, mainly because of lack of money. 
For the first time in 1974, the staff began to implement a plan, discussed as much as two years earlier, to train local organizers to teach the Assembly technique through a hierarchy of local organizing committees, instead of devoting staff time to this function. This yielded faster, better results, and by the end of the year, 19 Assemblies were in existence. 
Around this time, Dr. Clarence Gray III, of the Rockefeller Foundation, came to Petersburg to investigate VCDO's application for a grant. Gray, associate director for the Agricultural Sciences for the foundation, toured the office and attended an Assembly meeting in Prince Edward County, not far from where Gray, a black man, had grown up. Gray was impressed, not only with the order and discipline of the Assembly meeting, but with the potential role VCDO could play in a special program the foundation had recently begun for the Southeast. Recalling the foundation's goals, Gray says, 
The South is on the threshold of what appears to be a stage of rapid development. There's a scramble for resources and jobs. When we look at the black population of this country, half still live in the South, and about half of those live in the rural areas. Our strategy was to find a way to not only aid urban areas, but to look at the problems of the poor in rural areas. Then, the population distribution is something that can be upsetting. Everybody lives in cities, which makes us very vulnerable from a security standpoint. We've also encountered increased activity in rural areas. So a major goal (of the foundation) was to help blacks in the region. 
Gray noticed some weaknesses in the VCDO. "They were a one-man operation and were rather thin in management expertise and the management of finances." But on the other hand, Gray read VCDO's backing from a wide range of church groups and foundations like Mary Reynolds Babcock, Edna McConnell Clark and Z. Smith Reynolds as "indications of substance and wide-ranging support." Gray says VCDO's weaknesses were "typical of fledgling" organizations and that he felt that "while Don was out intellectualizing and conceptualizing, Jim Riley [whose duties included being treasurer for VCDO] would be back at the office handling day-to-day affairs. On the whole it seemed a pretty good bet." 
Thus Rockefeller granted $300,000 to VCDO over two years, in semiannual installments that began in January of 1975. For an organization like VCDO, the size of the grant was staggering, swelling the budget from $150,000 in 1974 to $400,000 in 1975. Even so, though VCDO spent $400,000 in 1975, they had raised only $375,000 that year, deepening the debt which the organization had carried since its earliest years. Anderson's philosophy was to expand as fast as he could, to "prove" the idea of the Assemblies to foundations, to show that it would work, not only in a single county or a single state, but anywhere. Thus the staff doubled in 1974 to about 20 people, then doubled again to about 45 in early 1976. Aside from the 22 field staff, this included eight full- and part-time clerical workers, eight problem-solving and projects directors and eight administrators. 
By the end of the year, VCDO's debt exceeded $150,000. 
The rapid expansion from 1974 to 1976 stretched VCDO's thin finances and affected the character of the organization as well. Says Kris Curtis, ''We evolved from a small, tight group of volunteers to more of an employee situation. Before, when people just trickled in, and got absorbed into the group, training was informal. You would go around with an experienced staff person, read and talk to people all you could. The expansion led to a formalization of it. When we let 12 new people in all at once [in the summer of 1975], we had a full-scale training program. There were more people working in the office and doing administrative things. Before, just about everybody worked in the field. You might be responsible for three counties and an office job. With more staff, it got to be two counties and maybe a part-time office job. And you'd be living right in the middle of the counties, so you were a lot more effective. Having that many staff was good; it just happened too rapidly and wasn't planned well." 
The benefits of the expanded staff were visible. Six new Assemblies emerged, bringing the total to 28 organizations. Almost 200 neighborhood meetings were held every month. Two candidates for state office in Virginia, Andy Miller and Ira Lechner, addressed the Council for the Assemblies' semi-annual meeting in 1976. 
Earlier in 1976, Jim Riley left VCDO because ''it was time to move on and maybe the organization could profit by my leaving." C. Hoy Steele, who had begun working for VCDO in June of 1974, took over Riley's duties in March of 1976, after two months of on-the-job training. Steele says that both foundations and advisory board members had been stepping up pressure on VCDO to "do something about our finances. There hadn't been any financial planning. The money had been increasing from the beginning, but there were still a lot of old bills which we would pay on a crisis basis. We didn't even know what our monthly budget was. We were permanently in debt. When things got rough, Don would just put on an incredible burst of energy and go find some money." 
To aggravate matters, a grant which in Anderson's words "we had every assurance of getting" did not come through. The stock market was at a low point during this period, so other sources of income were drying up as well. Anderson conducted a fundraising drive among the local Assemblies which netted only a few thousand dollars. 
In the summer, the effects of the financial crunch were becoming obvious. Anderson realized he would have to cut back, and asked nine or 10 staff members, whom he felt pretty sure were planning to leave at the end of the summer, to leave a little earlier. He told the rest of the staff that they might have to leave soon. "These layoffs really shook people up," says Steve Dawson, who had been on the staff since 1973. "It was done as humanely as possible, but it came as an admittance of how bad things were." Several of the staff did agree to keep working on a volunteer basis. 
Anderson refused to let the staff know the extent of the debt — which by this time exceeded $200,000 — and this became a major impetus for several of the staff members who engineered VCDO's second staff "revolt." Concerned about their chances of never getting paid and of being let off with scant notice, some staff drew up a list of "negotiable" demands. They included: 
— that staff be represented on the VCDO and NASP (National Association for the Southern Poor) corporate boards and on the advisory board, and that Assembly members be represented on the corporate boards; 
— that Anderson not be paid any salary until the staff were paid through the time that they were laid off; 
— that until the staff debt was repaid, the financial records be completely open to the staff still owed money; 
— that monthly meetings be held, at which Anderson would provide a full financial statement; 
— that the staff of August 31 would decide which of the staff would be retained; 
— that for the next six months, all budgetary decisions and all departmental decisions be made collectively by Anderson and the staff members who were department heads, after which time the same body would determine future decision-making procedures. 
But when Anderson met with the staff in the second week of September, 1976, he fired everybody "for financial reasons." Kris Curtis described the situation as having a "cast of hopelessness about it. When Don decided to lay everybody off for financial reasons, there wasn't even a possibility of us getting together to discuss how to run VCDO." 
The severe financial crisis and staff rebellion crumbled VCDO, forcing it to suspend services. It was then that some Assemblies performed their most impressive feat: they stayed alive. Three-fourths of the individual Assemblies continued to meet and act without any support services from the executive arm. Many raised money to support themselves. Structurally, they were autonomous units and not dependent on large financial assistance from VCDO anyway. Most members remained ignorant of the difficulties in the central office. But in late September, Anderson convened a special meeting of the Council of Assemblies to alert these leaders to the problems. Ten of the 19 Presidents of Assemblies attended and passed an Anderson-inspired resolution which banned local Assemblies from hiring fired staff members of VCDO. 
The internal disputes escalated to the VCDO board of directors and advisory board of wealthy donors. Foundations which had supported Anderson in the past became concerned about their investment, the repercussions of unhealthy tensions on other organizations serving the Southern poor, and the fiscal responsibility for settling VCDO's huge debt. Finally, two advisory board members sought help from the Planning and Management Assistance Project, a specially funded project of the Center for Community Change that aids nonprofit organizations. 
Karl Mathiasen of the Project began interviewing some Assembly Presidents, former staff and members of VCDO's corporate and advisory boards. He was immediately impressed by their common agreement — despite some intense personal differences — that the Assembly idea was a good one and should not die. "Their dedication to the concept of the Assemblies was extraordinary," says Mathiasen. "These were volunteers. They were angry, bitter, frustrated, but their decision to stick around was my first indication of how important the organization was to them." 
The problems he saw in VCDO, says Mathiasen, were typical of nonprofit social change organizations. In particular, VCDO's corporate board did not play an active role, leaving the affairs of the organization to Anderson. It was a conclusion mirrored in the staff's complaint that too many functions — fundraising, financial control and staff management — were vested in Anderson's control, with no checks on his power. This concentration of control, which Anderson demanded for the sake of efficiency, ultimately seemed to impede the effectiveness of the organization. The staff were particularly concerned that no members of the Assemblies had the power to decide the priorities of the organizing arm of VCDO. 
Several foundation representatives have even criticized the Rockefeller Foundation for giving an "exorbitant sum" to a group that "patently did not have the capacity to manage it," in the words of one foundation representative. "It was really foolish and 1960s-ish of them to do that," he says. "They hadn't even looked at the books until somebody blew the whistle on VCDO." 
Gray disagrees, and defends Rockefeller's action. "Every grant is a gamble, or it should be," says Gray. "If an organization is a sure thing, then they don't need us. But they had to submit their income tax returns and some financial records to us before each release. They didn't go down the drain until our last release." 
Nonetheless, Gray admits that "maybe I was instrumental in giving him (Anderson) grandiose ideas about future fundraising." An advisory board member echoes his belief. "When he got that money from Rockefeller, he thought it was just the beginning of money pouring down from the heavens. And this is the way people with a vision have to be, they have to believe in the dream against unrealistic odds. But when you're on the board, all you can see is that the figures don't add up." 
Indeed, the Rockefeller Foundation did not abandon VCDO, but made a $10,000 grant to the Center for Community Change to partially fund PMAP aid to VCDO-NASP; the rest of the funding came from foundations and individuals who had been associated with VCDO-NASP before. 
PMAP and the friends of VCDO set up two interim boards, one to work on fundraising and one to concentrate on budgeting. They were able to convince 11 individuals and 10 foundations to pledge that, if enough money were pledged, they would all pay in, so that VCDO could start off with a clean slate. 
Mathiasen also revised VCDO's corporate structure. "I negotiated with Don that there needs to be an active group of outsiders (on the corporate board) and that Don could hire or fire me or my replacement only with the agreement of the executive committee. The advisory committee will be phasing out." Mathiasen will continue as comptroller for the organization until he can "build an institutional structure that can work with Don and eventually can work with anyone." 
The debt has been almost completely repaid, and the staff debt was settled out of court. Now operating only as NASP, the organization has received several grants beyond the debt. The reconstituted NASP has an office in Ahoskie, North Carolina, and three staff members: Jim Riley and Bill Bergen, both former staffers; and Cliff Somerville, who had previously served as the chief local organizer for the Assembly of Halifax, Virginia. The new office has begun to respond to requests to form Assemblies in Northampton, Beaufort and Pitt Counties in North Carolina and Fauquier County in Virginia. Staff have also been visiting the established Assemblies to see which ones need help. 
"My plan is to give existing Assemblies one more year to become self-sufficient," says Anderson. "After that, I don't plan to use any more of the money I raise for that purpose." Instead, future funds will be devoted to expansion. 
Anderson still insists that he must have ultimate authority to determine how to organize. "I have devoted 20 years to this thing," he says, "and to have it go in a direction I thought was wrong is something I could not countenance while I was in the organization." As for the financial troubles of 1976, he says, "It's true I took some risks, and frankly, I don't regret having taken them. In an innovative project like ours, where most people don't believe it could happen, getting money is a problem. I took risks in order to get large enough and have an adequate staff, to get functioning Conferences, so that we could have a durable institution. I felt that that would be the proof of the Assemblies. 
"It took me eight years to get as far as we had gotten. We had formed over 1,000 Conferences, and a fifth of them were meeting every month. There we were on the verge of a big success, when we had the financial problems. When we suspended services, that was the moment the idea was proved, because the leadership of the Assemblies took over. They stood on their own." 
* The "Executive Arm" or organizing branch of the Assemblies was originally called Virginia Community Development Organization (VCDO). When the network expanded into North Carolina, the North Carolina Community Development Corporation (NCCDC) was incorporated with the same board and management as VCDO. Later, the same people formed the National Association for the Southern Poor to emphasize the national intent of the organization. "The Executive," "VCDO," "NCCDC" and "NASP" are interchangeable terms. In this article, "VCDO" will be used to describe the organization before 1976 and NASP since then.
Tags
/*-->*/ /*-->*/ /*-->*/ /*-->*/ Clare Jupiter is a former staff member of Southern Exposure. She is now a lawyer in New Orleans. (1981)
Clare Jupiter is a former staff member of Southern Exposure. She now lives in New Orleans. (1979)