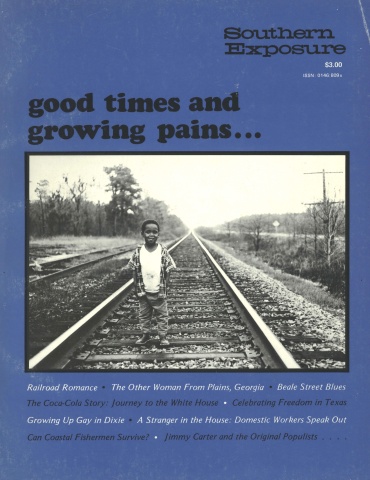 This article originally appeared in Southern Exposure Vol. 5 No. 1 "Good Times and Growing Pains." Find more from that issue here.
 Few things reflect so clearly differences in historical perspectives between white and black people in Texas as their celebration of "freedom" days. For most white Texans, of course, freedom came with the signing of the Declaration of Independence and the defeat of Santa Anna (April 21, 1836 — San Jacinto Day). For black Texans, it came with the landing of Union troops in Galveston on June 19, 1865. 
Unlike white freedom days, "Juneteenth," as the June 19 holiday is often called, receives no official recognition. Nonetheless, it is still a day for festivities in communities throughout Texas, and is one of many Emancipation Days celebrated by Afro-Americans in various regions since 18081 - and ignored by white scholars for more than a century. Its observance has depended solely on the perpetuation of strong folk traditions among blacks in the Southwest — Arkansas, Louisiana, Texas and Oklahoma — and particularly in eastern Texas where most of the early cotton plantations were established between 1828 and 1865. 
In Grimes County, an old corn and cotton area of east-central Texas, newspaper accounts in the 1870s, '80s and '90s tell of mass meetings held by black citizens in churches to prepare for the 19th of June festivities. In addition to providing participants with an "abundant dinner" and an occasion for merrymaking, the early celebrations had a solemn side. Black politicians, educators and community leaders would talk about the history of emancipation and the future of black people in Texas. Before the advent of Jim Crowism in the early 1900s, Republican Party officials might be asked to speak as well. 2 
"I was just a small boy then," recalls a farmer born in 1893'. "But I remember sitting and watching the meat cook. Everybody would be sitting around on the ground. They'd have this old gentleman, sometimes four or five of them, that would come to witness. Come to tell how they came through slavery times. Tell us where they come from, what state they come from and how they was mustered out. I remember old man Dan West, he was one of them. He'd get up on a wagon and talk to us about why we was celebrating the 19th. He'd go through the whole story: how they put them up on a platform, auction them off, and how the man could look at them and pick out what he wanted. How they came to Texas. And how the slavery chain was broke. And he told about when freedom came: people being so happy they'd get up and jump and shout. He said one lady went crazy. Yeah, I was just a young boy, six or seven, but I can remember the old men talking — the old slaves and how they came through it all. You had to be told about it back there because there was no history we studied about that." 
Other people recall recitations of the Emancipation Proclamation and readings from poets like Paul Lawrence Dunbar. A popular story about the origin of the June 19th celebration was passed from generation to generation. An older woman, who has farmed all her life, says, 
"I'll tell you like they told me: The 19th is the day the white people gave those Negroes for their celebration. When they freed the Negro, when the war was over, all these farmers had crops and slaves and they had all their money tied up in them. If they had cut the slaves off right away, they would have been broke men. So they didn't say anything. Made them work until the 19th of June when all the crops were cleaned and all that work was over with. Then they gave them that day for their celebration." 
Although a number of legends recount the origins of the celebration, its beginnings actually go back to an historical event. The surrender of the Trans-Mississippi Department of the Confederacy took place on June 2, 1865, but a shortage of transport delayed the arrival of Northern troops in Texas for 17 days. It was not until June 19 that Major General George Granger landed in Galveston to issue the order that "all the slaves are free." 
The Emancipation Proclamation of January 1, 1863, did not have any effect in Texas because so little of the state was occupied by Northern troops. When Lee surrendered in April, 1865, most Texas plantations were still intact and a quarter million black people were working as slaves. Only with the arrival of Granger's decree — and Yankee troops — were slaves actually freed in Texas. June 19th, therefore, became the day of celebration. 
"It was just a happy, getting-together day," says a retired teacher who grew up in a community of black landowners some 60 years ago. "We'd be farming and everybody would try to get the land clean by the 19th. If I had my crop cleaned out and you didn't have yours cleaned, I would come over and try to get yours cleaned out, too. We all worked for that day: to have the crops cleaned, to take that holiday. We'd get together and buy a beef, or maybe someone would throw in a beef or part of a hog. Then we'd get together to barbecue it. The women would fix baskets, salads, cakes and pies. And we'd all meet at a special place. There would be soda water and ice cream. We'd make our own ice cream. And we would have ball games, horse races, goose-neck pullings and some kind of music at night. Wouldn't have sermons or spirituals; it was just a joyful day." 
"My father never allowed us to work on the 19th," remembers one farmer. "The crops could get bad, the grass grow high, but we took off that day. All through this county, all through this state, to the Negroes, it was their celebration day. It was the only day we had." 
For the men, celebrating the 19th would begin on the evening of the 18th when they would get together to barbecue the meat in deep pits. It would be a long night of storytelling and the exchanging of tall tales about the past. On the morning of the 19th, families often had ice cream and custard at home before leaving for the "Nineteenth" ground. If there was extra money in the family, children might be given a new pair of shoes or a dress to wear for the occasion. Food was plentiful at the dinner because every family brought desserts and several covered dishes. In addition to the ice cream, there would be the special treat of ice-cold lemonade and the traditional red (strawberry) soda water, which became known as "June 19th soda." Games were held after dinner, with baseball being the main attraction. The baseball games were very competitive and usually involved teams from different communities. In some places, part of the church grounds was set aside for the 19th festivities. In other areas where black farmers had their own land, several acres might be donated to the community. A committee of landowners, church deacons and Lodge members was generally responsible for organizing the celebration. 
There are stories of white landowners breaking up the baseball games to make their tenants go back to work, but most seemed to have allowed farmhands to take the day off. Some even donated money and meat for the celebration. On big farms which had many families working on half-shares, the dinners were often organized by whites. But only occasionally did whites actually join in the celebration. 
On the Decline 
By World War II, a number of cultural and economic forces began to undermine the tradition of the 19th. As family members moved to the city and rural Texas became more influenced by classroom education than by oral tradition, the big community-wide celebrations became less common in many parts of the state. 
"The old men got to the place they didn't talk any more and they began to die out. Those of us who came on after them didn't know much to say about it. We couldn't tell the young people anything because we weren't there. It was just one of those things they didn't keep records of so there wasn't anything to say," explained a man born in the 1920s, a firm supporter of the 19th. 
At the same time, young people were taught at school that January 1 — Lincoln's Emancipation Proclamation — was the real freedom date. Without the words of the elders to tell them otherwise, they began to regard June 19 as just another symbol of their forefathers' ignorance — a part of the past they wanted to forget. Today it is not uncommon to hear older people, who have celebrated the 19th for much of their lives, describe the 19th almost apologetically: "Well, we didn't know any better then." 
Economic forces were a threat as well. The Depression, the inability to make a living farming, and the subsequent migration of people to the cities disrupted families and older ways of life. Many people went to places like the west coast where no one observed the 19th. Even those who went to work in Texas cities like Dallas and Houston found opposition to the holiday among urban employers. 
"I left out like everybody else. Couldn't survive, farming and sharecropping," remembers one man. "I went to Houston and worked as a boilermaker. That was about 1946, '47. I told my boss I wanted to go off for the 19th. He said: 'What's that?' I told him it was Independence Day for the Negroes and I wanted to take it off because that's the way I was raised. He said I'd be fired if I took off. So now we celebrate the Fourth of July — have to because the business is closed and we can't work anyway. That's what happened to the 19th. If it didn't come on a Saturday, you couldn't get off." 
Then came the civil-rights movement of the '50s and '60s. In many families, there are stories of sons and daughters whose involvement in the struggles for racial equality made them impatient with the old ways. 
"Here's what helped throw out some of the 19th," says one grandfather, a World War I veteran. "You take my son, he went off to college and got into that voter registration, and he came back saying we shouldn't celebrate the 19th. I had to dress him up. I said, 'Don't you come in here with that — your brains have been washed in college! If it hadn't been for my father being freed when he was, we all — you, too — would be born a slave. Remember that your ancestors are the cause of you being where you are at now!' I told him that but still we don't celebrate the 19th like we used to." And this is the way it was in many homes by the mid-1960s. 
Perseverance 
In spite of these problems, the celebration never completely died out. Throughout East Texas, there have been groups of black people who have managed to keep the 19th alive in their communities. Some of the groups began as money-making organizations, but the most long-lasting seem to be those which have used the tradition of the 19th as a means of fostering community pride and progress. Existing during a period when work patterns and family life were undergoing tremendous disruption, some of these groups have served as a remarkably stable source of community leadership. 
One such group is the 19th of June organization in the small East Texas town of Anderson, county seat of Grimes County. The organization will hold its 37th annual celebration this year. It was started in 1938 by a group of men who had come from black landowning families in the area. 
"We were all kinfolks, community folks, friends, church members," says Lloyd Mason, one of the few founders still living. "We got together — 16 men — when we saw things start to go down. It was hard times. Families weren't getting together the way they used to do, and people were falling away from the 19th. We wanted to do something to help the town, to remind the children of what had gone on. The 19th had been handed down from generation to generation in our families, and we wanted it to be remembered when we were gone." 
In the beginning 25 families each contributed a dollar to buy meat for the opening dinner. The first celebration was held in 1940 on the grounds of one of the local churches. An old-fashioned basket supper was served to several hundred people. In keeping with the secular traditions of the 19th, subsequent dinners were moved away from the church, first to the county fairgrounds and later to land purchased by the organization especially for that purpose. 
The organization was quick to adapt the style of the celebration to local needs. One of the first things it did was establish an annual rodeo. Many black men in Texas, including several founders of the 19th organization, made a living as cowboys. But entrance fees and racial discrimination had made it almost impossible for blacks to ride in the white rodeo circuits of the day, and the expense of building pens and maintaining rodeo stock impeded the establishment of black rodeo circuits until the late '50s and '60s. Anderson's 19th of June rodeo became one of the few public opportunities for black cowboys to exhibit their skills as horsemen. The rodeo also helped make money for the organization by drawing large crowds of people, and the 50-cent entry fee made it possible for almost anyone to become a participant. In addition to the rodeo, the organization gave the celebration importance and visibility by sponsoring a large parade down Anderson's main street. 
Significantly, the Anderson 19th of June organization has maintained its independence from the white community. During the first two years, the organization asked for donations of meat and money from white landowners and merchants to help pay for the dinners, but in the third year of its operation, this practice was stopped. 
"We figured we should be men who could hold up our own place," Lloyd Mason says. "We accepted help at first, but we got to the place where we didn't want to ask them. We wanted to do it ourselves, not just depend on others for help. I enjoy it, seeing my race get out and do for itself." 
Since then, the organization has raised the money it needs through membership dues and donations from the black community. It also sponsors fund-raising events such as horse races, basketball meets and hayrides. To maintain the tradition of a free dinner, members of the organization pay $7 a year to cover the cost of meat and other purchases. The rest of the food is donated by member families who also cook, serve, and make floats and costumes. 
At the end of the 1940s, when the organization was no longer permitted to use the county fairgrounds for the rodeo and dinner, several of the officers joined forces with a black landowner and built their own rodeo pens ten miles from town. A year later, they raised enough money to buy two acres of land nearer town where they could serve the dinner. With quiet satisfaction, the members noted that few blacks attended the county's "youth rodeo" when it was scheduled on June 19th. 
Ironically, it is the white community which has turned to the 19th of June organization for support. Several years ago, some of the officers were asked to help with the town's Fourth of July rodeo and thus bring more of the black community to that event. Because money was being raised for a volunteer fire department which the blacks had wanted for many years, the officers agreed. Until then, it had been a custom for many black families to leave town on July 4th and spend the day fishing together. 
Membership in the 19th of June organization has grown to 50 families today. In the old schoolhouse, which the organization helped to buy as a community center several years ago, three generations work together each year to prepare for the celebration. Last year, over 500 people attended the dinner; they came not only from surrounding communities but also from Dallas, Houston, Chicago and Los Angeles. 
Since the early '70s, with the emergence of black nationalism and its attendant interest in Afro-American history, there has been a renewal of public concern about the preservation of June 19th in Texas. In 1972, the state legislature approved a resolution introduced by two black representatives which states that the 19th of June was a "holiday of significance to all Texans and, particularly, to the blacks of Texas, for whom this date symbolizes freedom from slavery."4 Although the event of 1865 seems forgotten amid modern-day preparations for parades, dinners and games, the importance of the occasion has not been lost. The words of older generations may have gone, but it is not hard to imagine that their voices are still heard on the 19th of June in Texas. 
FOOTNOTES 
The information in this article has been gathered from the following sources: personal interviews with 25 people in Grimes County and Houston, Texas; Houston, Galveston and Grimes County newspapers from 1865-1910; Benjamin Quarles, "Historic Afro-American Holidays," Negro Digest, February 1967, p. 15; J. Mason Brewer, "Juneteenth," Texas Folklore Society Publications, No. 10 (1932), 9-54; William H. Wiggins, "Free At Last!: A Study of Afro-American Emancipation Day Celebrations," unpublished Ph.D. dissertation, Indiana University (1974); Ebony, "Juneteenth: Texas Carries on Tradition of Emancipation Holiday with Amusement Park Celebration," June 1951, pp. 27-30; also various histories of Texas and Afro-American history in Texas. 
1. Wiggins, William H. "Free at Last!: A Study of Afro-American Emancipation Day Celebrations." Unpublished Ph.D. Dissertation, Indiana University, 1974. In this study, Wiggins documents 15 separate celebrations. 
2. The Navasota Tablet (Grimes County), June 21, 1878; June 23, July 6, 1883; April 27, 1899. 
3. General Orders, No. 3, Galveston, June 19, 1865, in The War of the Rebellion: A Compilation of the Official Records of the Union and Confederate Armies, Series I, Vol. 48. 
4. The Dallas Morning News, June 20, 1972, "Austin Wire: Juneteenth Recognized by House," p. 10. 
Tags
/*-->*/ /*-->*/ /*-->*/ /*-->*/ Wendy Watriss is a photo-journalist living in Anderson, Texas. She is currently at work on a historical and photographic study of four Texas counties. The photographs in this article are by Ms. Watriss and Fred Baldwin. (1977)