Wednesday President Barack Obama tapped veteran Florida emergency manager Craig Fugate to head the ever-troubled Federal Emergency Management Agency. Fugate, along with members of Obama's cabinet, headed down to New Orleans and other parts of the Gulf Coast on Thursday to assess the region's recovery from Hurricane Katrina.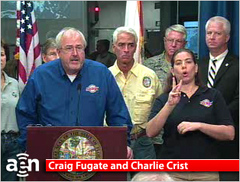 Fugate, who has more than 20 years of emergency management experience, has been director of the Florida Division of Emergency Management since 2001. As Facing South
reported
, Fugate gained national recognition for leading Florida's response to the eight hurricanes that damaged the state in 2004 and 2005. Both President Obama and Homeland Security Secretary Janet Napolitano said Fugate will bring significant experience to the agency. Napolitano, who nominated Fugate for the position, has called him one of the most experienced emergency managers in the country.
"From his experience as a first responder to his strong leadership as Florida's emergency manager, Craig has what it takes to help us improve our preparedness, response and recovery efforts, and I can think of no one better to lead FEMA," Obama said. "I'm confident that Craig is the right person for the job and will ensure that the failures of the past are never repeated."
Gulf Coast advocates are hoping that President Obama will make rebuilding the Gulf Coast a priority under his administration. Both Napolitano and Fugate will be meeting meet with local officials while in Louisiana today. These Gulf leaders still struggling to recover from 2005 hurricanes hope that the meetings will be a crucial first step toward satisfying what they call an "unfulfilled promise" to rebuild the Gulf Coast and get citizens back into permanent homes. The Obama administration has already taken an important step to help the region -- he announced last month a six-month extension to the Gulf Coast Recovery Office and the disaster housing assistance to Katrina victims.
FEMA, whose name became synonymous with disaster mismanagement under the Bush administration, has been under public scrutiny since its failed response to the 2005 hurricanes. Fugate, whom the Senate must confirm, faces the major challenge of helping rebuild an agency that members of Congress say not only botched the immediate response to Hurricane Katrina, but continues three and a half later to impose bureaucratic obstacles to the flow of federal rebuilding money,
reports
the Times-Picayune.
Almost four years after Katrina, the
Gulf Coast is still struggling to rebuild
. As Facing South
reported
earlier this week, FEMA's continued failures has stifled rebuilding efforts.
FEMA still does not have a national disaster housing strategy
in case of another mass evacuation that could be triggered by another hurricane like Katrina or other wide-scale disaster. The agency also continues to face criticism for the slow rebuilding of New Orleans -- almost
$3.9 billion
meant to fund public works projects to rebuild the Gulf Coast remain unspent. Last week, FEMA announced that the chief of staff of its New Orleans office is under investigation.
Needless to say, Fugate faces a big task ahead. And the future of the agency is still being debated -- will FEMA be turned into a stand-alone agency or will it be reorganized? The Times-Picayune
reports
that Obama's appointment of Fugate may signal that the administration is leaning against restoring FEMA to a Cabinet-level department, a change called for by many Democrats critical of the agency's response to Katrina and other disasters.