BP, Bayous and Byways: Dispatches from the Gulf
What a trip! Last week, you -- the readers of Facing South -- sent us on a week-long mission to the Gulf Coast to investigate the BP spill and Gulf recovery.
It was a whirlwind trip, covering hundreds of miles of coastal bayous and byways, and dozens of conversations with local residents, community leaders, government officials and BP representatives about what is clearly more than a short-term disaster for the Gulf Coast.
To give you a taste of our fact-finding mission, here are some notes from our jam-packed itinerary: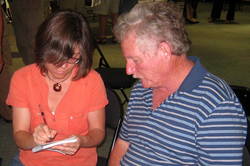 Sue Sturgis interviews fisherman Raymond Ryan in Moss Point, Mississippi
MONDAY AFTERNOON: Sue Sturgis and I touch down in New Orleans, immediately jump in the rental car and race two hours east to Moss Point, Mississippi, to make it in time for a community "information session" run by the Department of Homeland Security.
Apparently, after a few bad experiences holding community forums full of irate residents grilling BP and government spokespeople, DHS is trying out a new format: Tightly controlled sessions with "information booths" where individuals can speak one-on-one (no angry mobs) with reps from BP, the EPA, and other agencies. The residents hate it.
Sue and I get to work interviewing fishing families, EPA officials and a BP representative. We learn that a big concern is that BP is hiring sport fishermen for cleanup jobs rather than commercial fisherfolk who are in more dire economic straights. The BP spokeswoman admits to us that it's a "concern."
TUESDAY: Up at the crack of dawn: We need to get to the fishing town of Lafitte, Louisiana by 8 a.m. Aaron Viles and the excellent people at the Gulf Restoration Network have helped set up a 5-hour tour of Barataria Bay in the Gulf of Mexico. Our main guide is Clint Guidry of the Louisiana Shrimp Association, a group understandably worried about the disaster and its impact on their livelihood.
We see oil-drenched pelicans fruitlessly trying to dry the pollution off their wings. We see the flimsy boom being used to protect coastline; the oil easily overtops it, burning" and eventually killing the fragile vegetation. We also learn about the uneasy relationship between the coast's two big economic engines - oil and fishing, including the reality that many fishermen have worked in the oil industry, and even work on offshore rigs after their fishing seasons end.
Darryl Malek-Wiley of the Louisiana Sierra Club
That would be enough for one day, but we have more interviews lined up: first with Darryl Malek-Wiley of the Louisiana Sierra Club, who gives us first-hand insights from decades of efforts to help environmentalists, fisherfolk and labor groups find common ground; and Sharon and David Gauthe of Bayou Interfaith Shared Community Organizing (BISCO), who give us their take on organizing at the grassroots in rural Lafourche and Terrebonne parishes.
As we stagger back to our hotel at 11pm, a key theme come into clearer focus: the incredibly dire economic reality facing Gulf communities. As Darryl tells us, many people were "just getting to OK" after Hurricanes Katrina/Ike/Gustav. Now oil is killing off fishers' livelihoods, and the future of offshore oil is a question mark. To take any jobs out of the equation - such as offshore drilling - without having alternatives in place would push many already-desperate families and communities past the breaking point.
WEDNESDAY: Another early morning -- this time headed to the bayous of Dulac, Louisiana, to meet with representatives of the United Houma Nation. Their newly elected chief, Thomas Dardar, has only been in office for a week -- how's that for a challenging start! One by one, the Houma residents tell us how fishing isn't just a job -- living off the water is a "way of life," now at risk thanks to the one-third of the Gulf closed to fishing and BP oil killing marine life.
They also remind us that just a generation ago, racism kept the Houma from even being allowed to attend school -- closing doors to education and other economic opportunities. The oil disaster has given new urgency to their search for other sources of livelihood: marketing produce from community gardens and greenhouses, ship-building, constructing modular homes. But they know it's an uphill climb, and fear and despair are growing.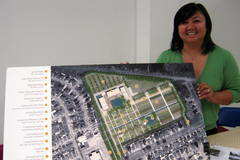 Diem Nguyen of the Mary Queen of Vietnam Church Community Development Corporation shows the group's plans for a new urban garden and market.
Next stop: Village de L'Est, a Vietnamese community in New Orleans East that was a true success story of the Katrina recovery. A few months after Katrina, I interviewed Father Vien at Mary Queen of Vietnam Church, who told their recovery story that's now become legend: How they ignored Mayor Nagin's edict that they not return, holding masses by candlelight that brought at first a few hundred, then more and more back to rebuild their community.
This time we meet with Diem Nguyen, part of a new generation of leaders at the local Community Development Corporation, who rattles off the list of recovery success stories: 100 businesses re-opened, building an assisted-living complex for seniors, fighting off a toxic mega-landfill, opening a new charter school, two new health clinics, and more plans in the works. What can we all learn from their success?
But with many Vietnamese fishermen now thrown out of work, they're also scrambling to jump-start new coastal economies. Interestingly, they're also looking at gardening, as well as green building jobs and a fish products plant. But it's just like Dulac, Lafitte and Moss Point: These alternatives take time, which for struggling coastal families is in short supply.
We head back out to the Mississippi coast. It's a beautiful, sunny afternoon. The beaches are completely empty.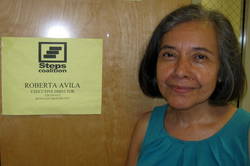 Roberta Avila of the Steps Coalition in Mississippi.
THURSDAY: After catching up on writing dispatches for Facing South (no, we didn't forget you!), we meet with more community leaders in Mississippi. First we talk with Roberta Avila, who heads up the Steps Coalition -- another post-Katrina success story, Steps has brought African-American, Latino, Vietnamese and white community leaders together in an unprecedented way. They've had some victories (steering more Katrina dollars to affordable housing) and defeats (Gov. Haley Barbour taking over $500 million in federal funds for housing and diverting it into a high-dollar shipping port).
They're now leading the charge in responding to the BP spill, highlight another lesson from our trip: The Katrina disaster sparked the creation of new groups and networks that are giving coastal residents a badly-needed voice in the wake of the BP disaster. Roberta calls it "Katrina's silver lining."
Reilly Morse at the Mississippi Center for Justice -- our next visit -- has the same message. The MCJ's Biloxi office is bustling with University of Maryland law students who are helping residents navigate the legal maze of cases and claims in the wake of the spill. Morse points out that under Barbour, Mississippi has actually spent proportionally less of its Katrina money than Louisiana -- and the five-year battle to make sure recovery dollars reach those who need it most has positioned them well to advocate for the victims of BP's oil spill.
We make our way back to New Orleans to get a few hours of sleep before our early-morning flight back to North Carolina. Our heads are full of vivid images, new insights and lots of questions that haven't been answered by BP or officials. I'm already planning a follow-up trip to visit places and people we couldn't fit into these few days.
We have dozens of leads to investigate, and hours of notes and video to sort through and publish. Our work is cut out for us. Stay tuned.
Tags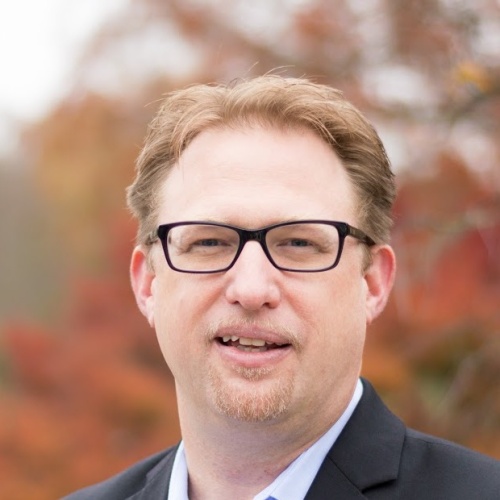 Chris Kromm is executive director of the Institute for Southern Studies and publisher of the Institute's online magazine, Facing South.