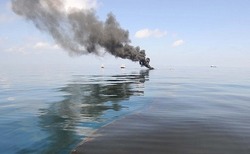 "It's just like Katrina -- it's when the media leaves that the public needs to be paying attention."
-- A community leader in south Louisiana, about the BP oil spill
When the Institute launched its Gulf Watch project five years ago, weeks after Hurricane Katrina slammed into the Gulf Coast, we learned a central truth about disasters: Public attention and outpourings of support are vital right after calamity strikes. But the nation's scrutiny and aid are just as important -- if not more so -- after the TV crews leave and residents are left with the daunting task of rebuilding their communities and lives.
That was certainly true after Katrina, when the widely-publicized botched relief and response effort gave way to less-noticed failures in long-term recovery, which was also marked by delays, scandals and other equally devastating problems.
Now, as BP aims to
permanently seal
the Deepwater Horizon well site by the end of the week, the Gulf Coast turns to the
bigger challenge
of recovering from the disaster. In the coming months, here are five key issues to watch:
* WHERE'S THE OIL?
Government scientists
announced last week
that nearly 75% of the spilled oil in the Gulf is "gone." What do they mean by "gone?" They estimate that "burning, skimming and direct recovery" snagged 25%, another quarter evaporated or dissolved, and 24% "dispersed," either naturally or "as the result of operations" -- i.e., the controversial use of dispersant.
Of course, that still leaves some 43 million gallons of oil in the water -- which, as members of the Gulf Restoration Network found in
a fly-over of the Louisiana coast on Monday
, is at risk of causing damage as the cleanup crews wind down:
From Little Lake to the beaches of Fourchon to Grand Isle to East Bay, there is considerable oil visible on the surface. Alarmingly, for as much oil as we were seeing, there were few clean up crews in site. Stretches of oil were floating just off the coast of Fourchon and there was not so much as a boom to protect the beach.
*
THE DEAD ZONE LIVES:
Just because oil appears to be "gone" doesn't mean it won't have an impact on the Gulf food chain. Indeed, as
I wrote last week
, the microbes naturally eating up oil -- along with the massive amounts of methane released from the spill -- could actually accelerate a growing problem in Gulf waters: hypoxia, a process that robs oxygen from other sea life.
The resulting Dead Zone, where the water is so oxygen-deprived that its uninhabitable, has already grown to
7,722 square miles
of Gulf waters this season. Tackling the Gulf Dead Zone -- the largest in the world -- will require a national response: The biggest culprit is believed to be nitrogen-rich fertilizers that wash out of Midwestern farms and carried down the Mississippi River.
* FOLLOW THE MONEY:
The Oil Pollution Act of 1990
holds
that BP is responsible for covering the costs of damages from the disaster, and BP has vowed to uphold its obligation. In addition to footing the bill for cleanup costs, the key way BP will pay for damages and recovery is through a $20 billion escrow fund overseen by Kenneth Feinberg.
Feinberg
candidly told the Wall Street Journal
that BP's creation of the fund, far from a gesture of heart-warming generosity, was an attempt to find a "creative alternative to years and years of protracted litigation," which in the end could have been more costly to the oil giant.
While $20 billion seems like a lot, it won't come close to covering the scale of damage from the disaster: The U.S. Travel Association
estimates
that lost tourism revenues alone will cost Gulf Coast states $22.7 billion -- and Feinberg has openly said it's unlikely such "indirect" costs will be compensated.
Controversy over who will get money and when, and what kind of "damages" will be compensated, will continue to haunt the process. An
AP story on Monday
reports that BP is dragging its feet on 39,000 claims -- not denying them, just leaving them open until Feinberg takes over administration of claims this month.
*
MENTAL HEALTH AND RECOVERY:
It's an issue that often gets swept under the rug, but one of the biggest fallouts from a major disaster is the threat to mental health. In our reports on Katrina recovery, we found mental health to be one of the biggest and longest-lasting concerns facing communities after the 2005 storms.
The same is proving true of the BP disaster: In early July, Louisiana Health and Hospitals Secretary Alan Levine
wrote a letter
to BP, reporting that their field teams had found "palpable increases in anxiety, depression, stress, grief, excessive drinking, earlier drinking and suicide ideation." He further wrote that these are "early warning signs of developing substance abuse and dependence, mental illness, suicide and familial breakdown including divorce, spouse abuse, and child abuse and neglect."
To help tackle these problems and account for their costs to Gulf communities, Levine
asked
BP to set aside $10 million for mental health services, which the company has yet to do. What's more, in July 21
testimony
before Congress, Feinberg said it is "highly unlikely" the BP escrow fund will pay for severe depression or other "mental damage."
* A VOICE FOR GULF COMMUNITIES?
Another lesson from the Katrina experience is the important of involving local leaders in community recovery. Recently, a group of Gulf Coast and national advocacy organizations sent a letter to Congress calling on them to create a Gulf of Mexico Independent Regional Citizens' Advisory Council to help guide the recovery process.
The call is modeled on similar councils erected in Prince William Sound and Cook Inlet, Alaska after the Exxon Valdez disaster. In addition to adding a community voice to tackling recovery problems, the groups say the Gulf councils could "provide more effective citizen monitoring and oversight of the offshore and coastal energy industry operations in the Gulf of Mexico."
Whether or not Congress listens, the work of community leaders -- just like after Katrina -- will be decisive in the course of the BP disaster recovery. Groups like the
Gulf Coast Fund
, which supports front-line grassroots organizations working for change, will need public support more than ever.
This is far from a complete list; it doesn't even touch on the bigger issues of
coastal land loss
, the
long-term economic challenges
facing the region, and dozens of other problems big and small that will require ongoing scrutiny and vigilance -- not just among Gulf Coast residents, but the entire country whose demand for Gulf oil helped precipitate this crisis.
Don't let the fading media coverage fool you: There's still plenty of work to be done in the Gulf Coast, and in some ways, the region needs our aid and vigilance more than ever.