Art Pope's Big Day: Republican benefactor fueled GOP capture of NC legislature
NOTE: The following is an updated and revised version of a report that first appeared on Thursday, November 4. This new report includes updated campaign finance information, as well as new information on the status of state races. We will continue to update this story as new information becomes available. (Final Update: 11/29/10)

The Republican takeover of North Carolina's state legislature in 2010 -- the first time since Reconstruction -- caught many by surprise, but perhaps none more than state senator John Snow.

A three-term Democrat in the senate's western-most district in the mountains, Snow largely avoided controversy and often bucked his party; one group rated him as the senate's second-most conservative Democrat. His Republican opponent Jim Davis -- a dentist and newcomer to state politics -- seemed like a long shot.

But then the money flooded in. Smelling an upset, the state Republican Party injected $321,600 [pdf] into Davis' campaign. By mid-October, the Republican had raked in a total of $448,000 -- a staggering sum for the small district, and nearly double the $225,000 incumbent Snow had raised.

If he was caught off guard by the GOP's big spending, Snow was completely blindsided by another onslaught: A barrage of attack ads and mailers from Civitas Action and Real Jobs NC, outside groups backed by conservative donor Art Pope. In lockstep with the Republican Party, the ostensibly non-partisan organizations poured over $265,000 into the race -- more than Snow had raised for his entire campaign.

The flood of money may well have tipped the balance: Snow ended up losing the contest by just 141 votes.

Sen. Snow was not alone. According to a Facing South analysis of state and federal campaign records, in 2010 three independent groups backed by Art Pope -- Americans for Prosperity, Civitas Action and Real Jobs NC -- poured nearly $2 million into 22 state legislative races targeted by Republicans.

On top of that, Art Pope and Pope family members made another $240,000 in personal contributions to the same 22 races, for a total of more than $2.2 million -- an average of $100,000 per race.

The record-setting investments paid off: Republicans won 18 of the races targeted by Pope's family and groups, a stunning 82% win rate.

A state-wide strategy

2010 was the year of big money in elections: The nonprofit Sunlight Foundation estimates over $454 million was shoveled into Congressional races by independent groups and party committees, shattering all earlier records for mid-term elections.

Less-noticed was an equally dramatic rise in state-level campaign dollars, which -- like the national spending spree -- benefited from loosened rules on corporate contributions due to the Supreme Court's Citizens United decision and gave a crucial money edge to Republicans.

In North Carolina, leading the charge were three groups linked to influential Republican benefactor and retail chain magnate Art Pope:

* AMERICANS FOR PROSPERITY spent $284,850 in the 22 targeted North Carolina races. Art Pope is one of the national advocacy group's four board members. While Americans for Prosperity isn't required to disclose its donors, tax records show that since 2004 Art Pope's family foundation has give $1.3 million to AfP's sister group, the Americans for Prosperity Foundation, which is allowed to share resources with Americans for Prosperity.

* CIVITAS ACTION, a spinoff of the John W. Pope Civitas Institute, poured another $196,272 into the 22 targeted contests. 72% of the $264,890 Civitas Action reportedly raised this election cycle came from Pope's family retail business Variety Stores; the rest came from his group Americans for Prosperity. As Facing South reported earlier, the nonprofit Civitas Institute receives over 97% of its yearly income from Art Pope's family foundation.

* REAL JOBS N.C., a new group which earned notoriety for controversial (and sometimes inaccurate) attack ads, injected nearly $1.5 million into the targeted state races. Art Pope was a founder of Real Jobs N.C., which received $200,000 from Pope's Variety Stores.

Together, the three groups focused their formidable resources on 22 state contests that were a top priority for Republicans -- many of which the state GOP also generously backed. Some races were targeted by just one of the three outside groups; seven were targeted by two. In eight races, all three groups aligned against the Democratic candidate.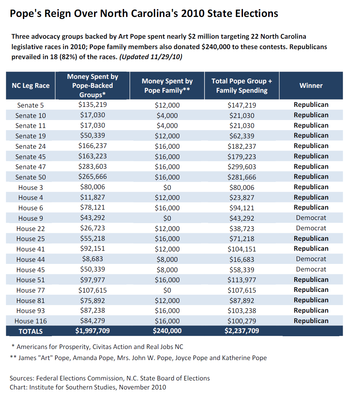 Pope family politics

Given Art Pope's influential role in the three groups, perhaps it's unsurprising that the 22 races they targeted were also those chosen by Pope and members of the Pope family in their personal campaign contributions.

A Facing South analysis of state campaign records for each Republican campaign through mid-October reveals that Art Pope, along with Pope family members Amanda, Joyce, Katherine, and Mrs. John W. Pope contributed $240,000 to Republicans on the target list.

Together, the money going to the 22 key races from Pope-backed groups and Pope family members came to more than $2.2 million. (See chart; click on image for larger version.)

That figure doesn't include personal contributions made after the last October filing period. It also doesn't include the steady stream of anti-Democratic and pro-Republican reports and analysis that flowed from the network of conservative nonprofits backed by Art Pope and his family foundation.

As Facing South reported earlier, these groups -- which receive on average 89% of their income from Pope's family foundation -- were active participants in North Carolina tea party rallies that openly promoted Republican state candidates, despite legal prohibitions against nonprofits engaging in electioneering and candidate advocacy.

A national plan

The record amounts of money spent in North Carolina's 2010 state elections were no accident.

North Carolina was among a handful of states targeted nationally by Republican groups like the Republican State Leadership Committee for a much bigger prize: Capturing state legislatures to put Republicans in charge of redistricting, the redrawing of political lines that will begin in 2011.

Chaired by top GOP operative Ed Gillespie, the RSLC raised a $30 million war chest in 2010 and launched a REDMAP campaign on the belief that, as their website says, "The party controlling [the redistricting] effort controls the drawing of the maps -- shaping the political landscape for the next 10 years."

Art Pope's Variety Wholesalers gave $36,500 to the Republican State Leadership Committee in July 2010 to boost their efforts to capture state legislatures for Republicans.

It was a relationship that paid off handsomely for the state GOP: The RSLC in turn funneled $1.25 million to Real Jobs N.C. to fund attacks on North Carolina Democrats. In 2010, the RSLC also hired Raleigh-based Michael Luethy as their regional political director, who worked for the North Carolina Republican Party through December 2009.

In a November 3rd column, John Hood of the John Locke Foundation -- which is also backed by Pope's family foundation -- dismissed Democrats who "blame their loss of the General Assembly on independent expenditures, including those by groups receiving hundreds of thousands of dollars from Raleigh businessman Art Pope."

Money may not have been the only factor in the 2010 elections. But savvy businessmen like Art Pope and the corporate donors of the Republican State Leadership Committee clearly saw a value in making record-shattering contributions in states like North Carolina in 2010. They also expected a return on their investment, in the form of capturing state power.

Indeed, that's just what a plug on the RSLC's website promised their money could help accomplish:
The RSLC is the largest caucus of Republican state leaders and the only national organization whose mission is to elect down ballot, state-level Republican office-holders ... In February, the RSLC announced the creation of REDMAP, which is on pace to raise record amounts dedicated to winning seats and legislative majorities that will critically impact redistricting in 2011. [emphasis added]
Sam Spencer provided research assistance for this story.
Tags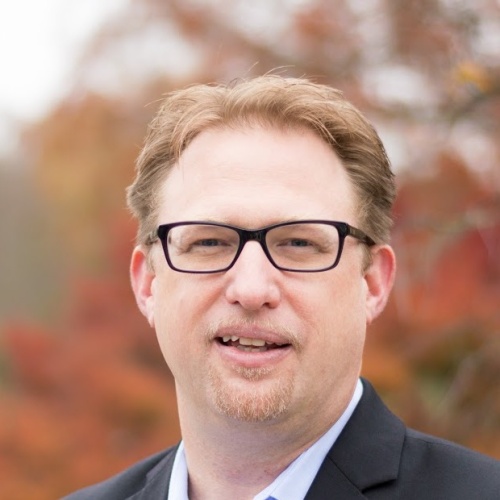 Chris Kromm is executive director of the Institute for Southern Studies and publisher of the Institute's online magazine, Facing South.