South remains the epicenter of U.S. child poverty crisis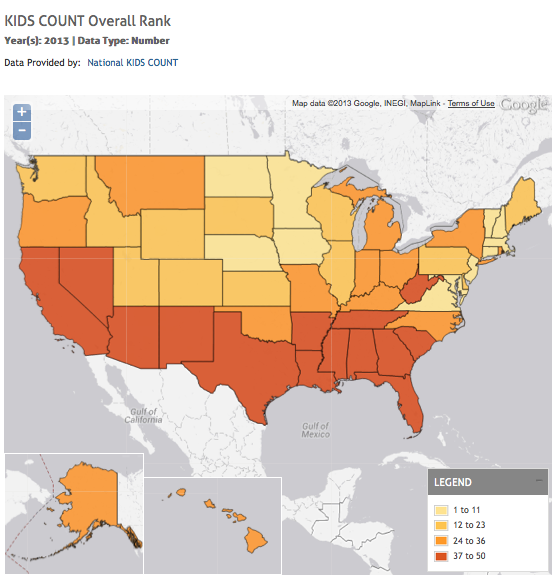 Child poverty in the United States remains concentrated in the South -- but one notoriously impoverished Southern state no longer occupies the bottom spot for the overall well-being of its children.

The latest yearly "KIDS COUNT Data Book," released today by the Annie E. Casey Foundation, found that more than half of the 10 states with the lowest levels of overall child well-being are in the South. But for the first time in the Data Book's 24-year history, Mississippi no longer occupies 50th place for child well-being -- a dubious distinction now held by New Mexico.

Mississippi came in 49th after showing improvements in education, health insurance coverage for children, and child poverty levels.

"While the health and education indicators have improved somewhat, keeping Mississippi out of its perennial 50th spot, the high percentage of children living in poverty coupled with children living in households whose parents lack secure employment continue to be of concern," said Linda Southward, Mississippi KIDS COUNT director.

The other eight states with the lowest levels of child well-being, in ascending order, are Nevada in 48th place, followed by Arizona, Louisiana, South Carolina, Alabama, Georgia, Texas and California.

However, looking at children's economic status alone, Mississippi remains at the bottom of the 50 states. In all, half of the 10 states where children live in greatest economic distress are in the South. The other nine, in ascending order, are New Mexico, Nevada, Arizona , California, Florida, South Carolina, Georgia, Louisiana and Oregon.

While the economic well-being of U.S. children improved slightly from 2010 to 2011, the recession continues to take a toll on the quality of their lives. In 2011, the overall U.S. child poverty rate was 23 percent, or 16.4 million children -- an increase of 3 million since 2005.

"As our economic recovery continues, we cannot lose sight of doing whatever it takes to help kids, particularly kids in low-income families, reach their full potential -- and that includes laying a solid foundation from the moment they are born," said Patrick McCarthy, the foundation's president and CEO.

Of the 13 Southern states, the highest-ranking for child well-being is Virginia, coming in 11th place in this year's report, which draws on data from 2011. That represents an improvement for the state, which ranked 12th in last year's report. While the economic well-being of Virginia's children actually declined in the most recent year studied, they experienced gains in educational achievement and health status.

Besides Virginia, seven other Southern states showed improvements in this year's ranking: Kentucky (35th to 34th), West Virginia (39th to 37th), Arkansas (42nd to 40th), Texas (44th to 42nd), Alabama (45th to 44th), Louisiana (47th to 46th), and Mississippi (50th to 49th).

Five Southern states slipped in the rankings, with Georgia experiencing the most dramatic drop, from 37th to 43rd. While the Peach State has made some gains in children's health and education, it struggles with high levels of economic distress, with more than one in five Georgia children living in poverty.

The other states that fell in the rankings were South Carolina (43rd to 45th), Tennessee (36th to 39th), and North Carolina (34th to 35th). Florida remained in the same spot at 38th.

The report raised concerns about the future impact of new policies in North Carolina, which have been among the targets of ongoing protests at the state legislature. Those ongoing protests, part of the Moral Monday movement led by the state NAACP, have led to the arrests so far of almost 500 people for nonviolent civil disobedience.

"Recent changes to supports for vulnerable families mean more children of out-of-work and low-income parents will likely slip through widening gaps in North Carolina's safety net," the foundation said in a press release. "Earlier this year Governor McCrory signed legislation into law which reduced the state's unemployment insurance benefits and scheduled the North Carolina's Earned Income Tax Credit to sunset in 2013."

The states with the highest levels of child well-being are all in New England: New Hampshire, Vermont and Massachusetts.
Tags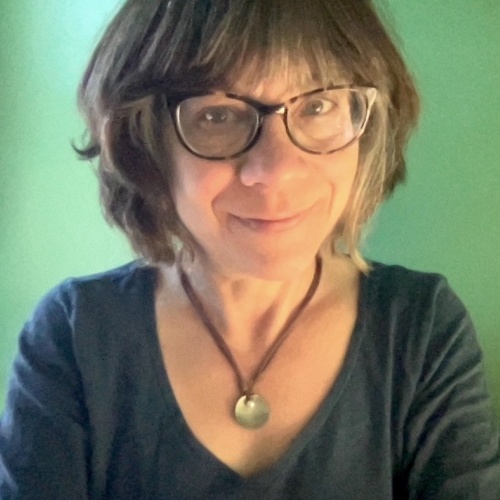 Sue is the editorial director of Facing South and the Institute for Southern Studies.