The Bayou Corne sinkhole is one year old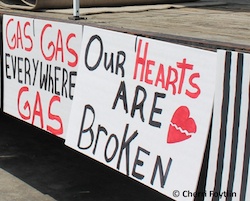 By Cherri Foytlin, Bridge the Gulf
One year after the discovery of the now nearly 24-acre Texas Brine Sinkhole in Bayou Corne, Louisiana, area residents gathered at the home of Grady and Carla Alleman to mark the occasion. Aside from local testimonials, speakers included General Russel Honoré, best known for commanding and coordinating military relief efforts during Hurricane Katrina, and Dr. Wilma Subra, chemist and MacArthur Genius Grant recipient.
A day prior, on August 2nd, the state announced the filing of suit against the company for their role in the disaster, which caused the mandatory evacuation of 350 people.
Currently buyout negotiations for the area continue, with 63 of the 93 offers by Texas Brine already accepted. Air monitoring by the Louisiana Office of Homeland Security remains in effect for the nearly vacant community and bayou, which is also the location of over 90 sites of bubbling natural gas.
In the letter below, homeowner Mike Schaff shares his concerns with Texas Brine's Louisiana Area Manager Kenneth Blanchard. Blanchard recently penned a letter to the editor of The Advocate, saying, "Much has been said and written, but I can tell you that Texas Brine cares deeply about the community and what it has gone through over the last year. I understand the frustration the community has with the response -- it's something everyone at Texas Brine understands.
"While things haven't moved as quickly as we would have all hoped, significant progress has been made. As we recognize the anniversary of the sinkhole formation and what the community has endured, we should also acknowledge the hard work done by state and local officials as well as employees and contractors of Texas Brine."
Here is Mike Schaff's response:
I just consoled my neighbor of over 20 years who resides across the street from me. He was in tears for having to leave a place he so loved. Due to his wife's illness, he felt compelled to accept your "loving" company's pitiful idea of what his property and his loss of community was worth, yet your "responsible care" team allowed him but 30 days to be able to pack up those oh so many years of memories.
The greed of your company, trying to suck the last bit of brine from their part of this great salt dome, without doing proper due diligence in the form of simple well logging techniques to ensure they were mining safely, caused this debacle. [It is] not the fault of my neighbor, not mine, not our grandkids or our children (who we no longer allow to come visit with us here), not a single one of 350 fellow community members -- no one but your illustrious company.
How many residents have you given assistance to help them move during their evacuation?
How many have had you come volunteer to assist in sand bagging their evacuated residences when the high water was approaching?
How many of them were approached by you to let you help them mow their lawns while evacuated? Or to do a courtesy check, to make sure everything appeared to be in order? [Or] to ensure that they were briefed thoroughly when your [Cone Penetration Testing] truck came making more gas leaks in their neighborhood?
How many memories have you replaced, Texas Brine?
How many tears have you wiped from the aged eyes of our many senior citizens forced to leave homes where their dream were to die in this paradise?
How many hands have you held of the mothers who wept for their children, when they begged to come back to their homes?
Tell your sob stories to someone who doesn't know better.
Not one penny have you spent voluntarily. Everything that you have done was either forced upon you by your permit contract, the office of Conservation, or by irate neighbors themselves. We are still waiting for you to provide community mental health services for all those affected -- the scars from this have cut us deeply. Yet all you have ever cared about is your bottom line. Not once have I heard an apology from (anyone from) your company at the community meetings -- not once an acceptance of responsibility.
Be a man and step up to the plate next meeting, and offer a sincere apology for once. The propaganda that you spew out to the papers is just fodder for use in the restroom.
Here, let me do it for you, it's very easy: "To all the residents of Grand Bayou, Bayou Corne, Pierre Part and other citizens of Assumption Parish, we are sincerely sorry that our mistake has caused you grief. Please accept our apologies and let us know if there is anything that we can do to help."
Sincerely,
Mike Schaff
Bayou Corne resident
Video: One of over 90 natural gas bubbling sites near the area of Bayou Corne and the Texas Brine Sink Hole.