The Big Money for and against school vouchers in North Carolina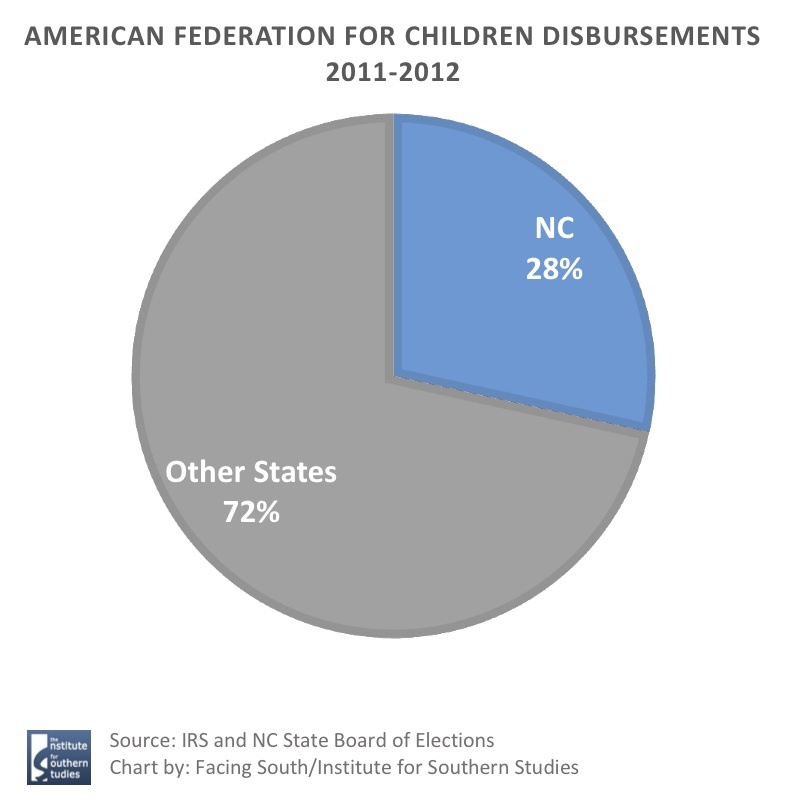 On Aug. 21, North Carolina Superior Court Judge Robert Hobgood ruled that the state's private school voucher program is unconstitutional. The decision was a setback for a network of national and state "school choice" groups that have been advocating for such a program for years -- and investing heavily in state politics to advance their agenda.

The groups promoting vouchers and charters have aimed their political spending in two areas: the state legislature, where Republican leaders passed the $10 million Opportunity Scholarship Program in 2013, and the state Supreme Court, where the controversy over the voucher program now moves and where conservatives enjoy a 5-4 majority.

The "school choice" money network in North Carolina would not be possible without the Washington, D.C.-based American Federation for Children (AFC). This 501(c)(4) nonprofit, which advocates for school vouchers, scholarship tax credits and Education Savings Accounts, has given substantial sums to North Carolina-based political groups. In 2012, AFC gave about $308,000 to a total of four North Carolina groups, the most it gave in any state and nearly 30 percent of its total disbursements for that year. These contributions included:

* $100,000 to Justice For All NC, a super-PAC style group that, directly and through funneling money to other groups, spent more than $1.6 million in 2012 to benefit the successful campaign of conservative N.C. Supreme Court justice Paul Newby;

* $53,000 to NC Citizens for Freedom in Education IE PAC, another super PAC-style group;

* $80,000 to Partners for Educational Freedom in NC; and

* $75,000 to Parents for Educational Freedom NC.

(EDITOR'S NOTE: This paragraph has been corrected since it was originally published.) The latter three entities are sister groups that share the same Raleigh address. Partners for Educational Freedom in NC, of which Darrell Allison is president, is a 501(c)(4) "social welfare" nonprofit founded in 2008 with an affiliated PAC, which contributes directly to candidates who support "school choice." The PAC gave about $37,000 to candidates in 2012 and has given $12,000 so far in this election cycle.

NC Citizens for Freedom in Education IE PAC, founded in 2010, has spent more than $136,000 over the last two election cycles supporting various state House and Senate candidates.

In early April 2014, AFC gave $125,000 to NC Citizens, which went on to spend about $66,000 on independent expenditures supporting candidates before the May 6 primaries and another $33,000 one week later. In 2012, AFC gave NC Citizens about $53,000; the group spent $37,000 in support of House and Senate candidates that year.

AFC, along with the North Carolina school choice groups, have also focused on North Carolina's judicial races, reflecting the importance of the courts in decisions about school policy.

In 2012, Justice for All NC received $100,000 from AFC, as well as $10,000 from NC Citizens for Freedom in Education PAC IE -- part of a more than $2 million spending spree that helped elect Justice Newby with 52 percent of the vote.

This year, AFC gave another $50,000 to Justice for All NC shortly after this year's primaries, during which Justice For All spent $900,000 on a controversial ad attacking Justice Robin Hudson.

The connections between AFC and the three North Carolina groups don't stop at the institutional level. AFC Vice Chairman John F. Kirtley, a venture capitalist in Tampa, Florida, has donated over $33,000 to North Carolina candidates and PACs since 2010. He gave $12,000 to the NC Citizens PAC in 2013 and $14,000 to the Partners for Educational Freedom PAC since 2010. He and his wife, Kimberly, gave $8,000 to the Pat McCrory Committee in 2012. Partners has also received $2,500 donations from fellow AFC board members Boykin Curry and William Oberndorf, as well as $250 from AFC's director of government affairs, Jonathan Nikkila.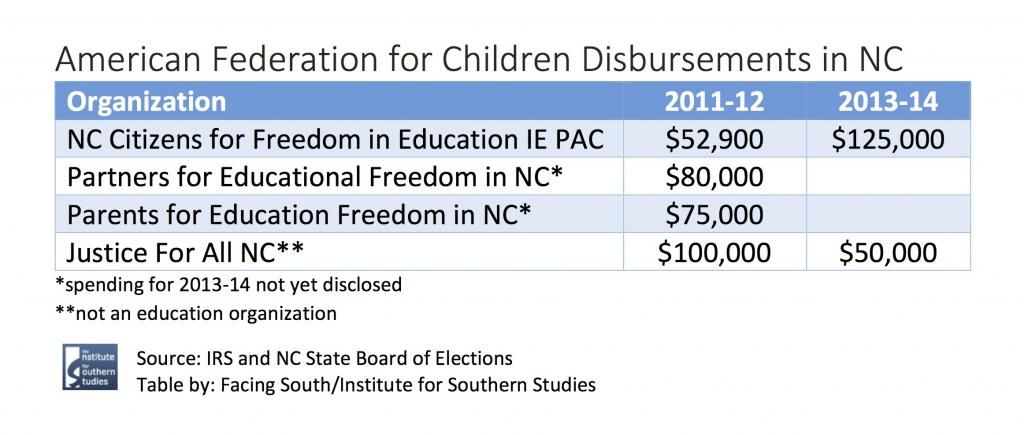 Groups on the left, typically opposed to school vouchers, have spent heavily in recent years as well.
In 2012, the Washington, D.C.-based National Education Association gave $180,000 and the NEA Advocacy Fund $20,000 to a North Carolina-based 501(c)(4) called NC Citizens for Protecting Our Schools. The latter group spent about $275,000 in 2012 in support of Supreme Court candidate Sam Ervin, who lost to Paul Newby.
NC Citizens for Protecting Our Schools also gave $80,000 directly to Common Sense Matters, a 527 political organization that spent close to $1 million on the 2012 elections, including about $31,000 in support of Ervin. The North Carolina Association of Educators PAC gave $150,000 to Common Sense Matters in 2012, and the NEA Advocacy Fund added another $100,000. NC Futures Action Fund, another North Carolina-based 501(c)(4), steered $295,000 to Common Sense Matters and $50,000 to NC Citizens for Protecting Our Schools.

So far in 2014, these Democratic-leaning groups have not made any political expenditures. But as the November general election nears with four of the seven state Supreme Court seats up for grabs, groups on both sides of the "school choice" debate are expected to spend heavily.
(Facing South intern Brian Freskos contributed research to this report.)
Tags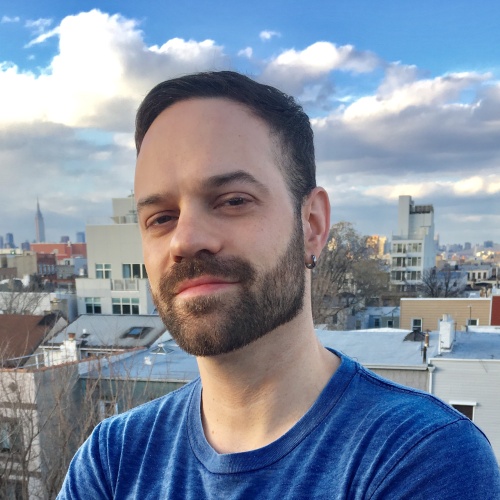 Alex is an investigative journalist based in Brooklyn, New York, and a reporter for the money-in-politics website Sludge. He was on staff at the Institute for Southern Studies from 2014 to 2016. Additional stories of Alex's have appeared in the International Business Times, The Nation and Vice.com.