Moral Monday comes to Ferguson, Missouri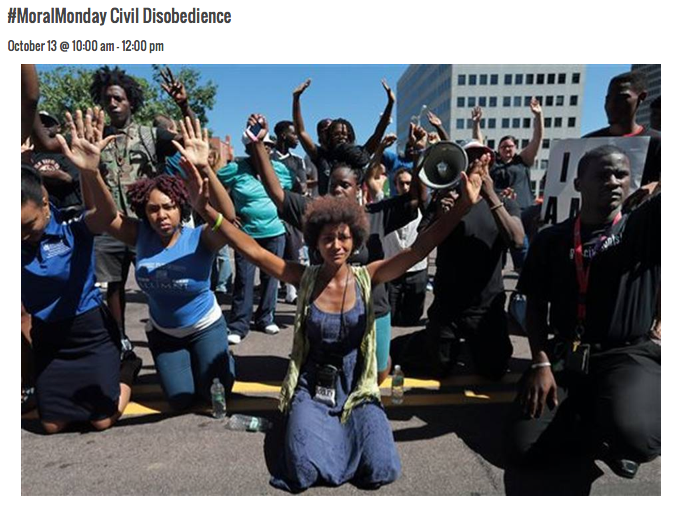 Plans are underway for a "Weekend of Resistance" that organizers are calling Ferguson October to protest the police killing of teenager Michael Brown, police violence, and other forms of injustice -- and it will culminate in a Moral Monday civil disobedience action modeled on protests that began last year in North Carolina.

"On Monday, we're taking our cue from the fearless activists in North Carolina who were inspired to fight back against right-wing attacks there and across the South," Ferguson October organizers wrote. "They kicked off the Moral Mondays movement for progressive change by engaging in civil disobedience every week, reminding all of us that these actions have been a part of every major movement for change."

The Ferguson October weekend kicks off with a march Friday afternoon to St. Louis's prosecuting attorney's office to demand Darren Wilson, the police officer who shot and killed Brown on Aug. 9, be charged. Organizers have planned a weekend of rallies and teach-ins, including a "Hip Hop and Resistance" concert featuring Talib Kweli and other rappers. Princeton philosophy professor and activist Cornel West is also scheduled to speak.

Rev. Dr. William Barber, president of the North Carolina NAACP and the leader of the Moral Monday movement, has said he and his colleagues were asked to visit Ferguson and have conversations with organizers there.

"They've said that the Moral Monday movement is a model that they need in that community," Barber said.

The Moral Monday action will not be the first civil disobedience in Ferguson since Brown's killing: Organizers planned and carried out large protests there on Labor Day to stop traffic on St. Louis's Interstate 70 during rush hour, and then followed up with a similar action on Sept. 10.

There have been many calls for disciplined, non-violent protests in Ferguson like those that have taken place in North Carolina and that have since spread to other states including South Carolina and Georgia.

The Ferguson protest comes amid heightened tensions after a police officer this week shot another 18-year-old African-American man 17 times, killing him. Witnesses say the young man, like Brown, was unarmed.