Bigger campaign contributions correlate with more wins for law firms at NC Supreme Court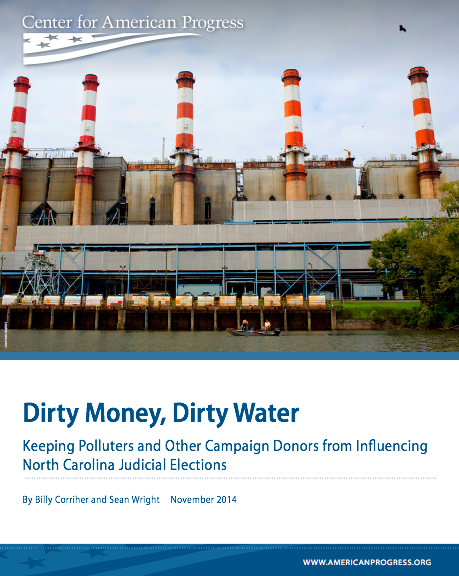 Following the North Carolina legislature's decision last year to end the state's public financing program for judges' campaigns, an unprecedented flood of money to judicial races -- much of it from special interests with business before the N.C. Supreme Court -- has renewed concerns about the perceived fairness of the state's justice system.

These concerns will not be eased by a new report from the Center for American Progress that examines the connection between judicial campaign contributions from law firms and their win-lose record before North Carolina's high court. Titled "Dirty Money, Dirty Water," the study by Billy Corriher and Sean Wright focuses on the environmental implications of money in judicial politics, noting that polluting corporations such as Duke Energy are repeat players in state courts more than most other businesses.

The authors looked at the success rates of law firms that had cases before the North Carolina Supreme Court from 1998 to 2010 and that also made contributions to justices' campaigns.

"Among the 'repeat-player' law firms -- those with several cases before the court each year -- the firms that gave more campaign cash had higher success rates than those that gave smaller donations," they write.

In 1998, law firms donating $400 or more won 53 percent of their cases, compared to 48 percent for firms giving less than $400. Firms that had more than five cases before the court and that donated $1,000 or more won 70 percent of their appeals -- a win rate the authors call "astonishing." That compares to just 33 percent for firms with at least five cases that gave less than $400.

The pattern of politically generous firms winning more cases held throughout the years studied. In 2004, the first year of the state's public financing program for judicial races, the average success rate for firms with five or more cases before the court that gave $1,000 or more was lower than in 1998, at 61 percent. But that still compared to a much lower 43 percent win rate for those giving $450 or less.

The authors acknowledge that the correlation between larger campaign contributions and success rates for repeat-player law firms could be explained by other factors -- that the best firms have more money to spend on campaigns, for example. But the connection between contributions and case outcomes still raises questions about perceived judicial conflicts of interest, they write, pointing to a notorious West Virginia case involving millions of dollars in contributions to a judge from former Massey Energy CEO Don Blankenship:
These kinds of correlations -- whether they reflect causation or not -- raise doubts about the impartiality of judges. The U.S. Supreme Court ruled in 2009 that recusal was constitutionally required when 'extreme' amounts of campaign cash created 'a serious, objective risk of actual bias.' In Caperton v. A.T. Massey Coal Company, the defendant spent more than $3 million to elect a West Virginia Supreme Court justice, who then voted to overturn a $50 million verdict against Massey Coal. The high court stated, 'Although there is no allegation of a quid pro quo agreement, the fact remains that Blankenship's extraordinary contributions were made at a time when he had a vested stake in the outcome.' While the analysis in this report cannot prove actual bias, it does say something about the 'objective risk of actual bias' that accompanies judicial campaign cash.
The authors call for reinstating North Carolina's judicial public financing program, which resulted in both the number of attorney donors and the amount they contributed dropping dramatically. They point to a study by the National Institute on Money in State Politics that found that while lawyers and lobbyists continued making donations during the public financing era, the percent of private contributions to North Carolina judicial campaigns fell from 70 percent during the 2000 and 2002 elections to just 40 percent between 2004 and 2012, the last election year for the program, which was used by 80 percent of eligible candidates.

In this year's N.C. Supreme Court election -- the first without public financing in more than a decade -- candidates vying for the four open seats raised at least $3.8 million for their campaigns, according to still-incomplete spending figures. That smashes the previous record of $2.1 million in 2000.

"This study's results clearly indicate that repeat-player attorneys who donate to judges … had more favorable rulings," Corriher and Wright conclude. "If the same holds true for corporate repeat players, then one has to ask: Which branch of government is looking out for the majority of North Carolinians, who are not contributors?"
Tags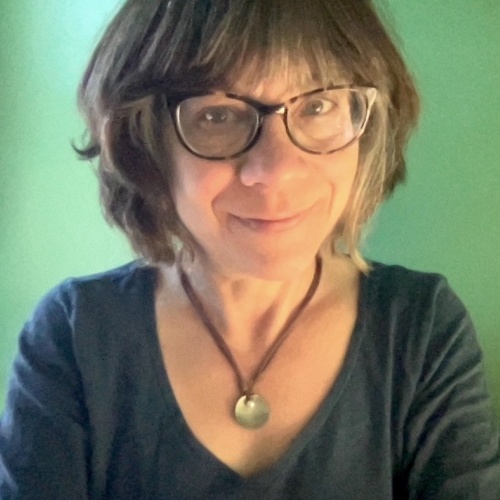 Sue is the editorial director of Facing South and the Institute for Southern Studies.