Deep-pocketed network pushes to expand vouchers in North Carolina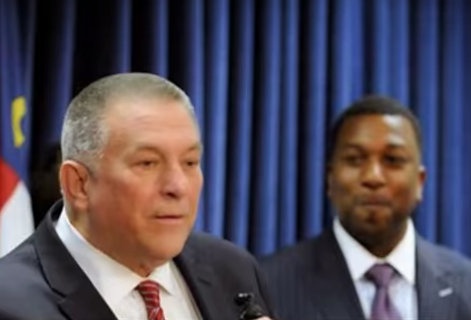 In a few months, North Carolina's $10 million private school voucher program could quadruple in size, according to Wake County GOP Rep. Paul Stam, Speaker Pro Tempore of the Republican-led state House.
At the moment, the efforts of Rep. Stam and other legislators to expand the state's "Opportunity Scholarships" voucher program are on hold as the state supreme court considers its constitutionality. But if it's cleared by the courts and lawmakers succeed in expanding vouchers as Stam has promised, it will be the latest in a series of victories in recent years scored by interests promoting alternatives to public education in North Carolina—vouchers to attend private schools and charter school expansion.
At the forefront of the push for "school choice" in N.C. is a constellation of tight-knit groups that together have spent hundreds of thousands of dollars on state elections and lobbying in recent years. Many of the legislators who have benefited from the organizations' political spending have sponsored bills that align closely with the groups' agenda.
The three organizations — Parents for Educational Freedom in North Carolina, Partners for Educational Freedom in North Carolina and North Carolina Citizens for Freedom in Education IE PAC — share the same Raleigh address and have overlapping staff. In a recent Facing South/Institute for Southern Studies report, the interconnected trio ranked as the 18th-most influential "Power Broker" in North Carolina politics, as measured by their political spending and lobbying clout in the state.
Parents for Educational Freedom in North Carolina is a 501(c)(3) charitable nonprofit run by president Darrell Allison, an attorney and former legal specialist for the U.S. Department of Justice. Established in 2005 to advocate for school privatization and charter school expansion, the group gets much of its funding from the Walton Family Foundation, the billionaire Wal-Mart founders' grantmaking organization based in Arkansas. Parents for Educational Freedom took in $1.8 million in 2013, $710,000 of it from the Waltons' foundation, according to tax documents.
Partners for Educational Freedom in North Carolina (Partners) is a 501(c)(4) "social welfare" nonprofit where Allison also serves as president. Its revenue in 2013 was $500,000, all of it from the Washington, D.C.-based American Federation for Children, another 501(c)(4) nonprofit that advocates for school privatization. Partners manages a political action committee, Partners PAC, that makes contributions directly to North Carolina candidates for state office. All four board members of Partners are also on the board of the sister group, Parents for Educational Freedom.
As legislation related to vouchers and charters has moved through state government, the twin groups have hired top lobbyists to represent their interests. Between 2011 and 2014, the Parents group spent $185,000 on lobbyists, while Partners spent $30,000, for a total of $215,000. State records show that Parents has four registered lobbyists working in 2015, including Harry Kaplan of McGuireWoods Consulting, who was rated the state's fifth most-powerful lobbyist in a recent survey by the N.C. Center for Public Policy Research survey.
Partners, the 501(c)(4), has one registered lobbyist, Reginald Ronald Holley, who is also registered with the sister group, Parents. In 2014, Partners employed Debbie Ann Clary, a former Republican state legislator who came in at No. 31 in the recent lobbyist rankings.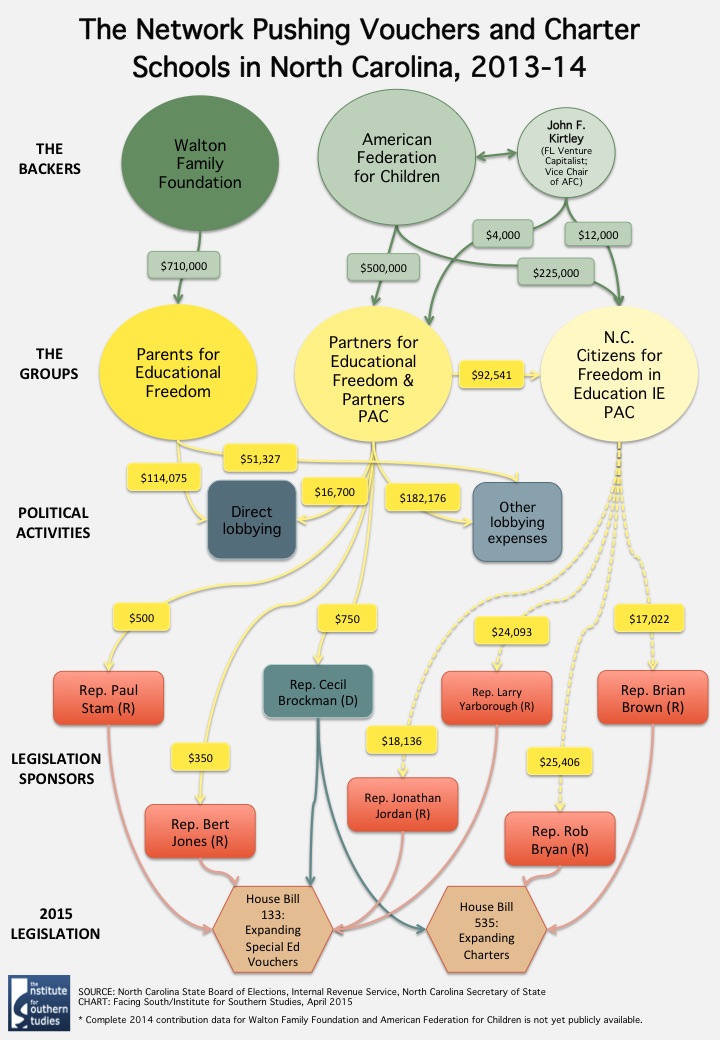 In addition to paying for lobbyists, the Partners group spent more than $120,000 in 2013 [pdf] for TV and radio ads and constituent outreach to support passage of the original "Opportunity Scholarship Act," the voucher program that made its way in a slightly altered form into the state's 2014 budget.
As the vouchers bill was being debated in the General Assembly, the Partners network was also ramping up spending that targeted lawmakers facing elections in 2014. The Partners PAC contributed a total of $22,375 to North Carolina legislators in the 2013-14 election cycle. One of its recipients was Rep. Cecil Brockman, a Greensboro Democrat who got $750 from the group last year.
The freshman representative has already introduced two "school choice" bills in the 2015 session as a primary sponsor: one that would increase private school voucher amounts for children with disabilities, and another that would actually give Parents for Educational Freedom itself $2 million in state funds over two years to expand charter schools in North Carolina through its Public Charter School Accelerator. Other primary sponsors of the special education bill include GOP representatives Stam, to whom Partners gave $500 in 2014, and Bert Jones of Caswell and Rockingham counties, who received $350 from the group that year.
Republican Senate Pro Tempore Phil Berger and then-upcoming House Speaker Tim Moore -- the legislature's most powerful members who control which bills move forward at the General Assembly -- received $9,000 and $3,000, respectively, from the Partners PAC during the last election cycle. Berger spoke at the Parents group's recent rally for voucher expansion, and he, Moore and Stam both spoke at their press conference later the same day. In December 2014, Partners spent $50,000 on mailers to voters praising Berger and Moore [pdf] for supporting their agenda.
A third prong of the network is North Carolina Citizens for Freedom in Education IE PAC (NCCFE), which was formed in 2010, the year the Supreme Court's Citizens United decision loosened rules on outside political spending.
Because of various disclosure loopholes, the makeup and operation of the Freedom in Education IE PAC is more mysterious. Although information about the IE PAC group is limited, documents filed with the State Board of Elections show that principals with the group include Darrell Allison, custodian of books, and treasurer Heather Ford, an election law attorney and former education and disclosure specialist with the state Board of Elections.
Since 2011, the Freedom in Education IE PAC has spent $350,000 on independent political expenditures benefiting state candidates who favor school vouchers and expanding charters, mostly Republicans. During the last election cycle, the group paid for radio ads, mailers and phone banks benefiting 14 candidates, only one of whom -- Sen. Ben Clark of Hoke and Cumberland counties -- was a Democrat. Of the $312,000 the group spent last election cycle, 94 percent benefited Republicans.
NCCFE's independent expenditures have often gone towards lawmakers sympathetic to its agenda. GOP Rep. Jonathan Jordan of Ashe and Watauga counties, who benefited from over $18,000 in spending from the group, was another primary sponsor of the bill to expand vouchers for special-needs students, and Republican Rep. Larry Yarborough of Person and Granville counties, who benefited from $24,000 worth of expenditures, was an additional sponsor. GOP Representatives Rob Bryan of Mecklenburg County and Brian Brown of Pitt County benefited from $25,400 and $17,000 in spending by the committee, respectively, and both were primary sponsors of the bill that would have funneled money back to Parents for Educational Freedom to promote more charter schools.
In state election board filings, the donors that funded N.C. Citizens for Freedom in Education IE PAC's election-year spending included:
* Partners for Education Freedom in N.C., which gave the IE PAC more than $92,000 in late October last year, funding expenditures shortly before the November general election.
* The American Federation for Children gave the IE PAC $225,000 in 2014. In 2012, the Federation funded all three connected groups, giving nearly $208,000 in total.
* John F. Kirtley, a venture capitalist in Tampa, Florida and vice chairman of the American Federation for Children, gave $12,000 to IE PAC in April 2014 and has given $14,000 to the related Partners PAC since 2010.
No legislation to expand the main voucher program has been filed, as lawmakers are waiting for the state Supreme Court to rule on its constitutionality. But the General Assembly leadership, backed by the pro-voucher and -charter network, is clear about its intent.
"I'm personally committed to not only continuing the [Opportunity Scholarships] program, but expanding it to the extent that we can," said Senate Pro Tempore Berger at the Parents for Educational Freedom rally.
Tags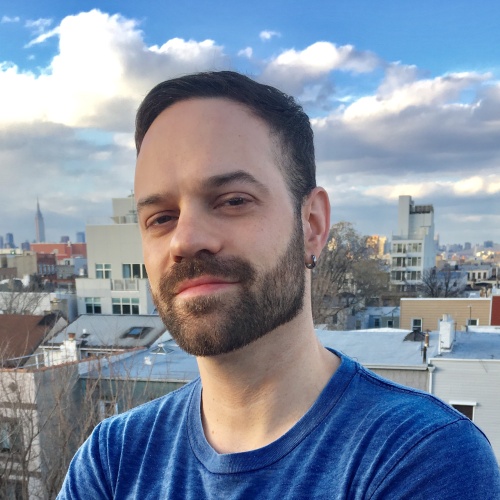 Alex is an investigative journalist based in Brooklyn, New York, and a reporter for the money-in-politics website Sludge. He was on staff at the Institute for Southern Studies from 2014 to 2016. Additional stories of Alex's have appeared in the International Business Times, The Nation and Vice.com.