South's presidential mega-donors, many with oil ties, give exclusively to GOP candidates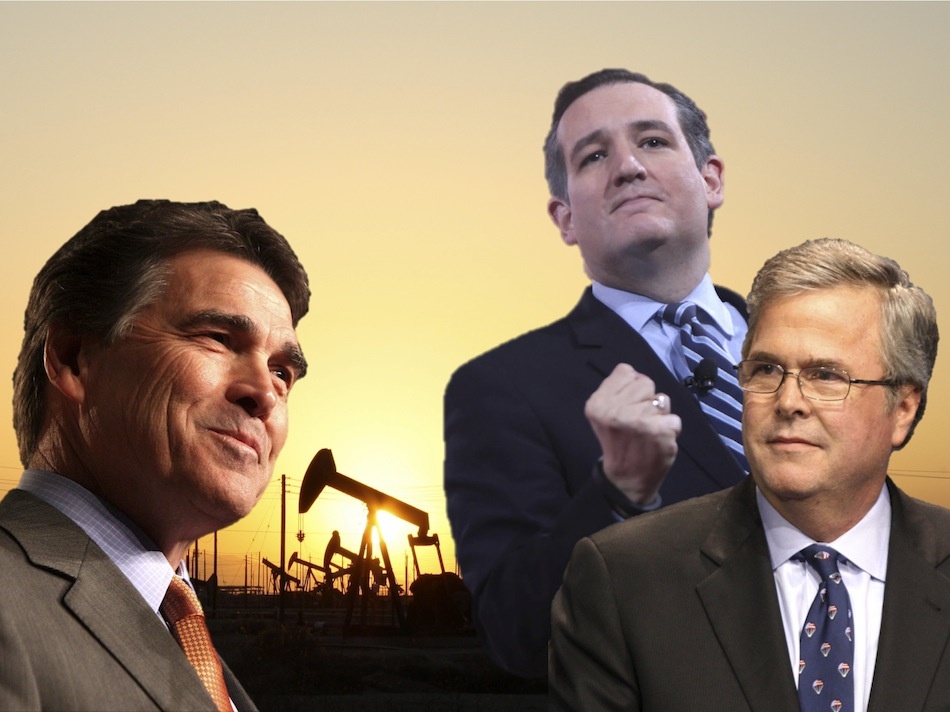 This year has seen an onslaught of donations to super PACs, outside political organizations that can accept unlimited contributions from individuals, corporations and unions but aren't allowed to coordinate directly with candidates or parties. So far this year, 17 times the amount of money donated to presidential super PACs at this point in 2012 has already entered the coffers of these political spending groups, which were made possible by the U.S. Supreme Court's 2010 Citizens United decision.

In all, 67 individuals and companies gave $1 million or more to super PACs supporting presidential candidates during the first half of 2015. These mega-donors gave $136 million — half of the total raised by super PACs overall and more than the $130 million the 22 presidential candidates raised for their own campaigns.
And while the South* is home to 34 percent of the U.S. population, Southern donors and a few Southern corporations account for 51 percent of the million-dollar contributions to presidential super PACs so far — and every cent they donated went to super PACs supporting Republican candidates.

Over half of the individual and corporate super PAC mega-donors from the South made their wealth through the energy industry, with Texas oil billionaires dominating the list. They gave to three Republican candidates: Ted Cruz, current U.S. senator from the state; former Florida Gov. Jeb Bush, who was born and raised in the Lone Star State and attended the University of Texas; and Rick Perry, the longest-serving governor of Texas who dropped out of the race recently after performing poorly in the polls. The Bush family has longstanding ties to the oil industry, and all three candidates have advocated for policies friendly to the industry.

Among the oil industry insiders making big contributions to presidential super PACs:

* Toby Neugebauer, an oil and gas investor whose father is U.S. Rep. Randy Neugebauer (R-Texas), donated $10 million to a pro-Cruz super PAC earlier this year. Neugebauer has a long career in energy investing, including co-founding Quantum Energy Partners, a Houston-based private equity firm with an oil and gas-focused portfolio. In 2014, he moved with his family from Texas to Puerto Rico after the U.S. territory erased its capital gains taxes; he said he moved so his sons could learn Spanish and attend a good school and because of favorable investment opportunities.

* The top contributor to pro-Perry super PACs through June is Kelcy Warren, CEO of Energy Transfer Partners, a Texas-based oil pipeline business where Perry serves on the board and is an equity owner. Warren, whose wealth is estimated at $5.5 billion, gave $6 million to two super PACs supporting Perry.

* Cisco, Texas brothers Farris and Dan Wilks, each worth about $1.3 billion, co-founded Frac Tech, a company that built pumper rigs used to blast open shale formations during hydraulic fracturing and that they have since sold. Farris and his wife, Joann Wilks, each gave pro-Cruz super PACs $5 million, and Dan and his wife, Staci Wilks, each gave super PACs supporting Cruz $2.5 million. At $15 million total, the Wilks family has given the most of any family to presidential super PACs.

* Houston businessman Robert McNair, worth $3.3 billion, made his fortune from Cogen Technologies, one of the largest non-utility co-generators of electrical and thermal energy in the United States, which he sold to Enron in 1999. Now the owner of power plants and real estate and financial firms as well as National Football League team the Houston Texans, McNair split $2 million four ways among super PACs backing presidential candidates Cruz, Bush, U.S. Sen. Lindsey Graham of South Carolina, and Wisconsin Gov. Scott Walker, who just dropped out of the race.

* Hushang Ansary, former Iranian ambassador to the U.S., now lives in Houston with his wife, Shahla Ansary, and each gave a pro-Bush super PAC $1 million. Hushang Ansary once directed the National Iranian Oil Company and was later chairman of a company that makes oilfield equipment.

* Richard Kinder, CEO of Kinder Morgan, a Houston-based oil and gas pipeline company, gave a pro-Bush super PAC $1 million, as did his wife, Nancy Kinder. Richard Kinder's wealth is estimated at $9 billion.

* Texas oil company founder Ray L. Hunt and his wife, Nancy Hunt, each gave a pro-Bush super PAC $1 million. Ray Hunt's net worth has been estimated at $5.8 billion.

* Fracking pioneer Trevor Rees-Jones of Dallas and his wife, Jan Rees-Jones, forked over another combined $2 million to a super PAC supporting Bush. Trevor Rees-Jones, the founder and chairman of Chief Oil and Gas, has a net worth of about $5.3 billion.

* Billionaire Gary Chouest of Louisiana is the CEO of Edison Chouest, a company that builds and operates a fleet of offshore drilling service vessels. He gave $1 million to a super PAC supporting the presidential campaign of Louisiana Gov. Bobby Jindal.

Below is a map of million-dollar presidential super PAC donations, scaled by the donation size, from a recent report by Bloomberg Politics. The red circles indicate money going to super PACs supporting GOP candidates while blue circles represent donations to pro-Democratic super PACs. A super PAC supporting Hillary Clinton is the only one on the Democratic side to receive a million-dollar donation.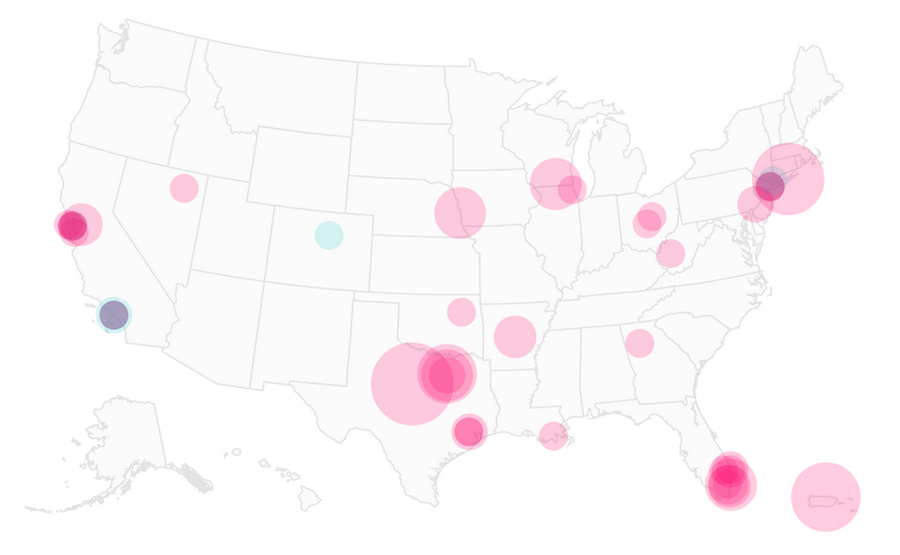 Florida's health care industry also stands out among the Southern mega-donors, with much of its money going to a super PAC supporting Bush. Other mega-donors from the South include Home Depot founder Bernard Marcus of Atlanta, who split $1.6 million between pro-Bush and pro-Walker super PACs; Laura Perlmutter, wife of Marvel Entertainment CEO Isaac Perlmutter and a resident of both Florida and New York, who gave a pro-Rubio super PAC $2 million; Ronnie Cameron, chair of Arkansas poultry giant Mountaire Corp., who donated $3 million to candidate super PACs, with most of that going to a PAC supporting former Arkansas Gov. Mike Huckabee; Norman Braman, a Florida auto dealer and former owner of the Philadelphia Eagles NFL team, who gave $5 million to a pro-Rubio super PAC; and Darwin Deason, a Texas resident and founder of Affiliated Computer Services, who gave a super PAC supporting Perry $5 million. When Perry dropped out of the race, Deason's son said his dad wants his money back.

Below is a table with information on each mega-donation from the South. Click on it for a larger version.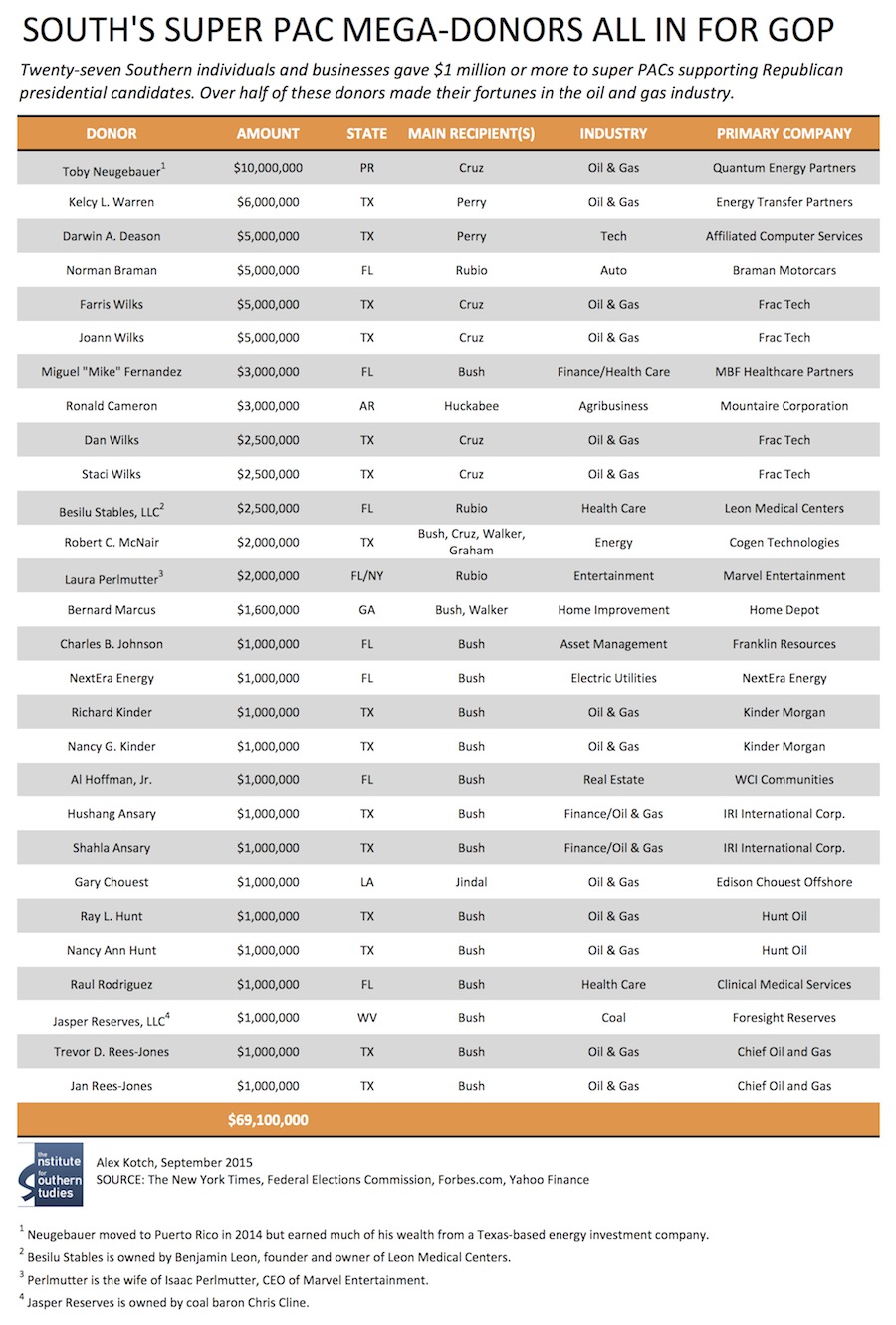 * Facing South counts among the Southern states Alabama, Arkansas, Florida, Georgia, Kentucky, Louisiana, Mississippi, North Carolina, South Carolina, Tennessee, Texas, Virginia, and West Virginia.
Tags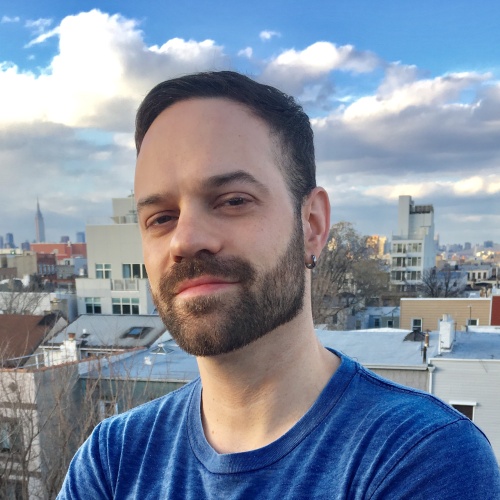 Alex is an investigative journalist based in Brooklyn, New York, and a reporter for the money-in-politics website Sludge. He was on staff at the Institute for Southern Studies from 2014 to 2016. Additional stories of Alex's have appeared in the International Business Times, The Nation and Vice.com.