With deportation relief at stake, South's Latinos could swing presidential race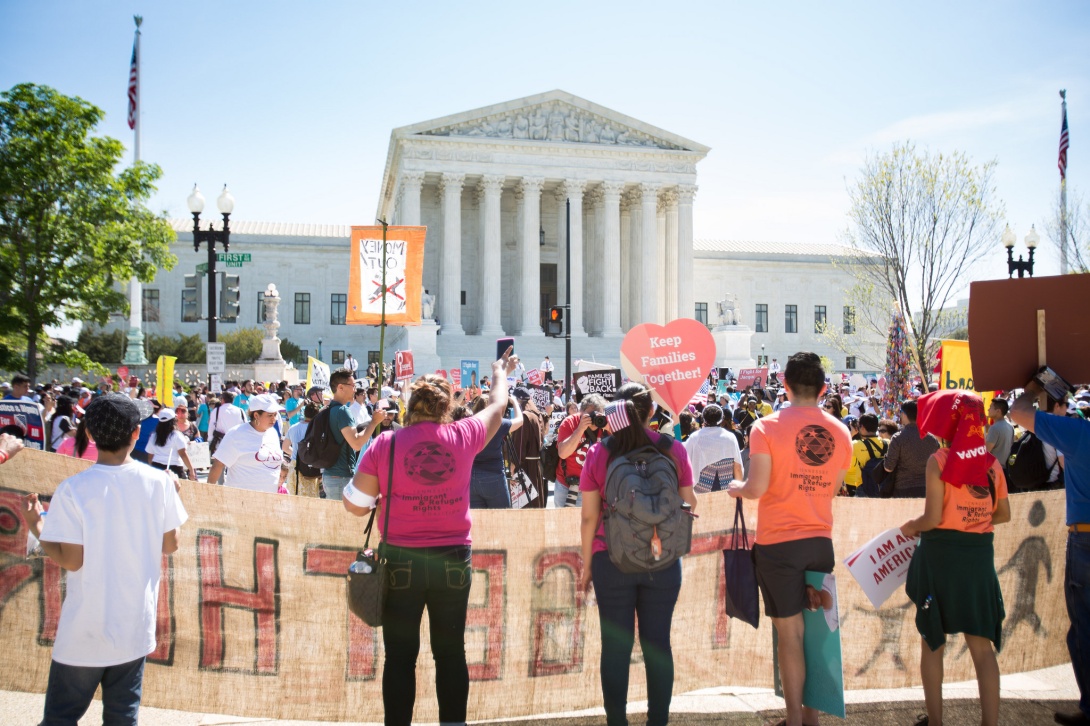 Last week, the U.S. Supreme Court announced a 4-4 tie in the case challenging President Obama's 2014 immigration programs. The Deferred Action for Parents of Americans (DAPA) and expanded Deferred Action for Childhood Arrivals (DACA) programs could have provided deportation relief to an estimated 1.2 million undocumented immigrants in the South.
The court's deadlock left in place a lower court decision to halt the programs. It also raised the stakes in this year's election, where a growing Southern Latino electorate galvanized by recent events could prove a decisive vote in closely contested races.
The next president will play a key role in determining the future of the deferred action programs and other measures affecting undocumented immigrants. He or she will be responsible for nominating a ninth Supreme Court justice, who could be the decisive tie-breaking vote if the lawsuit returns to the Supreme Court. The next president will also have discretion over deportation relief programs and set deportation priorities.
The presumptive presidential nominees have starkly different plans for handling immigration. Democratic candidate Hillary Clinton has said she would move forward with President Obama's DAPA and expanded DACA programs — and she even pledged to go beyond those measures by extending relief to parents of DACA recipients. Meanwhile, Republican candidate Donald Trump has made deporting all 11 million undocumented immigrants in the U.S. and building a wall along the U.S.-Mexico border central platforms of his campaign.
The two candidates are currently neck-and-neck in several Southern battleground states, according to recent polls. In Florida, Georgia, North Carolina and Virginia — states with significant or growing Latino electorates — Clinton and Trump are within 5 percentage points of each other. If mobilized, Latino voters could provide the margin of victory in these states.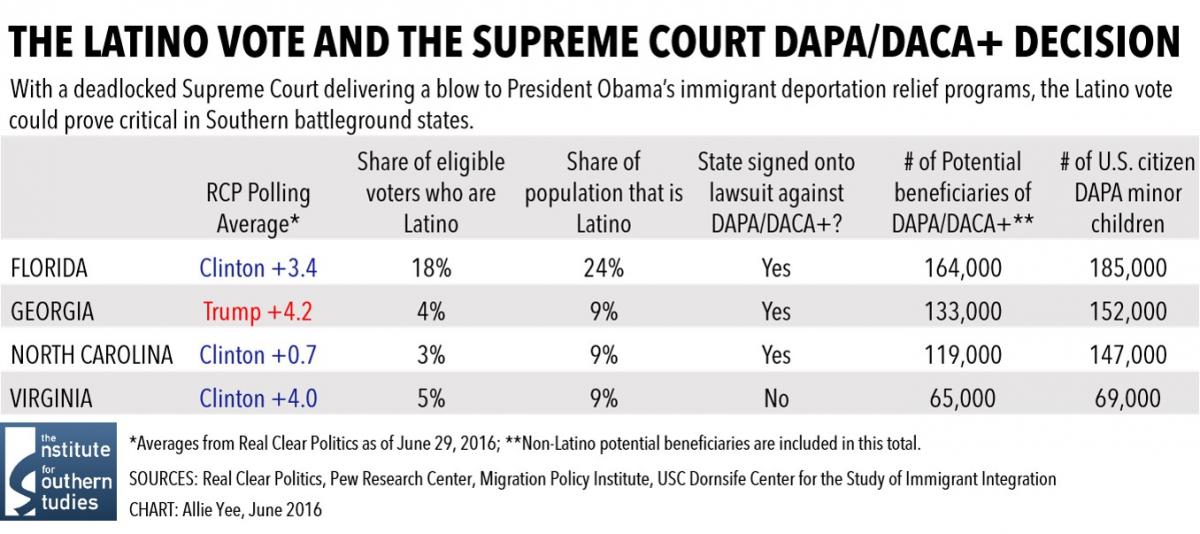 The DAPA/DACA issue and the potential influence of Latino voters is particularly pronounced in North Carolina, where Clinton leads Trump by an average of just 0.7 points. The state also has one of the tightest gubernatorial races in the country, with Republican Gov. Pat McCrory tied in recent polls with Democrat Roy Cooper, the state's attorney general. McCrory led North Carolina to join the 26-state lawsuit that challenged the president's programs.
North Carolina's Latino population has grown to 9 percent of the state's overall population. Although Latinos have been significantly underrepresented in the North Carolina electorate due to low voter eligibility, they now make up 3 percent of eligible voters in the state — well within range of providing a margin of victory in these close presidential and gubernatorial contests.
Looking to the future, politicians' stances on the DAPA/DACA issue may also have lasting effects as thousands of young Latinos who are U.S. citizens become eligible voters in the coming years. In North Carolina, an estimated 147,000 young Latinos who will be qualified to vote in the coming years have parents who would be eligible for DAPA.
In the wake of the Supreme Court's decision, immigrant rights advocates have pledged to continue fighting for undocumented immigrants, renewing calls for comprehensive immigration reform and an end to deportations. Many are also redoubling their efforts to mobilize Latino voters and immigrant allies this fall.
"We're calling on registered voters to take to the polls in November and vote for candidates who will support DAPA and DACA while this case is ongoing," said Cristina Jimenez, director of United We Dream. "Because a new president could either protect and build on these programs, or take them away completely."
Tags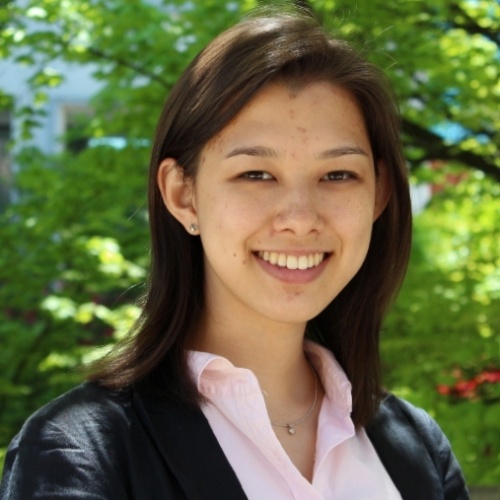 Allie is a research fellow at the Institute for Southern Studies and is currently studying at the Yale School of Management. Her research focuses on demographic change, immigration, voting and civic engagement.