Black vote surges in final days of North Carolina early voting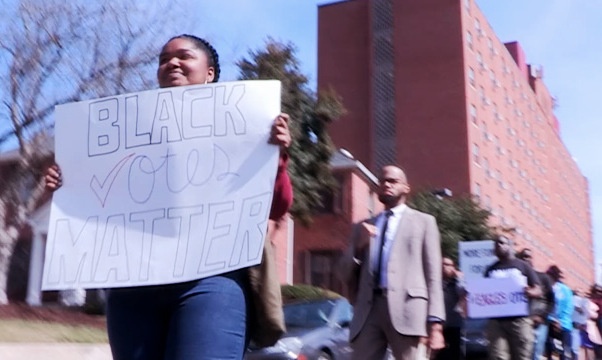 After drawing national attention for African-American early voting turnout that was falling below 2012's record pace, North Carolina saw a surge in black voters during the final days of the 2016 early voting period, which ended Saturday.
A Facing South/Institute for Southern Studies analysis finds that in the last two days of early voting alone, 122,800 African-American voters cast ballots in North Carolina, which has emerged as one of the most closely watched battlegrounds of 2016.
As of mid-Sunday, the latest figures released by the N.C. State Board of Elections show African-American early voting turnout in 2016 was still 67,000 votes shy of levels reached in 2012, when President Obama ran for a second term. Black voters represent 22.3 percent of early voters this year, compared to 27.4 percent four years ago. African Americans are 22.2 percent of North Carolina's registered voters.
The following chart shows 11 counties in North Carolina where the drop-off in black early voting between 2012 and 2016 amounts to 1,500 or more votes, as well as the statewide figures (click on it for a larger version):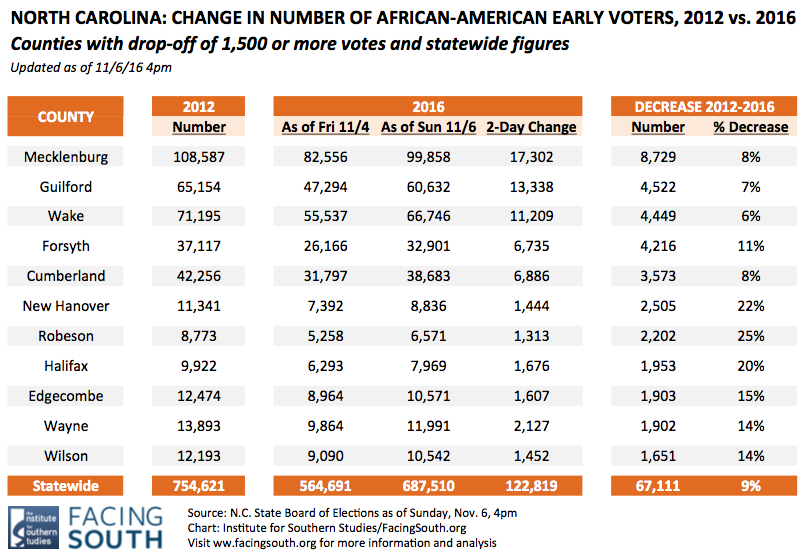 The African-American voting surge in the final days of early voting, which had been limited in many key North Carolina counties, helped significantly close the turnout gap. In two days, 2016 black early voting went from 25 percent lower than 2012 to just 9 percent.
With counties closing the books on early voting, all eyes turn to Election Day on Nov. 8: With 45 percent of the North Carolina electorate having already cast ballots, candidates will now contest for the votes of the state's remaining 3.8 million registered voters, including 840,000 African-American voters.
Tags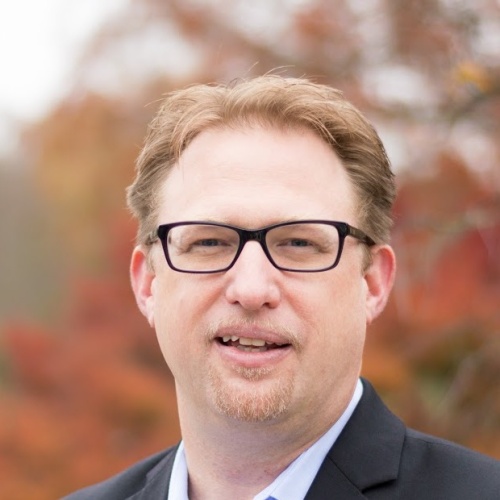 Chris Kromm is executive director of the Institute for Southern Studies and publisher of the Institute's online magazine, Facing South.