With key labor drives looming, South sees slight dip in union membership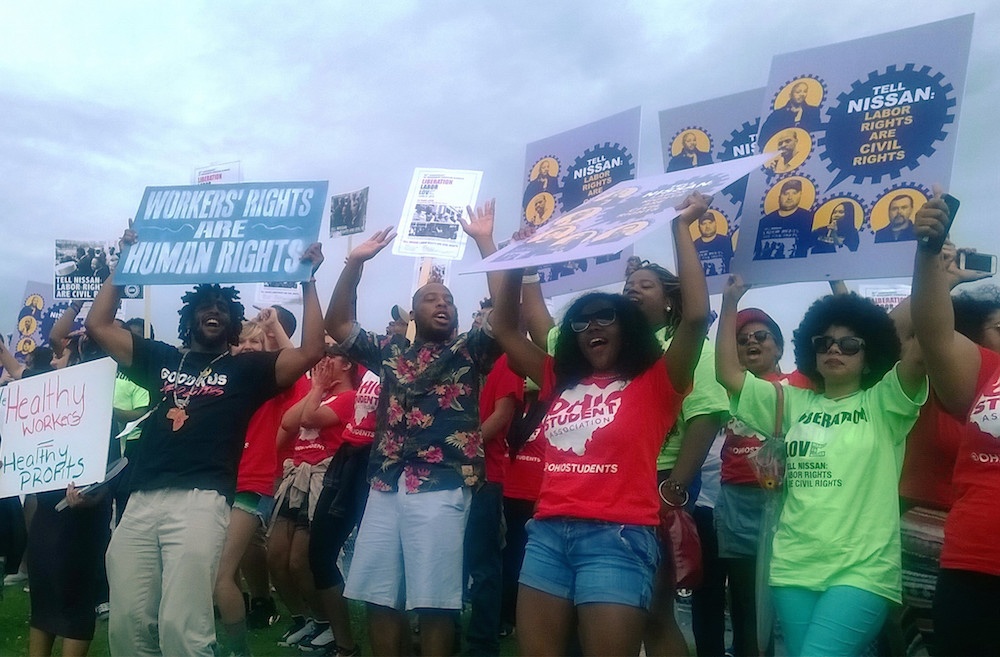 As unions gear up for two high-profile union drives in Mississippi and South Carolina, recent figures show union membership has plateaued or slightly decreased over the last year in the South.
Data released in January by the Bureau of Labor Statistics reveals that the number of Southern workers belonging to a union dropped from 2.4 million in 2015 to just under 2.2 million in 2016. Union density, or the share of employees who are union members, decreased from 5.5 percent to 4.9 percent. That was in line with a 0.4-point drop nationally, where union membership stands at 10.7 percent of the workforce.
The decline in Southern union membership comes after an almost identical increase in the South the year before; the 2016 figure of 2.2 million members of unions is about the same as it was in 2014. The latest BLS data show that another 559,000 workers in the South are represented by unions but aren't members, a situation exacerbated by "right-to-work" laws that encourage employees to benefit from union representation without having to join.
Overall, union membership dipped in nine of 13 Southern states, held steady in two others (Kentucky and North Carolina), and slightly increased in two more (Mississippi and Tennessee). (Click on chart for a larger version.)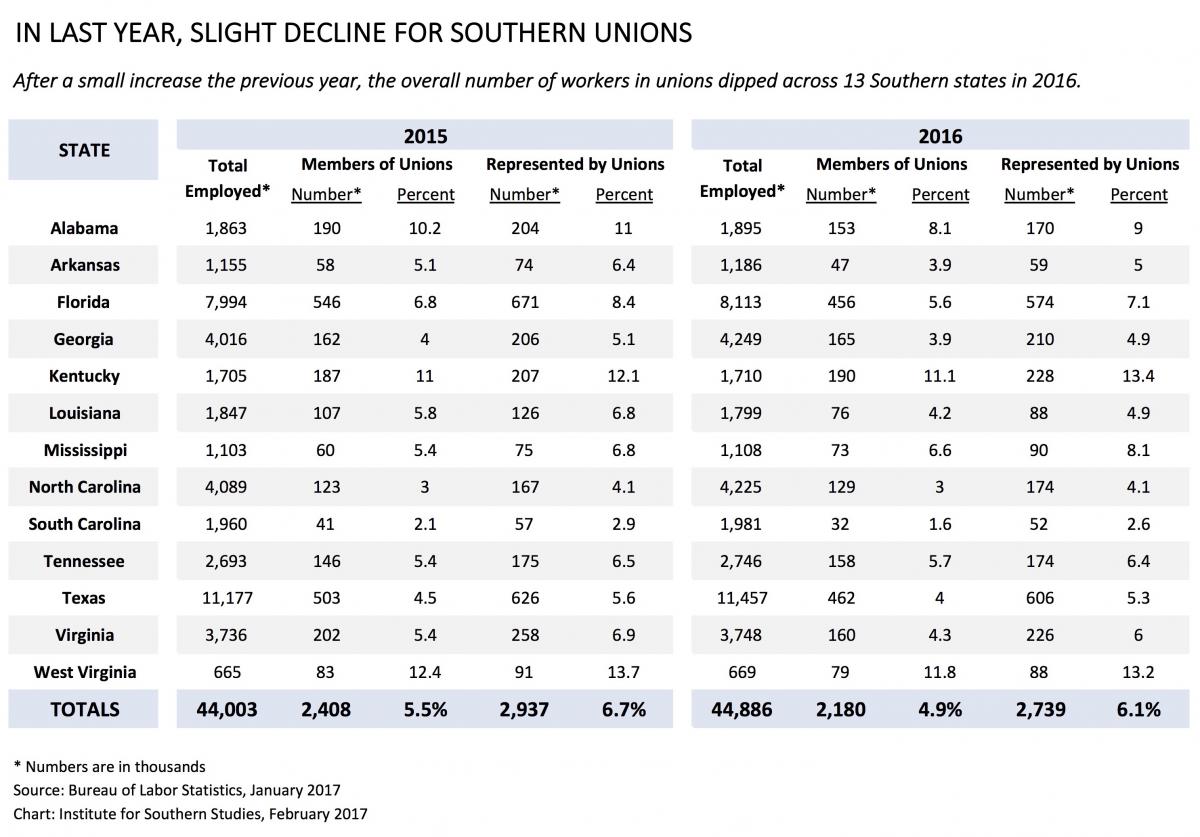 The new data underscore the struggles of labor to maintain a foothold in workplaces amidst conservative political attacks and deep changes in the economy. A growing number of states have moved to pass "right-to-work" laws or enshrine them in state constitutions, even as polls show growing support for unions, especially among young and low-income workers.
In this changing union climate, companies and labor nationally will be closely watching the results of two major union drives in the South slated for this spring. In Mississippi, the United Auto Workers are pushing for a union vote at Nissan's plant in Canton, capping a 12-year organizing drive. The union and allies have been hosting rallies across the South to build solidarity, and U.S. Sen. Bernie Sanders, actor Danny Glover and other progressive leaders are planning to descend on Canton for a "March on Mississippi" on March 4.
In South Carolina, the International Association of Machinists announced in January they will be filing a petition for a union election at Boeing's 787 Dreamliner plant in North Charleston. The plant employs over 7,000 workers, of which some 2,800 would be included in the union. In 2015, the union — which already represents 35,000 Boeing workers, mostly in Seattle — had filed for an election but then withdrew it, citing a "toxic" climate created by anti-union statements from Gov. Nikki Haley (R), now the Trump administration's ambassador to the United Nations, and local politicians.
In both states, as with labor nationally, there's new urgency to organize as President Trump installs new leaderhip at the Department of Labor and National Labor Relations Board. A shift in NLRB rules under President Obama in 2015 put union elections on a fast track: Before the change, it took about five and a half weeks between the time a petition was filed and the election was held. Last year, the time from petition to election shrunk to an average of three weeks. With employers having less time to oppose the union, the number of union elections won by labor increased from 68 percent to 73 percent last year.
Working in a still-hostile climate, and with the clock ticking, workers in both Mississippi and South Carolina know it will take a major push, with support from labor and community allies across the South and country, to win both elections.
As Kenny Riley, president of the Charleston Local 1422 of the International Longshoremen's Association and a key ally in the Boeing union drive, recently said, "We can certainly win at Boeing. But the IAM has to bring out the star power [and] they have to wear the badge of the labor movement.  All of labor has to be in it."
Tags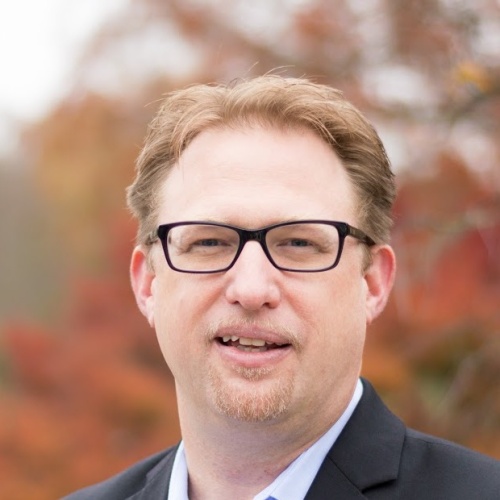 Chris Kromm is executive director of the Institute for Southern Studies and publisher of the Institute's online magazine, Facing South.