Union membership holds steady in the South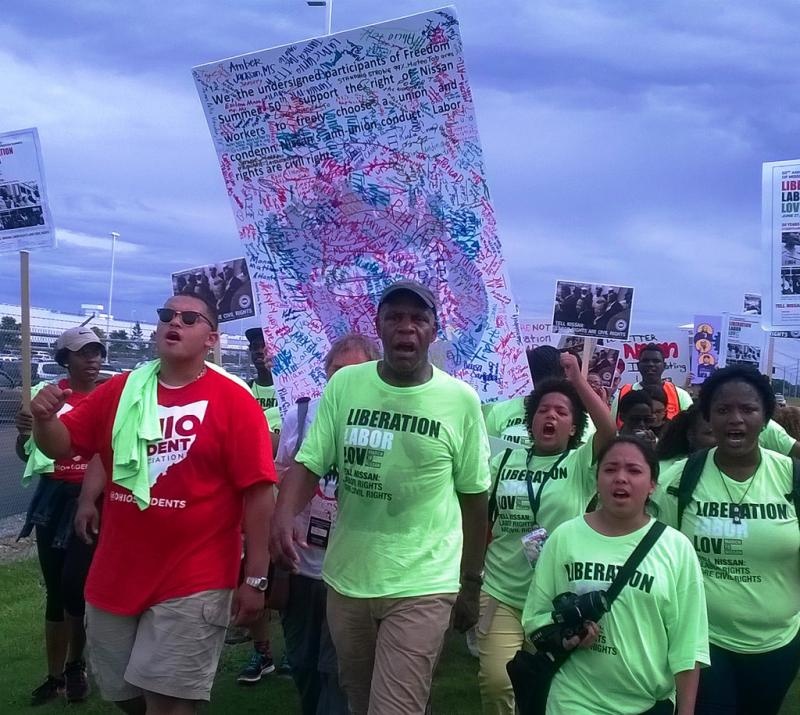 Despite losing two high-profile organizing campaigns in 2017 — at Boeing's factory in South Carolina and a Nissan plant in Mississippi — labor unions gained 130,000 members from the Southern workforce last year.
Data released by the Bureau of Labor Statistics in January shows that the share of workers belonging to unions in Southern states inched upwards from 4.9 percent in 2016 to 5 percent a year later.
That means the share of workers in unions in the South is less than half the national rate, which stands at 10.7 percent. But while union membership nationally has steadily eroded over the last decade — 12.1 percent of U.S. workers belonged to unions in 2007, compared to 10.7 percent today — the Southern rate has stayed virtually the same over the same time period. (The 2007 union membership rate in the South was 5.3 percent.)
More than 2.3 million workers belong to unions across the South, the labor bureau reports. Another 506,000 people are employed in unionized workplaces in the region but haven't joined a union themselves, a gap that's exacerbated by "right-to-work" laws in Southern states that enable employees to benefit from union contracts without being members.
North Carolina was one of seven Southern states where unionization rates grew in 2017. MaryBe McMillan, who last year was elected as the first woman president of the North Carolina State AFL-CIO, attributes the gains to growing awareness of the benefits unions can provide, saying in a statement:
"The growth in union membership shows that working people understand the power we have when we join together. Whether it's in the workplace, the capitol, or in the streets, by standing together we can change our economic policies and make sure that all working people are able to support their families. Amidst rising inequality, our freedom to join together in unions is more important than ever."
The following chart shows how unions fared in Southern states last year (click on it for a larger version):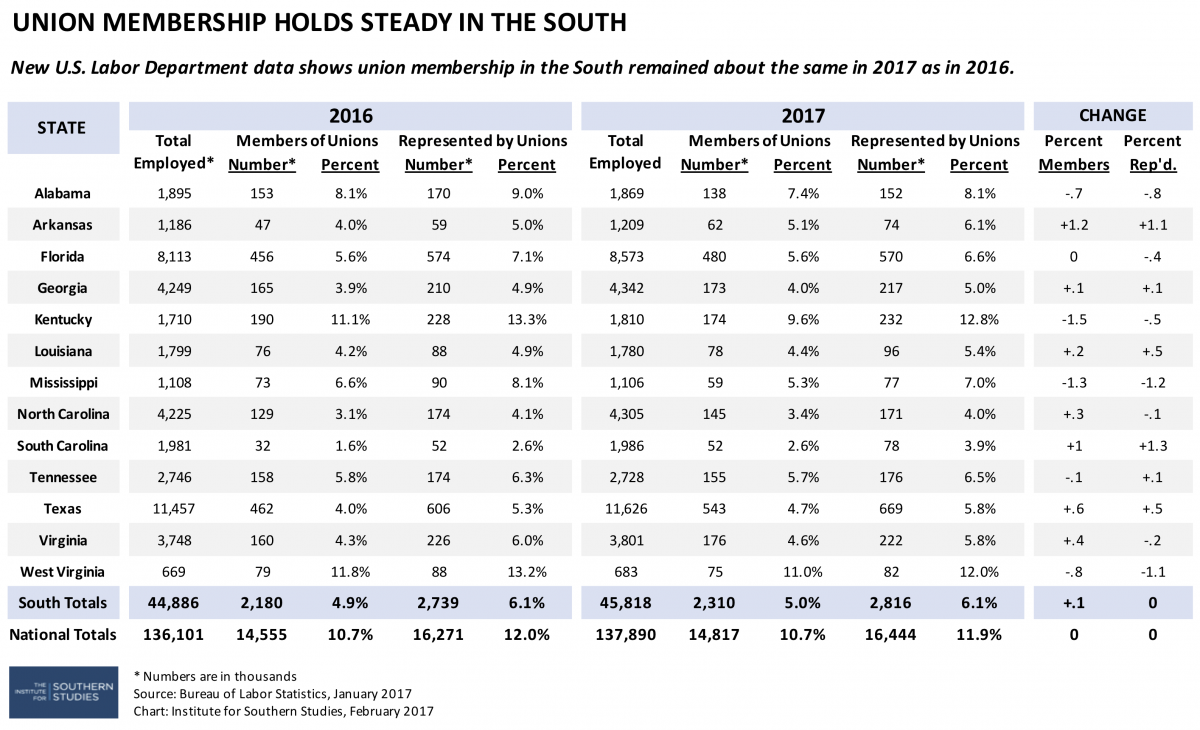 The slight uptick in Southern unionization came during a year that saw organized labor suffer two widely publicized defeats. In February, 74 percent of workers voted against a union at Boeing's aircraft plant in North Charleston, South Carolina. A week before the election, Boeing and a state business group had blanketed local TV stations with more than 800 anti-union ads, a media blitz complemented by social media attacks, intense company lobbying and anti-union pronouncements from South Carolina politicians like U.S. Sen. Lindsey Graham (R).
In Mississippi, corporate and political leaders waged an equally intensive battle against the United Auto Workers' 12-year bid to unionize a Nissan plant in Canton. The union drew support from national allies like U.S. Sen. Bernie Sanders (I-VT) and actor Danny Glover, but Nissan countered with what UAW official Gary Casteel called "one of the nastiest anti-union campaigns in the modern history of the American labor movement."
Workers told National Labor Relations Board officials they were threatened with lost pay and benefits if they voted for the union, and Mississippi Gov. Phil Bryant (R) warned that expanding unions would "end manufacturing as we know it in Mississippi." The final vote in August was 2,244 against unionizing and 1,307 in favor.
While these stinging defeats garnered national and international attention — and new speculation about the fate of labor in the South — the latest government data shows unions in the South were able to maintain their numbers, in part due to support from younger workers.
An analysis of the Labor Department data by the Economic Policy Institute, a pro-union think tank, finds that 76 percent of the gains in union membership nationally in 2017 came from workers under the age of 35. Despite making up just 40 percent of the nation's workforce and historically less likely to join unions, workers ages 34 and under accounted for 198,000 of the 262,000 new union members last year.
According to EPI, younger workers appear to be drawn to union jobs in part to "address current workforce trends that are increasing work insecurity from the rise of part-time work and unpaid internships to increased numbers of contract workers."
Tags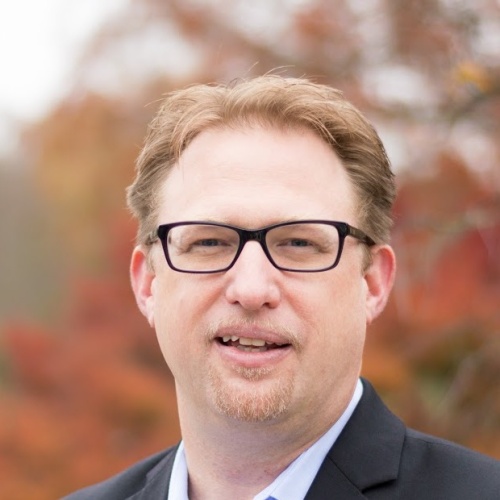 Chris Kromm is executive director of the Institute for Southern Studies and publisher of the Institute's online magazine, Facing South.