Voting rights lawsuits aim to foster judicial diversity across the South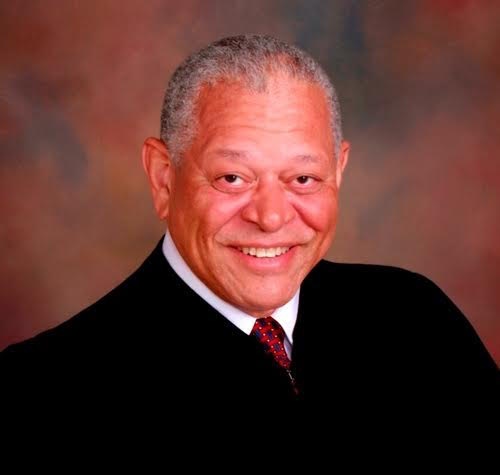 When the Voting Rights Act was passed in 1965, the state of Alabama had zero African-American judges on its appellate courts. The VRA brought down many state-imposed barriers to voting, and it allowed Alabama's substantial black population — 27 percent — to gain some political power. But not in the courts.
More than 50 years later, none of Alabama's 19 appellate judges are black. Two black justices were appointed to the state Supreme Court in the 1990s, but they were Democrats facing a Republican wave and soon lost their seats in expensive, partisan elections. While more than half of the state's prison population is black, no black judge has ever served on the Alabama Court of Criminal Appeals. The state legislature, by contrast, is nearly one quarter black.
A pending lawsuit alleges that Alabama's system of electing judges — at-large elections for statewide seats — discriminates against black voters and violates the VRA. The plaintiffs argue that statewide elections violate the VRA by denying black voters "an equal opportunity to participate in the political process and to elect judges of their choice." One plaintiff, the Rev. Curtis Travis of Tuscaloosa, said that "white men continue to hold disproportionate power [in] our state. Alabama is more diverse now than ever, but our judges are not."
Last week, a similar lawsuit in Texas went to trial. The Texas plaintiffs argue that statewide judicial elections discriminate against Latino voters. Nearly 40 percent of Texas' population is Latino, but only a handful of Latino judges have served on its appellate courts. In recent years, a few Latinos were appointed to vacant seats on the state Supreme Court, only to lose their re-election to less qualified white challengers. In 2012, Justice John Devine defeated a Latino incumbent after bragging that he could "beat a guy with a Mexican last name." Devine is now up for re-election.
In 1990, the U.S. Supreme Court made it clear that the VRA applies to judicial elections and required Louisiana to create a new Supreme Court district,  which has since been represented by the court's only black justice. And in 2017, a federal judge ordered an end to at-large elections for the district court in Terrebonne Parish outside of New Orleans. Under the at-large system, no black judge had ever won a contested election there — but a white judge was re-elected after he was sanctioned for wearing blackface and a prison jumpsuit on Halloween.
Gerrymandering judges in North Carolina
Against this backdrop of lawsuits over judicial election systems that disadvantage racial minorities, North Carolina lawmakers are moving forward with a judicial redistricting plan that's been called a gerrymander and could end up facing a similar legal challenge. Republican legislators have proposed a series of new election districts for the state's trial courts that divide urban districts which tend to elect liberal or Democratic judges.
The effort comes amid a broader fight over gerrymandering in the state. In the last eight years, the North Carolina legislature has been sued for gerrymandering election districts for itself, Congress, local school boards, and city councils. Republican state leaders have harshly criticized court rulings against gerrymandering and other forms of voter suppression, and legislators have passed laws that give them more control over the courts.
Republicans claim the judicial gerrymandering bill they're considering would merely update districts for the first time in decades. Democratic legislators acknowledge that districts need updating, but they prefer to establish a commission to get input from judges, voters, and other stakeholders before any overhaul.
At a hearing in January, state Rep. Justin Burr, who drafted the new districts, came under fire for "double bunking" black judges — that is, placing them in a district with another incumbent who they'd have to run against. Burr said he did not consider his plan's overall impact on incumbent judges or communities of color. However, he did acknowledge that he addressed individual instances of double bunking brought to his attention as his maps were tweaked, and he pledged to continue to do so as the maps are finalized.
Legislators recently rolled out the latest version of the judicial district maps, and this time they included details about the impact on incumbents. Yet they double-bunk 3.5 times as many black Superior Court judges as the previous maps that were released in January, according to analyses by NC Policy Watch. There wasn't an increase in the percentage of double-bunked black District Court judges.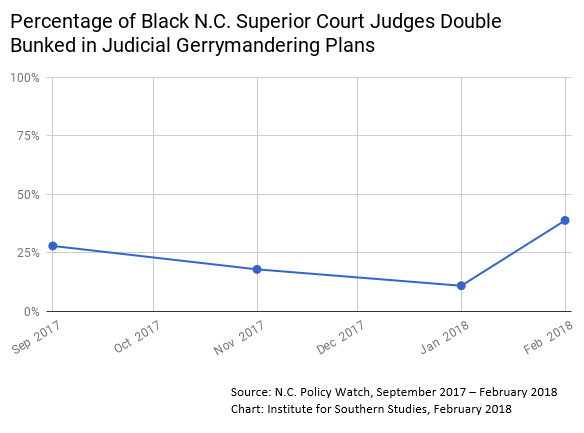 At the January hearing, Democratic legislators asked if the maps could lead to a lawsuit under the VRA. Burr and General Assembly staff responded that they don't know how the the law applies to the judicial gerrymandering bill. But as the lawsuits in Alabama, Texas, and Louisiana have made clear, the VRA applies to judicial elections.
Furthermore, North Carolina itself acknowledged that the VRA applied to Superior and District Court maps back in the 1980s and 1990s, when it changed them to ensure they complied with the VRA. In 1987, the legislature reshaped its Superior Court districts to settle a VRA lawsuit, and the U.S. Department of Justice later requested similar changes to the District Court boundaries to ensure compliance with the VRA.
North Carolina legislators said they will take up the judicial gerrymandering bill when they begin a new legislative session in May. If it passes in its current form, a court challenge under the VRA is likely.
A looming crisis of judicial diversity
The controversy over the racial implications of North Carolina's judicial redistricting comes amid a broader crisis related to diversity in courts across the South and U.S. as a whole.
At the federal level, an astounding 92 percent of President Donald Trump's court nominees have been white. Of Trump's 87 judicial picks, just one is black and one is Latino — the worst presidential record on judicial diversity since Ronald Reagan.
One of Trump's white male nominees once said that diversity is "code for relaxed standards (moral and intellectual)," and another has close ties to white supremacists. In federal courts across the South, Trump has replaced incumbent judges of color or non-white nominees from the last administration with white men. With the U.S. Senate rapidly filling seats that it refused to fill with President Obama's nominees, the federal courts are destined to become whiter and less diverse than they have been in decades.
In state courts, racial and ethnic diversity has always been an issue. A 2015 report from the American Constitution Society noted that state courts in the South and the West have less racial and ethnic diversity than other regions. People of color comprise 42 percent of the population in the South but only 21 percent of the region's state judges. Most of the South's judges are elected, and the rapidly increasing amount of money needed to run has been shown to serve as a barrier to candidates of color.
The VRA lawsuits now pending in federal courts could help foster diversity on state supreme courts. But addressing the composition of lower state courts will be critical, especially given that Trump and the Senate are installing federal judges with a history of supporting voter suppression. After the Pennsylvania Supreme Court recently struck down a legislative redistricting map for violating the state constitution, Mark Joseph Stern of Slate said the decision "illustrates how dozens of other state constitutions may be interpreted to protect voting rights more robustly than the U.S. Constitution does."
Every state constitution includes a general right to vote, and state courts are the final interpreters of these rights.
Tags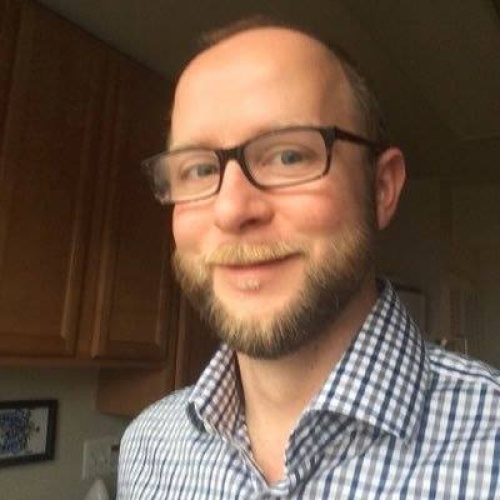 Billy is a contributing writer with Facing South who specializes in judicial selection, voting rights, and the courts in North Carolina.