VOICES OF RESISTANCE: Building power among farmworkers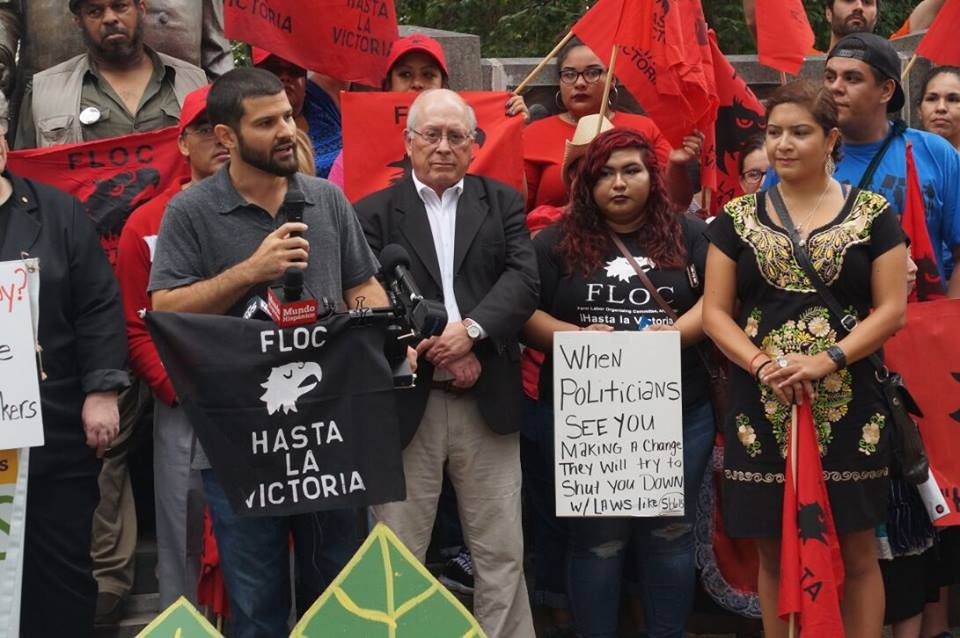 In North Carolina, as in many other places across the South and nation, agricultural workers are among the most unprotected workers. Because they realize the power in numbers, many have joined the Farm Labor Organizing Committee (FLOC), which represents agricultural workers in North Carolina and the Midwest. Founded in Ohio in 1967 by migrant farmworker Baldemar Velasquez, FLOC has been affiliated with the AFL-CIO since 2006.
We recently spoke to FLOC Vice President Justin Flores about his organizing work for our ongoing "Voices of Resistance" series, which aims to draw insight and inspiration from the South's deep history of struggle for social change and to learn from a new generation of Southern leaders working in today's volatile political climate. His responses have been lightly edited for clarity. If you have ideas for other Southern change makers to feature in the series, please contact Rebekah Barber at rebekah@southernstudies.org. 
Tell me about your background and what led you into your work with FLOC.
I was going to law school at the University of North Carolina when I met Baldemar Velasquez, the founder and president of FLOC. He's a pretty inspiring and amazing figure. When I was finishing school, we kept in touch. He invited me to come out to Dudley, North Carolina, where our office is located, and do some campaign work for a short six-month project. That was in 2009, and I've been organizing with FLOC ever since. In 2013, at our constitutional convention, I was elected vice president and re-elected in 2017.
What challenges have you seen that are unique to farmworkers?
First of all, agricultural workers were excluded from the Labor Relations Act, so they don't have the same right to organize that other workers do. That means that this is an industry — especially in the South — that has largely not had a lot of organizing, a lot of unions, a lot of collective bargaining to improve wages and working conditions over the years. And so, in many ways, we're still stuck in a labor relations situation that hasn't changed much over the last 100 years.
What impact did Hurricane Florence have on already-vulnerable agricultural workers?
You add on top of that the fact that most agricultural workers are not from here — they are either undocumented or here on a guest worker visa. For undocumented workers, there are limited employment choices. And for guest workers, the employer controls their visa; if they are not requested back at the end of the year, they cannot even come back into the country. This creates a huge power imbalance and gives employers and labor contractors a lot of power to retaliate and threaten to retaliate when people speak up. It is a difficult situation for agricultural workers trying to improve wages and working conditions. 
The impact that most people are familiar with is the fact that agricultural workers often live in substandard housing or housing that is not the strongest — whether it be houses, trailers, or sometimes cement barracks. Because of this, agricultural workers dealt with housing damage and flooding. 
We really believe there's power in numbers, and that when people come together and try to address issues collectively they can get further than as individuals. 
But on top of that, in the southeastern part of the state, the tobacco crop was pretty much ruined. For the most part, growers had crop insurance that will make sure that the impact of the flood does not totally bankrupt them, but that insurance doesn't help farmworkers at all. 
We have a lot of people who are going weeks without work, trying to scramble, and trying to find employment in different parts of the state or be transferred to a different farm. Agricultural workers are also trying to wait on the sweet potato crop, hoping that work is still happening.
So on top of the physical damage, agricultural workers, like growers, depend on the weather. When a storm like Florence comes through, there's a lack of work and income for families. 
What are some of the ways FLOC has been able to organize to overcome some of the challenges faced by agricultural workers?
We really believe there's power in numbers, and that when people come together and try to address issues collectively they can get further than as individuals. The first part of our work is just bringing people together and building the organization so that when there are issues on the farm it's not one person or two people, but a group of workers on that particular farm linked up with groups of workers all over the country, linked up with support and solidarity from other individuals, churches, students, and other unions around the country. 
That building of the organization is key. Unfortunately for agricultural workers, there's often a lot of legal violations on farms, so the trick is, once people know their rights are being violated, then we have to create a plan on how to deal with it. Retaliation is real, so planning for retaliation and having a legal strategy, combined with an organizing strategy, combined with a media strategy, combined with some research on where growers' and contractors' crops ultimately end up is really important to fight back against the almost inevitable retaliation. 
 
We also push for supply-chain solutions. In this industry, for the most part, growers don't have any control over what the price of their crops are going to be. Big companies like Reynolds American and other tobacco companies gauge prices. They do everything they can to keep prices down and make a situation where growers have to have a very high quality crop at a very low cost, so oftentimes labor is the only place that can really cut costs — and that results in low wages and bad housing.
We've been involved in a 10-year campaign to get Reynolds American to guarantee labor rights in their supply chain by changing the way they do business and incentivizing good behavior. Because as it stands, whether a grower pays their worker $7.25 or if they pay them $12 an hour, Reynolds American still pays the same price for the tobacco. They have created a system that incentivizes bad behavior. That's a big piece of our campaign — to improve wages and conditions and get these purchasers to take responsibility for their supply chain. 
A federal judge recently blocked the North Carolina Farm Act of 2017. What does this ruling mean for farmworkers?
In North Carolina, we have seen successful organizing campaigns where workers have gotten improved wages and won union contracts. The passage of the bill last summer was the inevitable backlash of the ultra-conservative super majority in the state House and Senate. Many of these political leaders are also growers themselves.
The bill they passed aimed to stop our work by trying to make it illegal for workers to pay dues to their union. It banned dues check off, where union dues come straight out of the worker's paycheck, which was the most convenient way for them to pay dues. The bill also tried to make it illegal for workers to negotiate union contracts as part of a legal settlement. 
In the state, workers already don't have the right to organize, the right to collectively bargain. They already are in a right-to-work state in the South. But legislators are trying to do everything they can to make sure that workers don't organize and don't stand up. This law was aimed only at agricultural workers — who are largely Hispanic — and it was directly aimed at one specific organization: FLOC. It was a violation of workers' right to organize.
We filed a lawsuit in federal court, and on [Sept. 20] we got the decision that a federal judge is stopping the enforcement of the law. It's certainly only step one, because the decision means that the law can't be enforced while the legal process plays out. We still want to win in the long run, but it's good that a federal judge really saw through what they were trying to do — that this was a racist law and violation of workers' rights and constitutional rights. We are sort of back at where we were before this law was passed, but we still have a long fight ahead of us in the court system.
 
Tags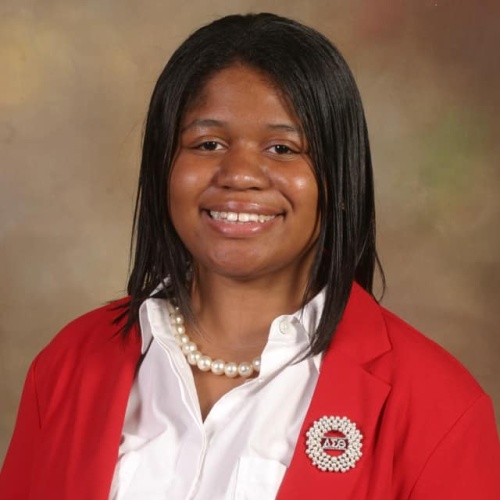 Rebekah is a research associate at the Institute for Southern Studies and writer for Facing South.