Democrats brace for losses in Southern state legislatures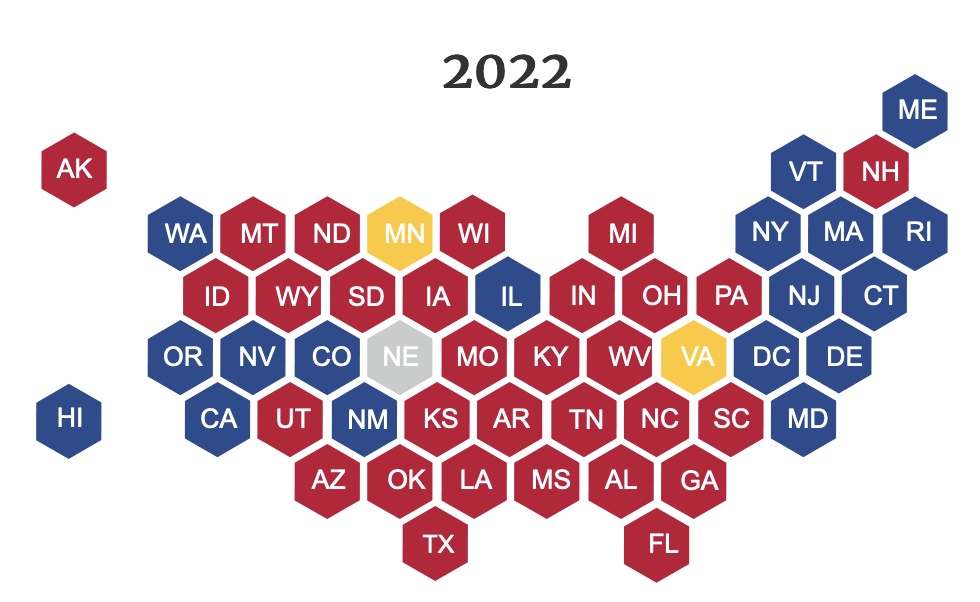 Midterm elections are never good for the party that holds power in the White House, and 2022 is expected to be no exception for Democrats in the South and nationally.
Fair or not, President Biden is being blamed for inflation, stubborn pandemic-related supply-chain problems, and other challenges that have pushed his approval numbers to record lows. Disillusion with Democrats has led political prediction outfits like FiveThirtyEight.com to project Republicans are favored to win control of the U.S. House and Senate in November's elections.
Less discussed is the impact the potential 2022 "red wave" will have on state politics, especially in legislative races. At a time when key policy decisions are moving to the states — most recently abortion, in the wake of the Supreme Court's Dobbs decision — Republicans are poised to tighten their hold on state legislative chambers in the South.
Republicans already hold majorities in 25 of the South's 26 legislative chambers; the Virginia Senate, which won't have elections in 2022, is the lone Democratic holdout. But the GOP plans to leverage declining national support for Democrats — and state political maps that largely protect Republican candidates — to boost their advantage.
Election analysts predict Democrats could lose more than 40 state house and senate seats in the South in 2022, unless the dynamics of this year's elections significantly change in the coming months. That will bolster the ability of Republicans to move an increasingly conservative agenda in Southern states — and will extend the time it takes for Democrats to claw back to competitiveness in Southern legislatures.
How big of a red wave?
Southern Democrats are keenly aware of how devastating midterms can be in state politics. In 2010, backlash against President Obama — and a well-funded strategy by Republican operatives — fueled a shift of 700 state legislative seats from Democrats to Republicans nationally, with a disproportionate share in Southern states.
Crucially, the Republicans' seismic 2010 legislative victories put the GOP in charge of redistricting, enabling them to draw maps that would further cement control. By the end of the Obama presidency, Republicans had flipped 29 state chambers across the country — 14 of them in the South.
Now, Republicans, in many cases again benefiting from their design of new legislative maps put in place after the 2020 census, are in a position to expand their margins in the South.
Charles "Chaz" Nuttycombe has been predicting state legislative races since 2017, when he started picking General Assembly winners in his native Virginia. He began sharing his projections publicly in 2020 through the website of CNalysis, the political forecasting outfit he runs. It now gives odds for the outcome for every state legislative race in the country.
Nuttycombe takes a hands-on approach to his projections. While some analysts plug data about a district's voters or election results into a program and share whatever the computer spits out, Nuttycombe and his team size up each of the country's 7,383 legislative seats and come up with betting odds for each race, Vegas-style.
"The ratings are not through model," Nuttycombe told Facing South. "They're individual sewn, so qualitative." A "Tilt" rating means CNalysis thinks the projected victor has a 60% chance of winning; "Lean" is 70%, and so on.
Nuttycombe's team takes a host of factors into account: incumbency, how much money candidates are raising, past election results, historic trends in a district, as well as any individual information they can glean about individual candidates. For 2022, he's estimating a "plus-three environment" for Republicans, meaning that, given anti-Democratic midterm sentiment, he's tacking on three points to the expected election results for GOP candidates.
And Nuttycombe and CNalysis have largely been right: They correctly called more than 95% of state legislative races in 2018 and 2020. As he told Facing South, "I want to get that up to 97% in 2022."
The latest forecasts from CNalysis predict Democrats will lose more than 40 legislative seats in the South in 2022. The biggest losses, according to their projections, will come in Arkansas, Kentucky, South Carolina, and West Virginia, where they estimate Democrats will see net losses of more than 30 seats.
The following chart reflects CNalysis' latest projections for each of the 26 house and senate chambers in the South. The chart includes three states — Louisiana, Mississippi, and Virginia — that won't hold elections until 2023. (Click on the chart to see a larger version.)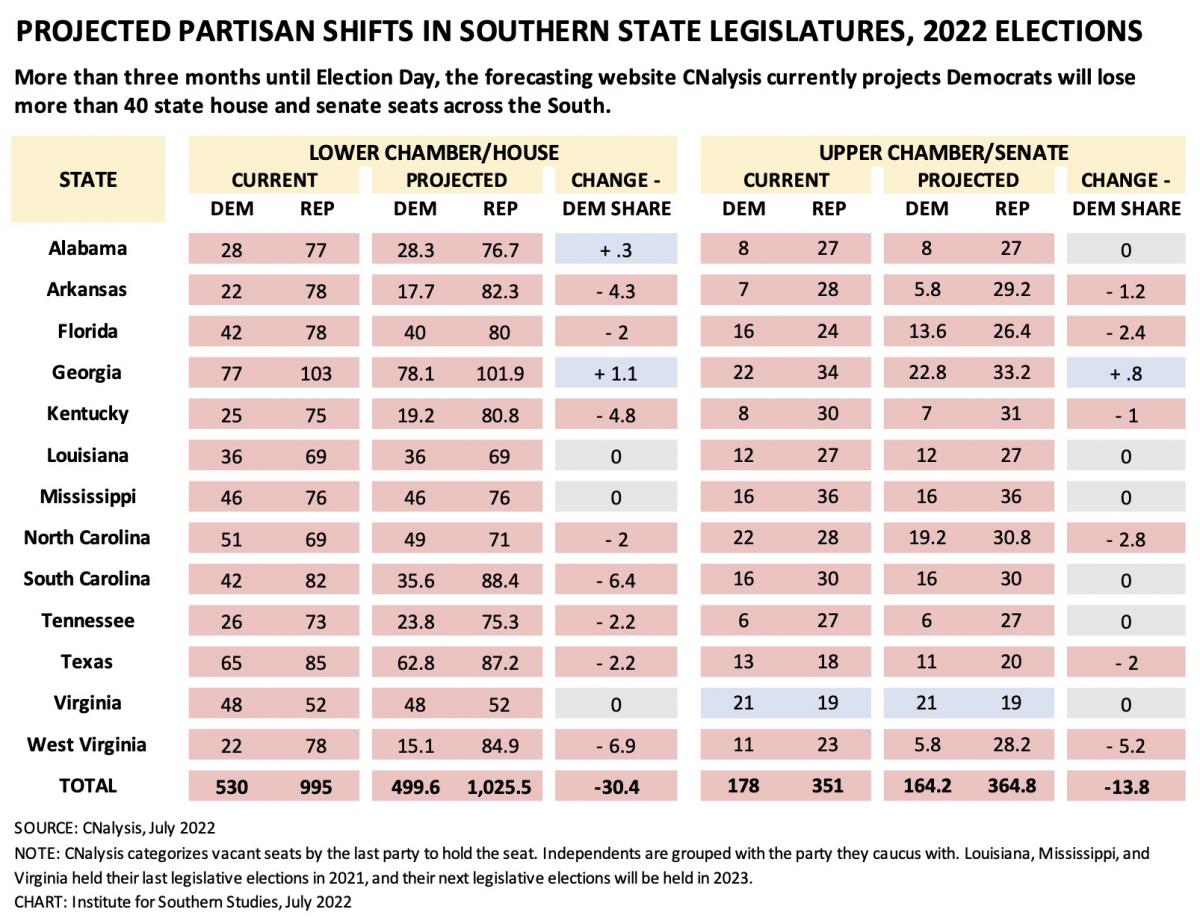 Indeed, the only reason CNalysis doesn't foresee even greater 2022 losses for Democrats in Southern state legislatures is because the party is already so deeply in the hole, and the number of seats that can be lost are steadily diminishing. After taking 948 state house and senate seats during the Obama presidency — "and many of them were Southern Democrats," Nuttycombe points out — Republicans are coming close to maximizing the number of seats they can win.
"I don't think Democrats are looking at [a 2010 result in state legislatures]," Nuttycombe predicts. "I think it's going to be more like 200 to 250 seats" that Democrats lose nationally, with Southern legislatures — already thoroughly dominated by Republicans — making up a small share of those GOP gains.
Chambers and races to watch
While CNalysis and other election analysts aren't expecting many surprises in 2022 legislative races across the South, there are several key races and chambers to watch in November.
In Georgia, Democrats and progressives have succeeded in leveraging the political muscle of Atlanta and the state's changing demographics to make gains over the last decade. The 2020-2021 Democratic victories of President Biden and U.S. Sens. Jon Ossoff and Raphael Warnock were the culmination of several years of party and progressive groups growing their base and incrementally chipping away at Republican dominance.
In 2022, Georgia is the only Southern state where CNalysis projects Democrats will make gains in both their state house and senate chambers, one seat in each. Democrats will still be far away from legislative majorities, though: Even with the expected 2022 pickups, Democrats will still be down 24 seats in the Georgia House and 11 in the state Senate. But any Democratic gains would be further evidence that the party's long-term strategy for turning Georgia blue is paying off.
North Carolina, with a moderate political tradition that seemed poised for perennial battleground status after President Obama won the state in 2008, has been a mixed bag for Democrats in recent years. While President Trump won North Carolina in 2016 and 2020, in 2016* the state elected Democratic Gov. Roy Cooper, who has vetoed most of the hard-right legislation coming out of the General Assembly.
At stake in 2022 is Cooper's veto power. Republicans need to gain three seats in the state House and two in the state Senate to win supermajorities, which would allow them to override Cooper's vetos. Perspectives differ on how likely this outcome is. Nuttycombe says "the Senate is a goner" for Democrats, but he thinks the House will be harder for Republicans. (Both chambers are needed to override a governor's veto.) Others, like the Center for Politics at the University of Virginia, are reserving judgment, saying the GOP's odds of winning supermajorities hinge on "how the political tides look closer to Election Day."
One other state to follow in 2022 is West Virginia. As recently as 2010, Democrats held majorities in both the state's House and Senate chambers, bolstered in part by the state's rich labor history, as evidenced in the 2018 teachers' strike. Yet in 2020, Trump won 68.6% of the vote in West Virginia, and heavily gerrymandered legislative districts have given Republicans a 66-seat advantage in the state House and a 12-point advantage in the Senate.
Last year, the West Virginia legislature voted to move away from its unique system of having multiple representatives in each House district. CNalysis predicts the new system — in combination with heavily gerrymandered maps — will add to Democrats' woes in the state, increasing the Republican margin in the state House by seven seats.
The role of redistricting
When Republicans seized control of Southern state legislatures in 2010, they quickly set to work drawing legislative maps that would expand their gains and lock in GOP control over the next decade.
In 2022, the role of redistricting is much more uneven, with some states drawing criticism from redistricting experts for implementing maps that are heavily gerrymandered, while others — like North Carolina, whose legislative districts were among the most heavily litigated of any state in the 2010s — earning praise for being reasonably competitive and fair.
The Princeton Gerrymandering Project, for example, has assessed five of the South's state legislative redistricting plans so far, using criteria such as partisan fairness, geographic features, and representation of people of color. Grades range from an "A" for both North Carolina's House and Senate maps, to Florida, which garnered an "F" in both its chambers. Georgia and Texas both got an "F" for their Senate maps, but Georgia's House districts earned a "B" and Texas' House lines received a "C" grade. Virginia's Senate maps earned a "B" and its House maps an "A."
But just because the maps meet certain criteria and look good on paper doesn't mean they don't continue to confer strong partisan advantages. For example, the political analysis website FiveThirtyEight notes that Georgia's emergence as a national battleground in 2020 isn't reflected in the state's new legislative maps:
Although President Biden narrowly won the Peach State in 2020, a majority of districts in the new state Senate (32 out of 56) and state House (94 out of 180) are solidly Republican (which we define as having a FiveThirtyEight partisan lean of R+15 or redder). The median seat in the state Senate is 16 percentage points redder than the state as a whole, and the median seat in the state House is 10 points redder, meaning Democrats would have to win the statewide popular vote by double digits in order to be favored to flip either chamber.
FiveThirtyEight points to Florida as another state where the close margins in statewide races aren't reflected in the Republican skew of the state's legislative maps. As the website explains, "Florida's new state House map has an efficiency gap (a measure of how efficiently distributed each party's votes are) of R+8, and the state Senate map has an efficiency gap of R+9. According to the academics who created the efficiency gap metric, an efficiency gap above 8 points is a sign of a severely gerrymandered state legislature."
And while the maps passed by Republicans for the Texas House are viewed as less harshly partisan by the Princeton Gerrymandering Project and the Campaign Legal Center's PlanScore project, FiveThirtyEight notes the partisan lean of the state's average House district jumped from +7 for the GOP to +16 under the newly drawn districts.
Still time for dynamics to change
While the short-term picture isn't encouraging for Democrats at the moment, the more balanced legislative maps in states like North Carolina and Virginia, as well as the larger demographic and political changes underway in states like Georgia and Texas, could open up possibilities for Democrats and progressives in future election cycles. While the expected setbacks in 2022 — and perhaps in 2024 — would be painful, Nuttycombe says Democrats should take the long view, working to turn the tide in states like Georgia in 2026, when control of legislative chambers "could be competitive in a blue wave environment."
And even in the short term, there may be openings for Democrats to improve their fortunes in the next three months. There are already signs that Democratic voter enthusiasm, which had been flagging, is now picking up in the wake of the Jan. 6 hearings into the 2021 attack on the U.S. Capitol and the Uvalde school shooting in Texas.
Analysts are still teasing out the potential "Dobbs effect": The Supreme Court's gutting of the right to abortion is likely to energize young voters, who polls show are the most outraged by the court's ruling — and whose turnout will be key to Democrats in 2022.
The Republican crusade against abortion could also keep suburban white voters in the Democratic camp in swing legislative districts in the South. After a draft Dobbs decision was leaked earlier this summer, The New York Times talked to Sandra Sloan, an 82-year-old Republican in the wealthy Buckhead neighborhood of Atlanta, who said:
"I am a Republican, but I still believe that it's a woman's right to choose. We still don't know, after the draft, when it's finished what it will say. But leaving it to just men — I'm sorry, no."
* An earlier version of this story stated Gov. Roy Cooper was elected in 2018; he was elected in 2016.
Tags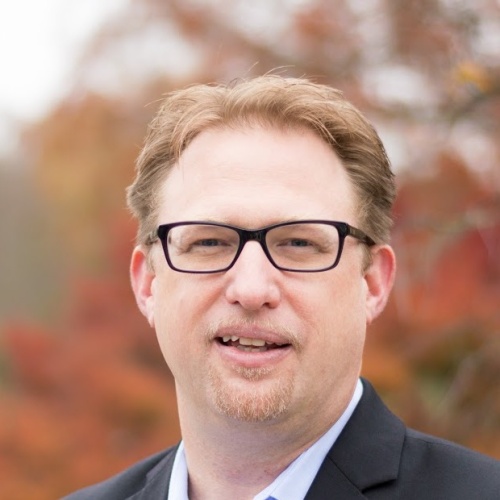 Chris Kromm is executive director of the Institute for Southern Studies and publisher of the Institute's online magazine, Facing South.