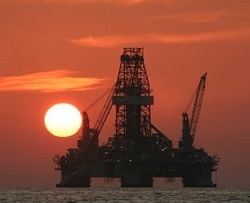 In the Gulf Coast, oil and gas interests have largely succeeded in derailing new health and safety rules in the wake of the BP disaster. Welcome to the political muscle and economic clout of the Gulf energy lobby.

A special Facing South investigation by Chris Kromm and Sue Sturgis

Last May, when oil was still gushing from BP's failed Deepwater Horizon rig in the Gulf of Mexico and inundating the coast with pollution, the Obama administration took what, at the time, seemed like a tepid step: Obama's Department of Interior announced a six-month freeze on new deepwater drilling.

The temporary moratorium affected only some 30 future projects; not a single oil-producing well in the Gulf was stopped. But that didn't stop Louisiana politicians and energy interests from declaring it an act of war on the Gulf economy -- and swiftly joining forces to fight back.

Leading the charge was Edison Chouest Offshore, the nation's largest drilling services company and led by billionaire Republican donor Gary Chouest, which declared the moratorium would lead to mass layoffs. Gov. Bobby Jindal followed by declaring the moratorium to be a "second disaster" on par with the BP spill at an "Economic Survival Rally" organized by energy companies.

Leaders from all corners of Louisiana soon joined the anti-moratorium rallying cry. In ruling against the measure, a federal district judge in New Orleans -- who himself held significant energy investments -- claimed [pdf] it could eliminate up to "150,000 jobs" and cause "irreparable harm" to the Gulf economy. A Louisiana State University economics professor, with funding from the oil industry-backed American Energy Alliance, claimed the measure would cause $2.1 billion in damages.

Sen. Mary Landrieu (D) even famously held up Obama's nomination for the Office of Management and Budget due to her belief that the drilling pause was having "detrimental impacts" on the Gulf region.

But while the environmental health hazards of BP's failed drilling experiment became clearer, the Gulf's predicted economic collapse never materialized. As of August 2010, only two of the exploratory rigs had left Gulf waters. By October 2010, the region had churned out 502 million barrels of oil, putting it on track to match the 569 million barrels from 2009 -- and far exceed the 422 million from 2008.

Indeed, even the Louisiana Workforce Commission -- which had been pressed into speaking at a second industry-sponsored rally in July to warn of widespread job losses -- issued rosy reports of record job gains. As a December 2010 press release proudly announced, Louisiana employment was at its "highest level since April 2009."

"Having job gains for six straight months is a welcome growth trend," enthused Curt Eysink, the commission's executive director. "Many other states would like to see this type of growth."

The anti-moratorium offensive didn't bring an early end to Obama's drilling policy, but it helped score a bigger victory: By early April, the administration had approved nine permits for deepwater projects in the Gulf -- even though Congress had yet to pass any legislation addressing the key regulatory failures raised by BP's oil disaster.

Oiling the political machine

The moratorium jobs scare was a classic case study of the Gulf Coast energy lobby in action -- a powerful network of people, companies and groups that for decades have used their economic clout and political muscle to ensure lawmakers look out for their financial interests over the public interest in safety and environmental health.

BP, ExxonMobil, Shell and other oil majors are well-represented in the Gulf energy lobby, but many of the key players are like Edison Chouest Offshore: little-known nationally, but enormously influential in shaping policy and politics -- and staving off rules and regulations that might address the public health consequences of the oil industry.

Greasing the wheels are millions of dollars in political campaign contributions targeted at state and federal lawmakers.

Edison Chouest Offshore, for example, may not be a household name, but it's well-known among Louisiana politicians. In the 2009-2010 election cycle alone, members of the Louisiana Congressional delegation received more than $156,000 in campaign contributions linked to Edison Chouest, making the company among the top 10 source of contributions for all but two of the state's eight U.S. senators and representatives (see chart).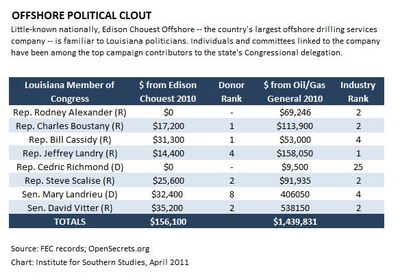 Chouest is also a leading source of money in Louisiana state politics, where -- as with federal contributions -- the spending heavily favors Republicans. In 2008, the Chouest family and businesses donated more than $132,000 to Gov. Bobby Jindal's election campaign and local Republicans. Once in office, Gov. Jindal's first economic development project steered $14 million in state incentives to expand a port in Terrebonne Parish that would boost Chouest's plans for a shipbuilding facility.

The Louisiana company's giving mirrors a pattern found across the Gulf Coast states. An analysis by the National Institute on Money in State Politics last year found that oil and gas interests pumped more than $21 million into state-level races between 2003 and 2008. That figure doesn't even include money from petroleum refiners and marketers, a big part of the Louisiana energy industry.

During that five-year period, 89 percent of the money flowing directly to Gulf state partisan races benefited Republicans.

At the federal level, political action committees and individuals linked to the oil and gas industry funneled more than $30 million to Congressional candidates in 2009 and 2010, according to OpenSecrets.org -- 77 percent of that benefiting GOP candidates.

An army of lobbyists

For Gulf energy interests, equally important to achieving their political objectives is an army of lobbyists to pressure lawmakers and ensure their voice is heard.

At the state level, oil and gas companies have maintained a steady presence of spokespeople to curry favor among lawmakers. Between 2006 and 2008, 627 lobbyists representing oil and gas interests walked the halls of state government in five Gulf Coast states.

In Washington, oil and gas lobbyists -- while never under-represented -- have dramatically turned up their lobbying pressure in the face of Congressional debate over climate change and oil drilling. Between 2007 and 2009, the amount the industry spent on lobbying Washington more than doubled, from about $80 million to nearly $180 million.

BP, which spent just over $7 million on federal lobbying in 2010, spent more than $2 million in the first quarter of 2011 alone, according to reports the company filed with Congress [pdf].

The industry's influence was also apparent following the BP disaster in the controversy over the unprecedented use of dispersants manufactured by Nalco that have been implicated in health problems plaguing cleanup workers and Gulf Coast residents. The Naperville, Ill.-based chemical company has close ties to the oil industry through its board and executives, among them a BP board member and a top Exxon executive; Nalco has also been involved in a joint business venture with Exxon.

At the same time environmental scientists were raising concerns about the safety of Nalco's dispersants, pointing out that there were less toxic and more effective alternatives, the company was taking its federal lobbying efforts to new levels. While Nalco spent just $90,000 on federal lobbying in 2009, that amount jumped to $440,000 in 2010, according to OpenSecrets.org.

Nalco recruited some heavy hitters to get its message out on Capitol Hill. It hired as its in-house lobbyist Ramola Musante, a former official at the EPA and Department of Energy. It also hired Ogilvy Government Relations, a prominent bipartisan lobbying firm whose other clients include the American Petroleum Institute and oil giant Chevron.

Among the Ogilvy lobbyists who worked for Nalco in 2010 were Drew Maloney, a former administrative assistant to Republican House Majority Whip Tom DeLay (R-Texas), and Joe Lapia, a former Senate aide to now-Vice President Joe Biden (D) and Senate Majority Leader Harry Reid (D-Nev.).

One of the pieces of legislation that Nalco lobbied on was the Safe Dispersants Act, a bill requiring advanced testing of dispersants to better understand their long-term effects on human health. The measure went nowhere in either the House or Senate.

Today Nalco's efforts appear to be paying off: This week the company reported first-quarter 2011 profits of $117.4 million -- up 465 percent from $25.2 million in the first quarter of 2010. 

Blocking reform

While daunting, campaign spending and lobbying figures are only vague markers of the full clout of oil and gas interests, whose influence seeps into every corner of Gulf politics.

In 2003, for example, the Environmental Protection Agency under President Bush -- criticized by many as being too lenient on energy companies -- threatened to strip Louisiana's Department of Environmental Quality of its enforcement powers because it was failing to punish industries that polluted the state's air, rivers and streams.

The result of this money and influence, critics say, is a political climate where oil and gas companies enjoy unparalleled influence in shaping policy and politics.

"Our problem in Louisiana is we've had too many politicians cozy with the big oil companies, without a doubt," says Foster Campbell, the public service commissioner from North Louisiana. "Too many duck hunting trips, too many campaign contributions, too many steaks at Chris' Steakhouse."

Over the last year, oil interests have channeled this political firepower towards blocking federal action in the wake of the BP oil disaster. These efforts have been largely successful, with Congress taking virtually no action to address issues raised by the spill.

For example, take the issue of the financial liability that companies are responsible for in the wake of a spill. The Oil Pollution Act of 1990 set a cap of $75 million that "responsible parties" need to pay for cleanup costs and damages. Critics say the low figure -- which doesn't account for inflation -- creates an incentive for spills.

The BP spill, which resulted in billions of dollars in damages, swiftly led to calls for reform. As the federal government's Oil Spill Commission wrote:
The current $75 million cap on liability for offshore facility accidents is totally inadequate and places the economic risk on the backs of the victims and the taxpayers. The cap should be raised significantly to place the burden of catastrophic failure on those who will gain the economic rewards, and to compensate innocent victims.
But since last May, BP and oil companies lobbying in Washington have made it a priority to fend off any changes in the law -- and have succeeded. Shortly after the disaster, Congressional Republicans blocked a measure to raise the cap.

Today, prospects of raising the liability limit appear dim, with the new House Republican leadership joining with Gulf Democrats like Sen. Mary Landrieu to weaken support for change.

Bigger challenges

The inability of reformers to push through basic changes like the oil spill liability cap makes them despair of tackling bigger challenges, like the dozens of exemptions [pdf] oil and gas companies receive from environmental and safety laws.

For example, in 1976 Congress passed the Resource Conservative and Recovery Act (RCRA), a landmark piece of legislation promising "cradle to grave" management of wastes, including those released during oil spills.

The law included a special Section C aimed at stringent regulation of any wastes that were deemed hazardous, using the following definition:
[A] solid waste, or combination of solid wastes, which because of its quantity, concentration, or physical, chemical or infectious characteristic may (A) cause, or significantly contribute to an increase in mortality or in increase in serious irreversible, or incapacitating reversible, illness; or (B) pose a substantial present or potential hazard to human health or the environment when improperly treated, stored, transported, or disposed of, or otherwise managed.
However, in 1980 -- after pressure from energy interests -- Congress exempted oil field wastes until EPA could prove they posed a danger to human health and the environment. And in 1988, the EPA under Ronald Reagan ultimately concluded oil wastes posed no such risk due to "adequate" state and federal regulations -- a decision one EPA staffer later allowed was made for "entirely political reasons."

In 2003, the Bush EPA re-affirmed and clarified [pdf] the exemption. But health and environmental advocates say the BP disaster -- and the health hazards it created for Gulf residents -- offers a perfect opportunity to revisit the law.

Last September, the Natural Resources Defense Council petitioned [pdf] EPA Administrator Lisa Jackson, asking the agency to reconsider its exemption of wastes from oil, gas and geothermal energy, pointing out that wastes from these industries had nearly doubled since the exemption took effect -- and that evidence of health hazards had grown:
This request is based on overwhelming evidence that waste from the exploration, development and production of oil and natural gas is hazardous, taking into account its toxicity, corrosivity and ignitability, that it is released into the environment where it can cause harm, that state regulations are inadequate, and that there are numerous methods available to manage it as hazardous waste.
"The industry has expanded dramatically since 1988, meaning there is a lot more of this toxic waste that is not sufficiently regulated than there used to be," said Amy Mall of the NRDC. "It's time for the oil and gas industry to enter the 21st century and clean up its toxic mess."

When energy lobbyists caught wind of NRDC's proposal, they quickly sprang to action.

"[The petition] is consistent with NRDC's pattern of opposing the development of American oil and natural gas in every possible venue," claimed lobbyists for the Independent Petroleum Association of America in their Washington Report newsletter [pdf]. "IPAA is uniquely positioned to oppose the NRDC effort and will be initiating a thorough response."

They had a point: As the newsletter notes, IPAA Vice President of Government Relations Lee Fuller was the Congressional staffer who wrote the oil industry's original exemption from RCRA hazardous waste regulation 30 years before the BP disaster.
 
* * *
NEXT: The growing grassroots movement demanding reform.
 
* * *
Chris Kromm is the publisher of Facing South and Sue Sturgis is its editorial director. This is the fourth installment in an in-depth, week-long series by Sturgis and Kromm on the growing health crisis in the Gulf in the wake of the BP disaster and the government's failure to respond adequately. To read the previous installments, click here, here and here.
Tags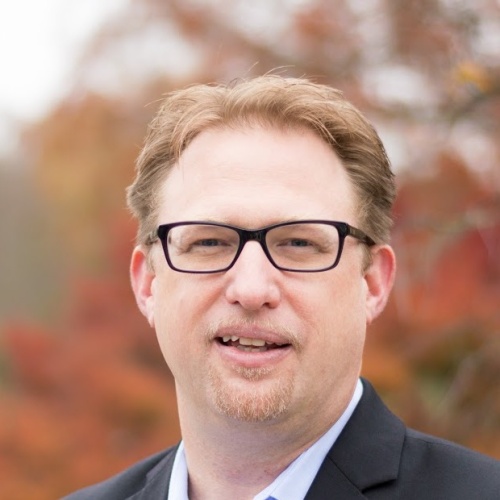 Chris Kromm is executive director of the Institute for Southern Studies and publisher of the Institute's online magazine, Facing South.