Corporate-backed conservative NC event features anti-gay leader, controversial Brexit politician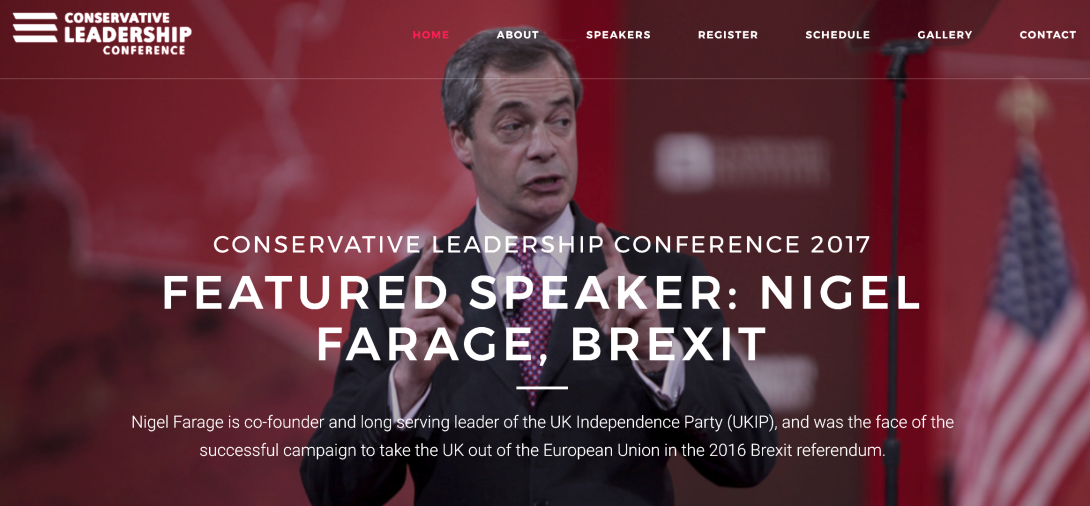 An anti-gay leader whose group crusades against "the homosexual agenda." A gun zealot who last year auctioned off AR-15 rifles with a portrait of Hillary Clinton, ostensibly for target practice. A controversial Brexit leader from England recently named a "person of interest" in the FBI's investigation into President Trump's ties to Russia.
These are among the featured speakers at this year's Conservative Leadership Conference, a gathering of the political right scheduled for mid-June in Raleigh, North Carolina. The event is organized by the Civitas Institute, a conservative think tank that for years had been almost entirely funded by North Carolina Republican megadonor Art Pope.
However, Civitas and the conference now list a new set of financial backers, with Duke Energy, Blue Cross Blue Shield of North Carolina and the Cigar Association of America among the sponsors of the June event.
As recently as 2010, Art Pope's family foundation accounted for 90 percent of the Civitas Institute's funding. However, after Pope's central role in driving conservative policy in North Carolina attracted widespread scrutiny, Civitas has brought in other money sources, including several corporate backers.
A Facing South/Institute for Southern Studies analysis of the group's annual tax records through the middle of 2016 finds several large companies that have become Civitas supporters since 2014:
Blue Cross Blue Shield of North Carolina, an official sponsor of the 2017 Conservative Leadership Conference, gave $55,000 to Civitas between 2014 and 2016.


The Charlotte office of Time Warner Cable, now Spectrum, also lists $15,000 in contributions to Civitas in the same two-year period.


Charlotte-based Duke Energy, another sponsor of the June leadership conference, gave an additional $5,000 to Civitas in 2015.


Coca-Cola Bottling Co. in Charlotte is listed as a $5,000 contributor for 2015.
While the Civitas conference, slated for June 16 and 17 at the Raleigh Marriott, features a handful of elected Republican officials, it also includes several notorious figures of the extreme right. Among the more controversial names on the speaker list:
Nigel Farage. A close British ally of President Trump, the former leader of the UK Independence Party has earned notoriety for his caustic anti-immigrant statements. This week, The Guardian (London) also reported that Farage was named as a "person of interest" in the ongoing U.S. investigation into potential links between President Trump and Russians in the 2016 election, claims Farage dismissed as "hysterical nonsense."


Paul Valone. President of the bombastic gun-rights group Grass Roots North Carolina, Valone made headlines in September 2016 when his group raffled off an AR-15 rifle, 1,000 rounds of ammunition and a portrait of Hillary Clinton to raise money. "Of course, we won't tell you what to do with the photo," the group's website said. "But when we ran a picture of Hillary on the front of our newsletter, we heard it was very popular at the range." Americans for Responsible Solutions PAC, a group formed by former Arizona Congresswomen Gabrielle Giffords and her husband, responded with a statement saying: "This dangerous stunt just further degrades the debate on gun safety that our country needs. North Carolina voters and law-abiding gun owners everywhere deserve a lot better."


Michael Farris. In January 2017, Farris became CEO and president of the Alliance Defending Freedom, the leading legal group of the religious right. ADF was a key backer of North Carolina's HB2 "bathroom bill," and declared that the bipartisan group of lawmakers who brokered a partial repeal of the law last March was "giving in to hypocritical bullies." More broadly, the group has been classified as an anti-LGBTQ hate group by the Southern Poverty Law Center for its crusades against a supposed national "homosexual agenda" and advocacy for anti-gay laws.
The Civitas Institute's latest tax filings show Art Pope's foundation supplying just under half (45 percent) of the group's income in 2016. However, Civitas is still benefiting from the North Carolina retail tycoon's influence.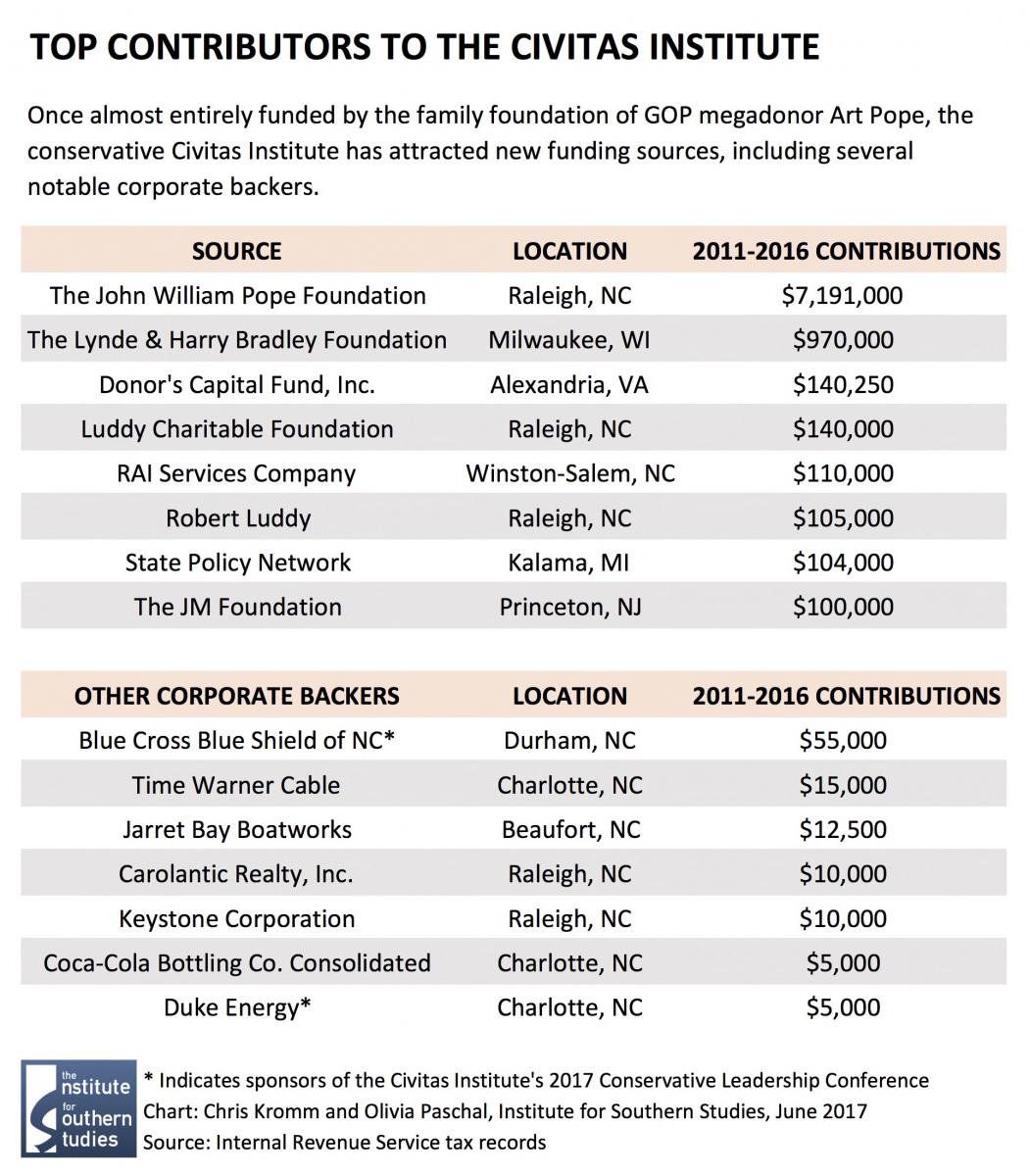 The second-biggest funder of the Civitas Institute is the Lynde and Harry Bradley Foundation, a leading conservative funder based in Wisconsin worth more than $900 million. Pope chairs the board of the foundation, which gave Civitas $970,000 between 2013 and 2016, including a $550,000 contribution in 2016. In recently-published internal foundation documents unearthed by hackers last year, it was revealed that North Carolina is one of five states targeted in a major new initiative the foundation is spearheading to build "conservative infrastracture."
While not listed in the latest Civitas tax returns, other business sponsors of the 2017 leadership conference include the Cigar Association of America, an industry lobbying group, and Aesthetic Images Photography, a company owned by Tea Party activist and Republican donor Jeff Hyde of Greensboro, North Carolina.
(Olivia Paschal provided research for this story.)
Tags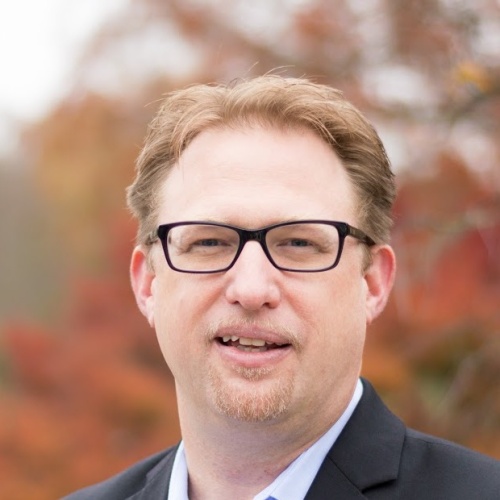 Chris Kromm is executive director of the Institute for Southern Studies and publisher of the Institute's online magazine, Facing South.