One place the 'red wave' arrived in 2022: Southern legislatures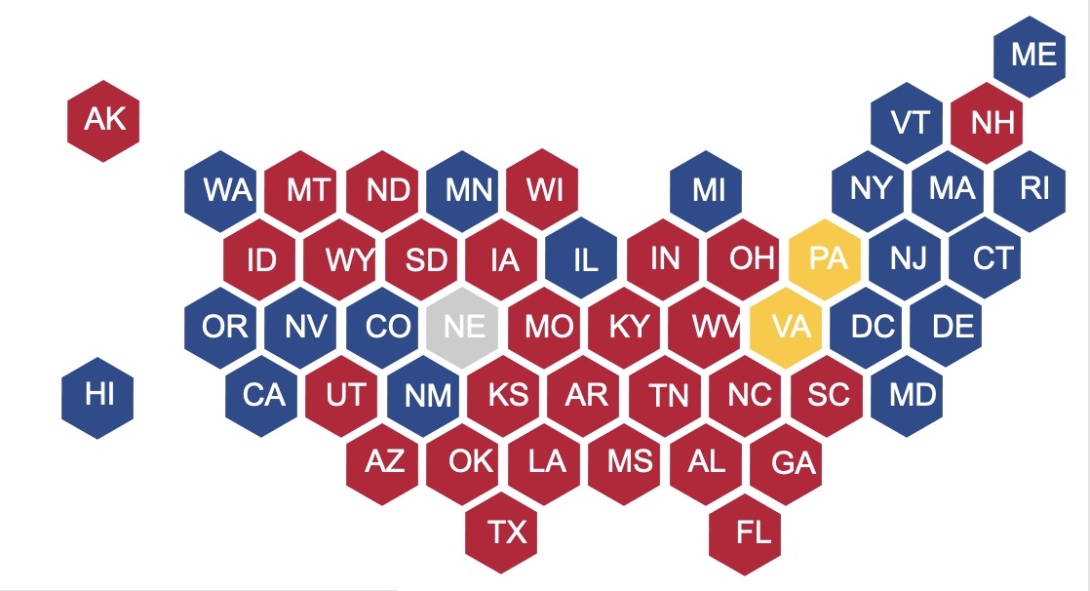 Republicans may not have enjoyed big victories like many expected in the 2022 midterm elections, but the predicted "red wave" did materialize in at least one critical arena: Southern state legislatures.
More than 1,500 of the South's 2,053 state house and senate seats were up for election this year. While Democrats exceeded expectations in federal contests — holding a majority in the U.S. Senate, losing fewer contests than expected in the U.S. House — Southern legislatures continued their lurch to the right.
With six races still too close to call as of this writing, Southern Republicans have gained about 55 legislative seats in 2022. That's an even bigger setback for Democrats than many pundits had anticipated heading into the elections. For example, the Virginia-based political forecasting group CNalysis projected this summer that Republicans would gain just over 40 seats in the South.
Republican legislative gains in the South are all the more striking given that Democrats gained ground in other states, flipping chambers in Michigan, Minnesota, and Pennsylvania.
But in the South, the GOP strengthened its hand in chambers it already dominates. Just as they did coming into the elections, Republicans hold majorities in all of the South's 26 legislative chambers save one: the Virginia Senate, where Democrats cling to a narrow 21-19 majority. The Virginia General Assembly will hold its elections in 2023.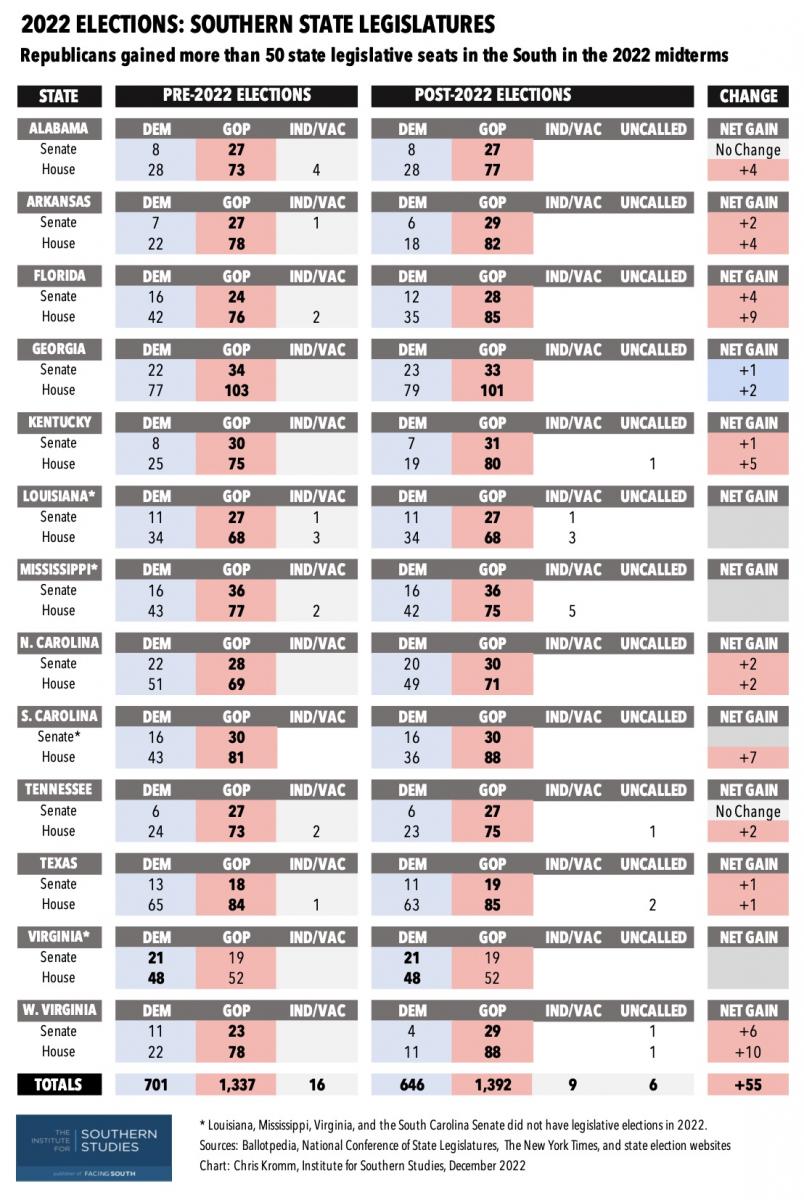 In four chambers, Republicans added to their power by creating supermajorities which, in some cases, can override a governor's veto: the House and Senate in Florida, and the Senate in both North and South Carolina.
Small victories, sizable losses
Southern Democrats can point to a couple modest victories. In Georgia, state Democrats were buoyed by the party's big investments in voter turnout for the state's high-profile U.S. Senate and governor races. Democrats continued the gradual gains they've made over the last decade, picking up two seats in the state House and one in the Senate.
In North Carolina, Republicans gained two seats to win a supermajority in the state Senate, but they are projected to fall one seat short of a supermajority in the House. That preserves the ability of Democratic Gov. Roy Cooper to veto bills coming out of the General Assembly, including proposed abortion and voting restrictions.
But in most Southern states, Democrats saw their numbers continue a slide that began a dozen years ago. In 2010, Democrats controlled 14 house and senate chambers in the South. Thanks to a well-funded effort by Republican groups, the GOP seized control of many legislatures in the 2010 elections, allowing them to implement aggressive gerrymanders to lock in control for a decade. Republicans repeated those victories in 2020, ensuring another set of favorable districts for the 2020s.
In a handful of cases, the Democrats' 2022 losses were so significant that they effectively sideline the party as a force in state policymaking. In Florida, Republicans picked up a total of 13 seats between the state House and Senate, winning supermajorities in both. That, combined with Republican Ron DeSantis' 19-point landslide victory in the Florida governor race, make the state an increasingly difficult place for Democrats to contest for power.
"Florida Democrats were one of the few state parties where our forecasts overestimated Democratic odds this year," political forecaster Charles "Chaz" Nuttycombe told Facing South. His group, CNalysis, had projected earlier this year that Republicans would pick up only four to five legislative seats in Florida.
In Kentucky, Democrats lost a combined six seats, leaving them with only 26 out of 138 members in the upper and lower chambers. In West Virginia, a once-competitive state, Democrats lost 16 seats — in part due to the state's move to single-member districts — leaving the party with 15 lawmakers in the 134-member legislature.
Fair maps and a road forward
Democrats and voting rights groups are litigating several of the GOP-friendly maps in the South. But with conservatives enjoying majorities on Southern state supreme courts and the Supreme Court of the United States, there's not much optimism the Republican gerrymanders will change. After the 2022 elections, the U.S. Supreme Court dismissed a challenge to legislative maps in Texas, which voting rights advocates said was an illegal racial gerrymander.
It wasn't just the maps, though. An analysis by the New York Times found that the 2022 turnout rate for Black voters was 26% lower than for white voters in Georgia, Louisiana, and North Carolina. That was the biggest discrepancy by far in the three states over the 14 years analyzed by the paper.
Whether this was due to voting restrictions, limitations in Democratic voter turnout, or other factors, Nuttycombe at CNalysis said that "Black turnout plummeting" was a key reason for Republicans making gains in Southern state legislatures, "flipping a good amount of rural seats in the Black Belt."
But progressives point to Georgia and Virginia as examples of how the changing demographics of the South can — with the proper investments in organizing and voter mobilization — steer Southern legislatures in a new direction. Beginning in the 1990s, Virginia's General Assembly was largely dominated by the GOP until Democrats made a breakthrough in 2020; between the state House and Senate, neither party enjoys a margin of more than three seats.
In Georgia, Democrats were able to overcome what the political analysis website FiveThirtyEight labeled an "egregious" Republican gerrymander of state legislative districts to continue making incremental gains. While the Democrats' pickup of three seats in the Georgia Senate and House isn't what they'd hoped for, it echoes the playbook outlined by the Democratic Legislative Campaign Committee (DLCC) in a strategy memo earlier this year. In a section titled, "Winning Competitive Districts in Tough States," the DLCC writes: "Majorities are made one seat at a time. We'll invest anywhere there's a competitive district to build towards winning more majorities later in the decade."
Tags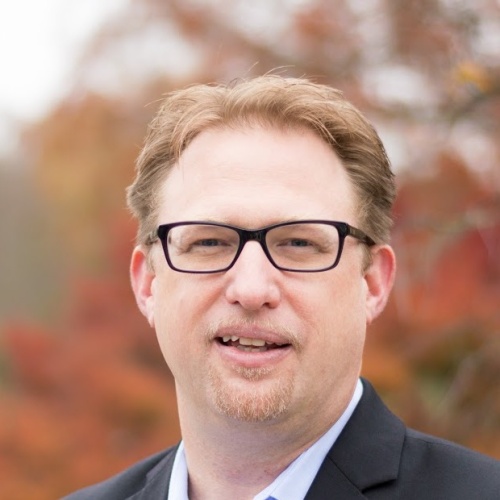 Chris Kromm is executive director of the Institute for Southern Studies and publisher of the Institute's online magazine, Facing South.