Don Yelton not so out of step with GOP on NC voter ID law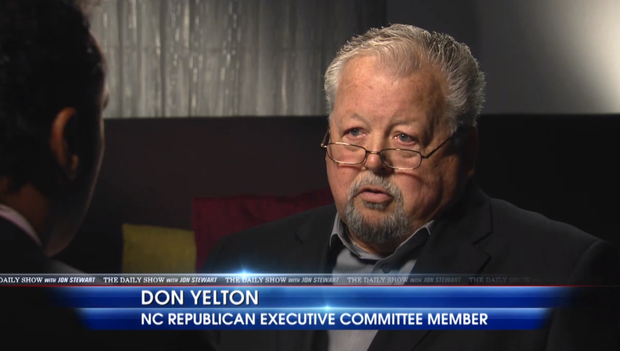 By now you probably have heard about the reckless, racially insensitive comments Republican Party precinct chair Don Yelton of Buncombe County, N.C. made this week on The Daily Show.

During an interview with correspondent Aasif Mandvi, Yelton defended North Carolina's voter ID law while acknowledging evidence of voter fraud is flimsy. He also referred to African Americans as "lazy blacks" and even uttered the word "nigger," leading Mandvi to remark, "You know that we can hear you, right?"

Watch the clip here:


The state Republican Party called for Yelton's resignation. So did the Buncombe GOP, which called his comments "offensive, uniformed [sic], and unacceptable of any member within the Republican Party." Yelton resigned as precinct chair the day after the interview aired.

The Buncombe GOP obviously meant to say "uninformed," not "uniformed." But comments made by North Carolina Republicans this year as they passed what critics have dubbed a "monster" elections bill and the effect of the policy itself suggest that many of Yelton's views are very much in line with his party.

Yelton's remarks about needing to fight voter fraud while admitting it was scarce reflect what Republican lawmakers have been saying to justify the law. Other Republican leaders may not have used Yelton's terminology about "lazy blacks" and college students not deserving to vote, but U.S. Attorney General Eric Holder has said he has evidence that Republican legislators intentionally set up the voter ID law to discriminate against black voters, joining three other lawsuits that make the same claim.

After "African-American voters dramatically increased their participation rates across the state," Holder said in announcing the federal suit, "the state legislature took aggressive steps to curtail the voting rights of African Americans."  

Yelton's comments about black and student voters, voter fraud and kicking "the Democrats in the butt" are also in line with the work of the Civitas Institute, the conservative think tank founded and largely funded by North Carolina's Republican mega-donor and state budget director Art Pope, which helped build public support for the elections bill. One of the consequences of Civitas' crusade against nonexistent voter fraud is that black college students have been purged from voter rolls and faced challenges to their right to vote and run for office where they live and go to school.

Yelton's remarks are also in line with what was said during state Senate hearings in April, when dozens of GOP county representatives testified in favor of the legislation. Jonathan Bandy of the N.C. Federation of Young Professional Republicans said voter ID laws weren't racist but claimed that racism is "the notion that an African-American and an Hispanic voter who don't have an ID are incapable of getting one" -- ignoring the fact that the law creates additional barriers for voters of color given that they are more likely than white voters to lack the ID needed to vote.

Art Wilson, an at-large committee member for the Wake County Republican Party asked at the hearing, "So what if casting your vote becomes a little more difficult?"

Yelton himself was at those hearings and testified that double voting by college students was rampant. Back then, the Senate was considering amendments to include college IDs as acceptable for voting, but Yelton shot it down and said that it would make the bill "weak as water."

"Democrats fear that the voter regulations will hurt them, as it will disenfranchise some of their special voting blocs," said Yelton. "I tell you that within itself is the reason for photo voter ID."

In the end, the law that passed excluded student IDs from the list of acceptable forms of voter ID. Republicans also voted down amendments offered by Democrats that would have made it easier for voters of color or low-income people to comply with the law.

Meanwhile, Republicans continue to defend the monster law. This week, Gov. Pat McCrory asked the court to dismiss the lawsuit without countering any of the claims made by the Justice Department and civil rights groups that it disproportionately burdens people of color.

Ironically, a couple of days before Yelton embarrassed his party on The Daily Show, the Republican National Committee opened their "African-American Engagement Office" in Charlotte, N.C. as part of a strategy to reach out to more people of color.

"This is a historic moment for our party," N.C. Republican Party Chair Claude Pope said. "We've been building a tremendous grassroots network across the state, and it is vital that we increase our base of support by making sure we're reaching out to all voters and building strong, lasting relationships with every community."
Tags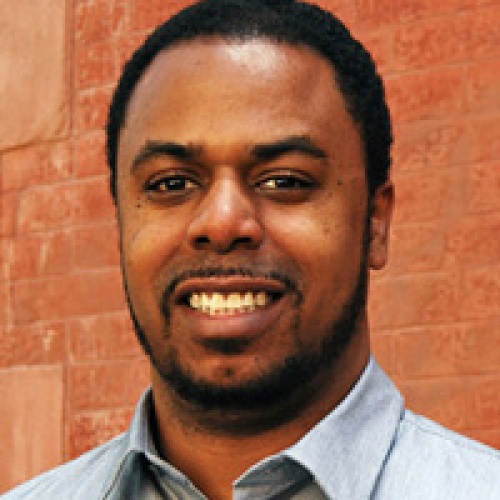 Brentin Mock is a contributor to Facing South focusing on voting rights.