How the 2018 'blue wave' could shake up Southern politics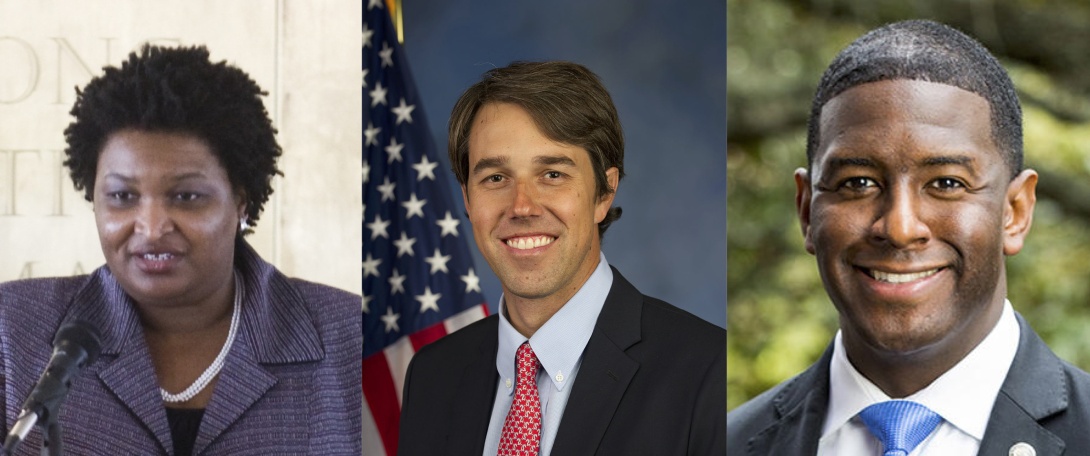 Many pollsters and pundits agree: A "blue wave" of Democratic gains are coming in the 2018 elections. The question is just how big the wave will be. 
While the divisive nomination hearings for Supreme Court Justice Brett Kavanaugh have fired up Republican voters, Democrats are still expected to capitalize on anti-Trump sentiment to win dozens of key races at the local, state and federal level.
But the 2018 Democratic wave could do more than determine control of Congress: If current trends hold, they could deeply shake up Southern politics, weakening Republican rule in the region for years to come.
Over the last 50 years, as parties and voters realigned in the South in the wake of the civil rights movement, the Democrats' "Solid South" gave way to Republican dominance. In 2016, the Republicans' political grip on the South reached new heights; the region delivered 160 of President Trump's 306 Electoral College votes. And after the dust settled, the GOP controlled every legislative chamber in the South and all but two of the region's governor's mansions.
But two high-profile elections in the South last year signaled that a blue wave was coming — and could weaken GOP control. Democrats' historic gains in Virginia, which included winning races for governor and lieutenant governor and nearly seizing control of the House of Delegates, were followed by Alabama's election of Doug Jones as the state's first Democratic U.S. senator in 25 years. 
A new round of Democratic victories in the South in 2018 could build on that momentum, giving progressives an opportunity to capitalize on demographic changes and gain a political foothold to begin shifting the balance of power in Southern states.
The following is a rundown on the races the 2018 blue wave has put in play in the South:
U.S. Senate
Republicans currently enjoy a 51-49 majority in the U.S. Senate. To gain control, Democrats would need to pick up two seats in 2018, because Republican Vice President Mike Pence is the chamber's tie-breaker. Twenty-one of the South's current 26 U.S. senators are Republicans.
Seven of the 35 U.S. Senate elections this year are in the South. The contests in two states aren't considered competitive, as Mississippi's two Senate races are expected to go Republican and Virginia's one, Democratic. That leaves four competitive races that could be decisive in shaping which party controls the Senate (click on charts below for larger versions):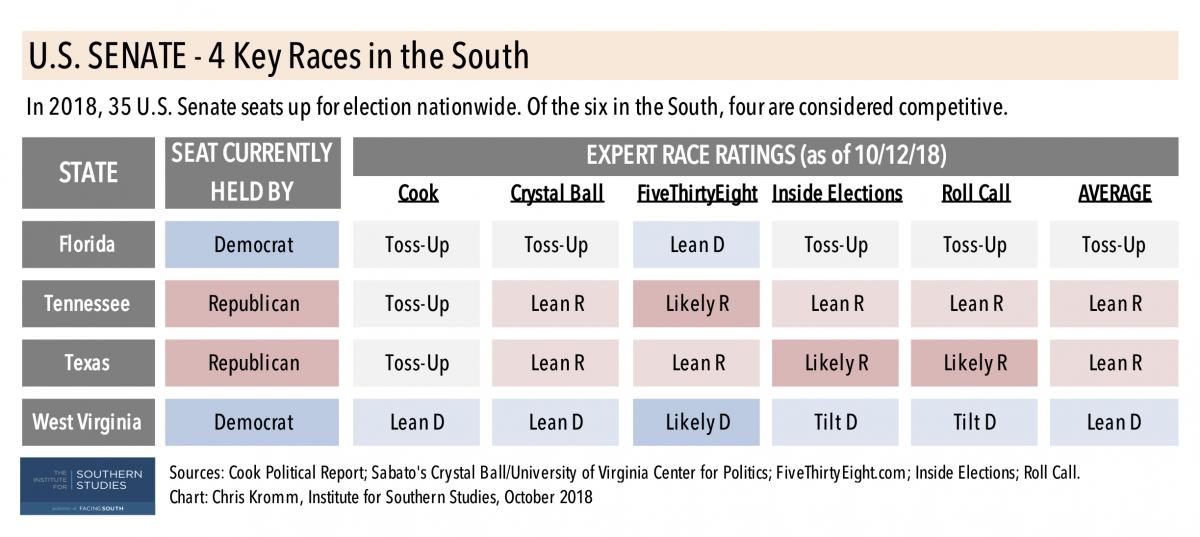 Florida: One of the true toss-ups of 2018, incumbent Democratic Sen. Bill Nelson — who started his political career as a Florida legislator back in 1972 — squares off against current Gov. Rick Scott, the former hospital executive who's served since 2011. As of late August, the candidates themselves had raised more than $50 million, with another $10.5 million spent by outside groups and more flooding in by the day.
Tennessee: It's not getting as much attention, but state Democrats insist this race is tailor-made for a blue-wave upset. Republican Sen. Bob Corker's retirement opened the door for Republican Rep. Marsha Blackburn, a Tea Party Trump enthusiast known for such antics as  introducing a "birther" bill directed at President Obama and being censored by Twitter for running an "inflammatory" ad falsely accusing Planned Parenthood of "selling baby body parts." She faces moderate Democrat Phil Bredesen, who won two statewide races for governor in Tennessee in 2002 and 2006.
Texas: U.S Rep. Beto O'Rourke — El Paso native, former punk-rock band member, and Democratic viral video darling — is also counting on blue-wave magic to unseat Sen. Ted Cruz (R). O'Rourke faces an uphill battle, and President Trump — who won Texas by 10 points in 2016 — is now stumping for Cruz, despite ridiculing him as "Lyin' Ted" in the 2016 presidential primary and suggesting Cruz's father helped assassinate President Kennedy. But even if he loses, O'Rourke's high-energy campaign is mobilizing large numbers of voters that could help Democrats in down-ballot races and grow the state's progressive electorate.
West Virginia: Incumbent Democratic Sen. Joe Manchin won no friends among progressives with his "yes" vote to confirm Kavanaugh to the Supreme Court, but he seems to know how to get elected in West Virginia: He got 61 percent of the vote en route to his first term in 2012, and he currently enjoys a six-point lead in the polls over his Republican challenger, Brooklyn-born and New Jersey-reared Attorney General Patrick Morrisey.
U.S. House
FiveThirtyEight, the poll-watching and political analysis website, believes the U.S. House is the Democrats' to lose. The site currently projects that Democrats have a seven-in-nine chance of winning House control.
Key to Democrats' chances will be 29 closely-watched races in nine Southern states, with 28 of those seats currently held by Republicans. Eight of the battleground House races are in Florida, where turnout will be boosted by high-profile races for governor and U.S. Senate. Nine more are in Georgia and Texas, where statewide races will also mobilize voters. And in perennial battleground North Carolina, Democrats have put three to four seats in play despite district maps so heavily gerrymandered they've been ruled unconstitutional in federal court.
Indeed, as FiveThirtyEight notes, the biggest factor limiting the blue wave's power in Southern congressional races will be Republican gerrymandering. In North Carolina, for example, the website project Democrats could enjoy an eight-point lead in vote share over Republican rivals and still gain zero House seats due to how the districts are drawn. It argues the same is true across many Southern states: 
"The effects of Republican-controlled redistricting and racial polarization are so strong in Alabama, Louisiana, Mississippi, South Carolina and Tennessee that Democrats don't have any realistic pickup opportunities under any of the scenarios discussed here."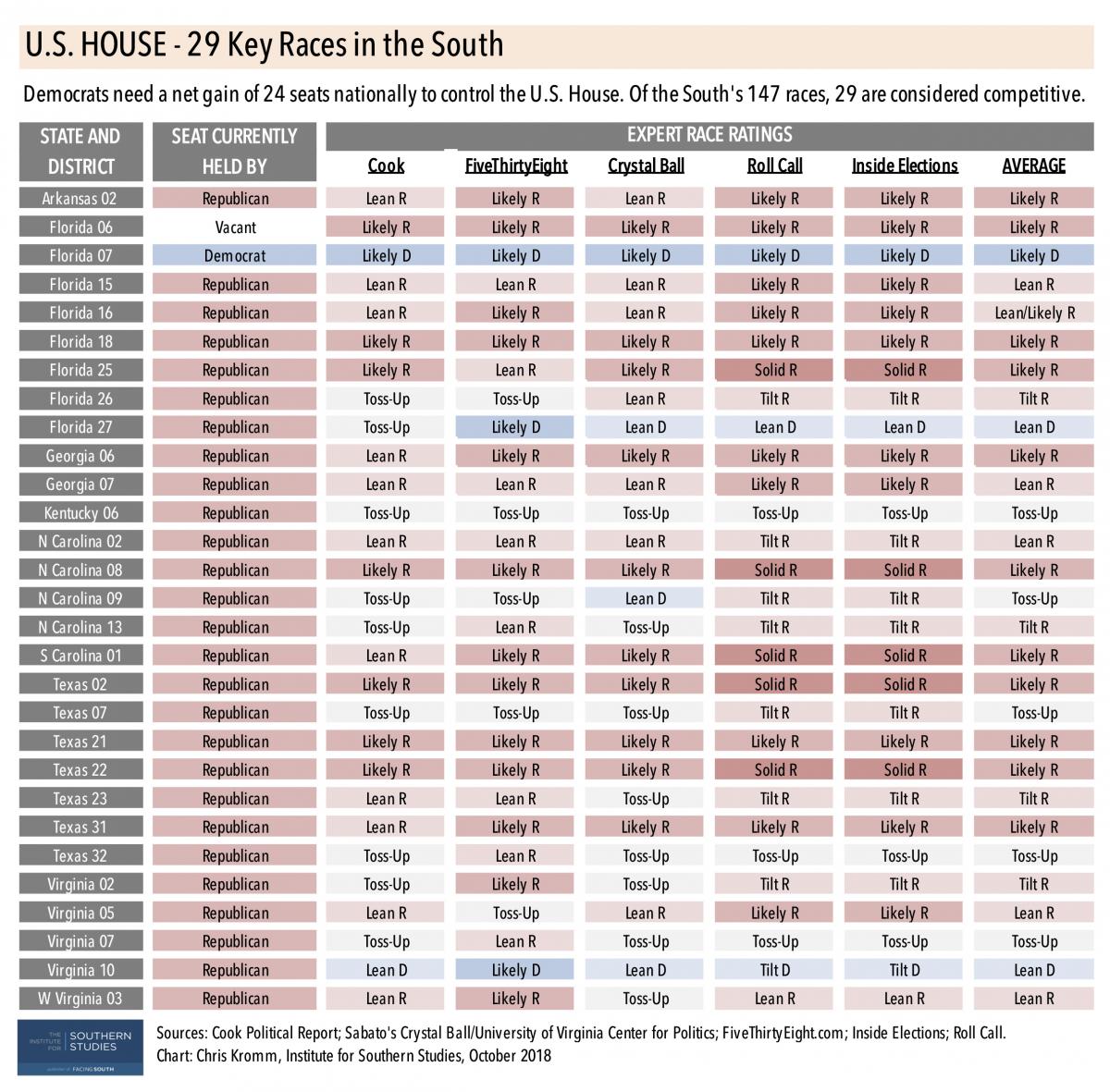 Governors
Seven states in the South have races for governor this year: Alabama, Arkansas, Florida, Georgia, South Carolina, Tennessee and Texas. Governing magazine, which rates state races, projects three to be "safe Republican" (Alabama, Arkansas and Texas). South Carolina is also mostly viewed as a safe Republican state, although both Governing and Cook Political Report give it a "likely" GOP rating. That leaves three states where pundits think governor races are in play: Florida, Georgia and Tennessee.

Florida: The polls were wrong about Democratic nominee Andrew Gillum, the progressive mayor of Tallahassee, whose upset victory in the primary put him on the road to possibly becoming Florida's first African-American governor. But Gillum hopes the polls are right now, because they show him with a razor-thin edge over Trump acolyte and former U.S. Rep. Ron DeSantis, who resigned from Congress last month to focus on the race. 
Georgia: Democrat Stacey Abrams made the cover of Time this summer in her historic campaign to become the first African-American woman governor in the country. The longtime voting rights organizer is locked in a close battle with Republican Brian Kemp, the secretary of state whose office has controversially purged up to 700,000 voters from the rolls and held up processing 53,000 voter registration forms, disproportionately from black voters. Such high stakes have fueled record-smashing fundraising numbers, with candidates reporting more than $56 million raised and outside groups spending tens of millions more.
Tennessee: Republican businessman Bill Lee also defied the polls in winning the GOP nomination this year, beating the heavily-favored U.S. Rep. Diane Black in the primary. In a GOP-leaning state, Lee's obscurity is one of the rays of hope for Democrats and their candidate Karl Dean, the popular mayor of Nashville from 2007 to 2015.
State legislatures
A total of 19 state legislative chambers will see elections in 2018: Upper and lower chambers in Arkansas, Alabama, Florida, Georgia, Kentucky, North Carolina, Tennessee, Texas and West Virginia, as well as the South Carolina House.
Charles Cook of the Cook Political Report predicts the blue wave will have historic impacts on state legislative races, with "a pickup for Democrats of between 400 and 650 state legislative seats, more than the average midterm loss of 375 seats for the party in the White House." Cook says these dramatic shifts at the state level are "the most under-reported story in politics." 
But while Democrats can — and likely will — win many key legislative seats across the South, in most places Republicans have amassed such dominant majorities and enjoy such GOP-friendly maps that even a sizable blue wave will be unlikely to dislodge Republicans from power. There are a few exceptions, however. The following are a few places where Democratic legislative pickups could change state political dynamics:
Florida Senate: "For the first time in a quarter century," reports Governing magazine, "Florida Democrats have a genuine chance of seizing control of a state legislative chamber." The Democrats' main target is the Senate, where Republicans currently enjoy a 23-16 majority — requiring just a four-seat flip for Democrats to take the advantage. Democrats are running more than twice as many Senate candidates as they did in the last election, expanding the playing field. One key to the Democrats' chances is the ability of Andrew Gillum's campaign to mobilize large numbers of "new majority" voters, creating a tailwind for Democratic candidates down-ballot.
North Carolina General Assembly: The deck is heavily stacked against Democrats in North Carolina, where Republicans boast double-digit majorities in both the state Senate and House, solidified by districts well-designed to maintain GOP control. Dems would need to pick up 10 seats in the Senate to win a majority, and 16 in the House. While not entirely out of the question — as one operative told Facing South, "after what happened in Virginia [in 2017], anything is possible" — the Democrats' primary goal is breaking Republican supermajorities in one or both chambers, which allow GOP lawmakers to easily override vetoes by Democratic Gov. Roy Cooper. Democrats — who, for the first time in political memory, are running candidates in almost every race for General Assembly — would need to gain just four seats in the House to break the GOP supermajority, and six in the Senate.
Other Southern legislatures: In 2017, Georgia Democrats quietly picked up three legislative seats in special elections after adding two seats in 2016, building on demographic changes in the state. Republicans have near-unbreakable majorities in both the Senate (37-19) and House (116-64), but excitement around Stacey Abrams' gubernatorial campaign could propel a handful of Democratic candidates to victory, moving Democrats closer to contending for power in future cycles. In Texas, the theme is also about laying ground for the future: Beto O'Rourke's vibrant U.S. Senate run will likely mobilize voters that allow Texas Dems to capitalize on demographic shifts in key urban areas and gain a handful of seats. But Republicans are in strong shape to retain control of the Senate, where they hold a 20-11 majority, and House, where the advantage is 93-55. In the West Virginia Senate, Democrats would have to flip six seats to wrest control from the GOP — not impossible, but a task sizable enough for Governing to rate the 2018 outcome for control as "Likely Republican."
Tags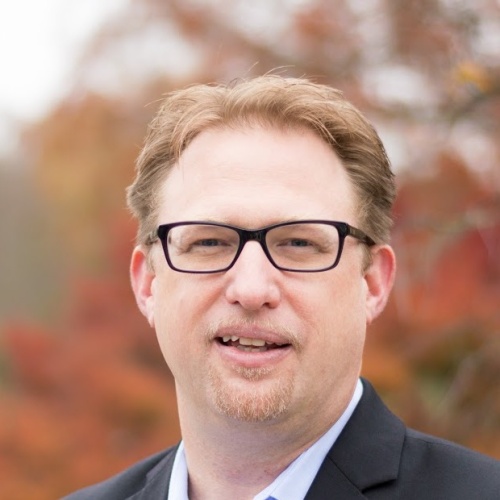 Chris Kromm is executive director of the Institute for Southern Studies and publisher of the Institute's online magazine, Facing South.